Is winning 100 caps still a big deal?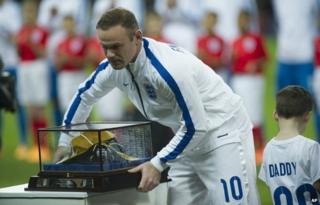 Wayne Rooney became the ninth English footballer to win 100 caps last weekend when captaining England to a 3-1 victory against Slovenia. A few days later Yaya Toure reached the same landmark for Ivory Coast. Is it easier to do this now than it was a generation ago?
Some of the world's greatest players played surprisingly few games for their national team.
Dutch legend Johan Cruyff's international career spanned 12 years in the 60s and 70s - the same length as Rooney's career to date - but he only played 48 times for his country. Portuguese forward Eusebio's career lasted 13 years, at roughly the same time, but resulted in just 64 caps.
Meanwhile, the two best players of the current generation - 29-year-old Cristiano Ronaldo and 27-year-old Lionel Messi - have already won 117 and 96 caps respectively for Portugal and Argentina, and look set to win many more.
How do you explain the discrepancy?
One reason is that fewer international games were played in years gone by. In the 1960s, England played about 10 games per year, whereas now it plays about 12. Over Wayne Rooney's career, to be precise, England have played an annual average of 11.9 games.
This is partly because there are more countries - thanks, for example, to the break-up of Yugoslavia and the Soviet Union - and partly because tournaments are getting bigger. For example, 32 teams played to win one of four qualifying spots for the European Championships in 1972 whereas 54 teams will try to win one of 24 berths in the 2020 Euros.
These changes led to England playing 49 qualifiers between 2000 and 2009, compared to 31 between 1970 and 1979. It's no coincidence then that 273 of the 309 players to have reached 100 caps - or 88% - played during the 21st Century.
So what if the greats from the past had played in an era where national teams average nearly 12 games a year?
Player:
Johan Cruyff
Diego Maradona
Wayne Rooney
Fixtures for which eligible
78
187
143
Caps won
48
91
101
% of games played
62
49%
71%
Average team fixtures per year during career
6.8
10.7
11.9
Projected caps*
84
101
101 to date
Player:
Pele
Eusebio
Billy Wright
Fixtures for which eligible
150
72
108
Caps won
92
64
105
% of games played
61%
89%
97%
Average team fixtures per year during career
10.3
5.5
8.5
Projected caps*
106
138
147
*If eligible for same number of games per year as Rooney. Photographs courtesy of Getty Images.
Our projections show that Pele and Maradona would both have comfortably reached 100 caps had they been playing today, although Cruyff would still have fallen short.
But it's Eusebio whose caps figures increase the most. During his lengthy Portuguese career the national side only played 72 times and he played in 64 of those games, scoring 41 goals. We project that he would have won 138 caps had he been playing today.
Of the four English players who earned 100 caps in the last century - Billy Wright, Bobby Charlton, Bobby Moore and Peter Shilton - Wright, who was the England captain from 1948 to 1959, emerges from our recalculation on top, with a staggering 147, while Shilton, who holds the record for most actual England caps at 125, comes out with 142. This is because Wright played 97% of the games for which he was eligible, compared with Shilton's 57%.
Another reason why players today earn more caps is that these are now awarded to players who appear as substitutes.
There were no substitutes in World Cup games until 1970, so before this only 11 players per game could be awarded a cap.
Two substitutes were introduced to all international games in 1988 and this was upped to three in 1995. Up to six substitutes are now allowed in friendly games, so a team can theoretically award 17 caps per game.
When Scotland and England met at Celtic Park on Tuesday, both teams made all six permitted substitutions - once those players stepped on to the pitch, they earned a cap.
---
The man with one cap
International managers have a changed mindset and the whole culture has shifted from 30 to 40 years ago, when the likes of Sir Alf Ramsey would nearly always pick his first-choice team even for friendlies. There are also requests from clubs these days to perhaps give a player 45 minutes or an hour in an attempt to keep him fresh for club commitments, resulting in more fluidity in selection.
West Bromwich Albion recently unveiled a statue to their legendary attacker Tony Brown (pictured). England teams had such a familiar look, and manager Sir Alf Ramsey a tried and trusted first eleven, that he won only one cap, against Wales in 1971. The idea of a player of his calibre winning a single cap these days is unthinkable.
By Phil McNulty, chief football writer, BBC Sport
---
Another factor influencing the number of games footballers play is the standard of their behaviour on pitch.
One reason Wright, Moore and Charlton played such a high proportion of their games is they were never sent off, so didn't miss games through suspension. Rooney, by contrast, has received two red cards for England and has missed five games through suspension as a result.
It seems unlikely that caps will become even "easier" to win in years to come, as the scope to increase the number of annual international fixtures is limited. Already 209 men's national football teams are affiliated to Fifa - the Marshall Islands is the only independent, UN-recognised country that doesn't have a national team.
That means there is no capacity to increase the size of qualifying groups. Tournaments themselves could theoretically expand even further but there is little clamour for this at present.
The record for the most caps is held by Egypt's Ahmed Hassan on 184, who played international football between 1995 and 2012.
The most capped active player is Spain's World-Cup-winning goalkeeper, Iker Casillas, on 160. At the age of 33 Casillas doesn't have time on his side to break Hassan's record, but one man who does is his compatriot Sergio Ramos. At 26, Ramos became the youngest player to win 100 caps and, now 28, he has 123 to his name with plenty of years left to play.
Listen to More or Less on BBC Radio 4 and the World Service, or download the free podcast.
Subscribe to the BBC News Magazine's email newsletter to get articles sent to your inbox.