Lego wars: How Big Bang Theory beat Dr Who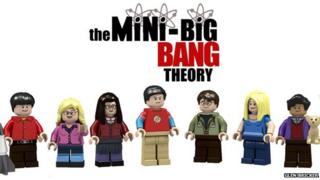 Birds and the Big Bang Theory have won a decisive battle over Dr Who to become the two newest play sets created by Lego. Fans responsible for the winning concepts explain how it feels to have their dreams immortalised in colourful plastic bricks.
"It started off as a hobby and then became a little bit of an obsession," Thomas Poulsom says.
The 36-year-old gardener from Bristol was a Lego fan from childhood, but a robin landing on his spade in 2012 inspired the Lego creations that will soon be sold in stores around the world.
Lego invites its fans to create and submit original designs to the company, posting their concepts on the Lego Ideas page.
Once a design reaches 10,000 online supporters, it is ushered into an internal company review process. A board of specialists - including set designers and marketers - reviews each concept for playability, safety and overall fit within the Lego brand. The chosen few become sets that the toy company offers alongside mainstay themes like Star Wars, Ninjago and Lego City.
For Poulsom what started off as one Lego robin built from scratch soon grew into more than 75 species from around the globe. His designs were a hit on Flickr and fan blogs but initially failed to make the coveted Lego review process.
It was a three-bird package of a robin, blue jay and hummingbird that eventually proved to be Poulsom's ticket to the haloed Lego review circle.
Five other projects reached the critical milestone between January and June, including a Lego modular Apple Store, a Jules Verne train from the film Back to the Future III, two separate Doctor Who sets and one inspired by Sheldon Cooper's apartment on the television programme the Big Bang Theory.
Geoscientist and Lego aficionado Ellen Kooijman, co-creator the Big Bang Theory entry, had weathered the tough Lego review process before. Her Research Lab - inspired by women in science - was chosen by the company for production earlier this year.
"I couldn't believe it when they told me that things were looking good for our Big Bang Theory project," the Swedish resident, 32, writes in an email to the BBC. "I was so excited!"
The entry's other co-creator, Glen Wadleigh, describes the process from fan idea to Lego-approved product as a "very geeky decathlon".
The Texas resident, 37, says it requires elements of design, presentation, media engagement and showmanship in order to capture the approval of legions of supporters on Lego Ideas.
The Big Bang Theory concept had all the "key factors for a successful campaign", he says, with an instantly recognisable set, identifiable figurines based on characters from the show, a large and active fan base, and the fact that Legos have been featured within the popular programme itself.
Even so, it's still far from a slam dunk in the Lego review process. The two Dr Who sets also had all the makings of Lego magic but ultimately lost this round.
Wadleigh, also a co-creator of one of the Dr Who concepts, isn't too upset, however. The long-time fan still holds out hope that Lego will greenlight a new Dr Who idea, and advises fans to keep voting for such projects when they appear on Lego Ideas.
"One of them will hit the right formula some day," he says.
For Poulsom, his time for Lego glory is now.
He describes an arduous three- to four-month waiting period this summer before he got a phone call from Lego saying to "put some champagne on ice".
The gardener, who frequently spends three to four hours each night building Lego creations, says it still hasn't really sunk in, however.
"I'm still kind of getting used to the idea," the bird enthusiast says. "Until it's on the shelves, I've still got my feet on the ground."
Subscribe to the BBC News Magazine's email newsletter to get articles sent to your inbox.