Remembering Ben Bradlee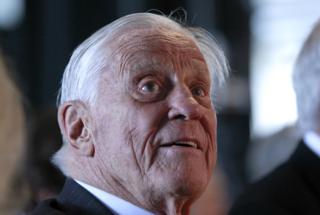 No-one took on the aura of the swashbuckling newspaperman with more style than Ben Bradlee, who became one of the great editors. He loved the life, but he was also a man of steel.
It wasn't chance that made Watergate a turning point in the modern American story, but grit and ambition. Like a general taking a gamble on the battlefield, Bradlee threw Carl Bernstein and Bob Woodward into the story when he sensed that the fight was on, standing by them when the storms came, and he was right. It made him a hero for two generations of journalists.
His death, at 93, robs us of one of the characters of journalism, a man who engendered great loyalty from everyone who worked for him and who returned it in full measure. He was a romantic and a bruiser too, who rekindled the spirit of the American press in the 70s and helped it recover its passion and confidence. His rivals revered him as much as his staff.
Explaining to a later generation why Watergate mattered so much is sometimes difficult, because it's hard to recapture the mood of the early 70s, when the Nixon White House believed it could crush any opponent and would do whatever it took to do it. This was the time when Attorney General of the United States, John Mitchell, passed a message to The Washington Post to say that its publisher, Katharine Graham, was going to "get her tit caught in a big fat wringer".
In the end it was Richard Nixon who resigned as president, in August 1974, and the Post had brought about a convulsion in American life which is still being felt today, by bravely challenging those who'd forgotten that power brings responsibility. Bravely, because there were times when it looked as if it was a struggle that might be lost.
Bradlee was able to turn it into a crusade in part because he was a dazzling figure - a handsome, high-living lion of a man, who exuded an air of supreme confidence but also, as one of his colleagues put it, had something of the Mississippi riverboat gambler about him. One of JFK's close friends from the early 60s, he combined glamour with the rough spirit of a streetwise reporter, who'd tell stories from the US Navy, Paris after the liberation or the White House with the same raconteur's relish.
For those of us lucky enough to fall under the spell at close quarters, time with Bradlee was always exhilarating. Whether he was showing you a picture of LBJ's gall bladder scar, describing lunches with that weird guru of counter-intelligence, James Jesus Angleton, or enjoying the recollection of a phone call from Bob Haldeman or John Ehrlichman, life was rosier. At a table or in a bar, he was a magical presence.
After his colleague and soul mate on the Post, Larry Stern, died unexpectedly in 1979, Bradlee established a programme in his name which would take a young British journalist to the Post each year, Stern having had a famous weakness for Brits. Those of us who went - I was the second, in 1981 - were fortunate in finding him taking on the role of father figure, because in the early days he had chosen us himself and we were meant to walk in Stern's footsteps.
His generosity was perpetual. I'd written a story about an alleged Palestinian terrorist, and his proposed extradition to Israel, which caused an ugly fuss. I found myself under fire from powerful Washington people. Ben took me to breakfast - I thought I might be asked to leave the paper. Instead, he gave me a Bloody Mary and told me that we were sitting at the table where he'd comforted Woodward and Bernstein after they'd gone a step too far in a story about the secret White House fund during Watergate.
The kind of editor every journalist dreams about.
After he retired as executive editor in 1991, after 23 years running the paper, he would still wander the newsroom as editor-at-large and if you went to his room upstairs, or to his Georgetown home, you'd be regaled with some of the old stories, memories of the good and bad people he'd met along the way, and encounter again that insatiable curiosity that made him a reporter in the first place. It wasn't analysis he loved, but a story.
In the early days of Watergate, many of the established staff at the Post were wary (as well as increasingly jealous) of Woodward and Bernstein. What did they know? They'd end up getting it wrong. Bradlee, who always loved young talent, said no. It was their story, and he'd steer them through. It was a risk he couldn't resist.
Most journalists have a weakness for great characters, and it's one of the reasons they do the job. Ben Bradlee was a giant of his trade and that is why he wasn't only admired, he was loved.
Subscribe to the BBC News Magazine's email newsletter to get articles sent to your inbox.