Florida's space race: The politicians battling over the cosmos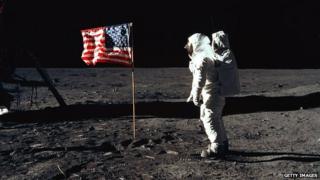 As Democrats and Republicans vie for domination of the US Senate come November's mid-term elections, two Florida politicians are vying to demonstrate who cares most about the solar system.
Gabriel Rothblatt wants to live on another planet.
The 32-year-old Democratic candidate is the son of a satellite radio pioneer, so Rothblatt grew up surrounded by cutting-edge theorists exploring possibilities at the edges of the cosmos. And he longed to be a part of it.
"I wanted to be one of the founders of human civilisation in space," he tells the BBC.
But colonies on the moon or Mars simply haven't transpired yet. And until then, Rothblatt aims to remove any political red tape stopping humans from making them a reality.
To that end, he has launched an aggressive campaign for a US House of Representatives seat in Florida's Eighth District against Republican Congressman Bill Posey - himself a former space industry employee who has spent much of his political career calling for greater extra-terrestrial investment.
The district - stretching along Florida's east coast - is home to Kennedy Space Center, which saw the launch of the first successful manned mission to the moon in 1969.
As a result, both candidates are keen to highlight their commitment to reaching for the stars.
But severe cuts to the National Aeronautics and Space Administration's (Nasa) budget in recent years have hampered America's space programme.
And strict Air Force control over Florida's commercial launch sites has, Rothblatt says, limited private industry's ability to ensure the US remain a space leader.
Basically, the candidate argues, if the US can't make it easy and cheap for private commercial space flight and satellite companies to launch their products into space, other countries can and will.
And a great deal of revenue, scientific knowledge and national prestige will be lost as a result.
"I strongly feel that a really robust domestic commercial space industry is one of the most important and necessary aspects of our national defence moving forward," Rothblatt says.
But Congressional gridlock, hyper-partisanship and a protect-the-status-quo mentality, he argues, are allowing the US to cede its place at the top of the space heap to emerging leaders like Russia, India and China.
And Rothblatt, a father-of-four, says his family background makes him just the man to reverse this.
He is the son of Martin Rothblatt, a space lawyer, who created the satellite radio station Sirius before undergoing gender reassignment and changing her name to Martine. Today Martine, who also founded pharmaceutical company United Therapeutics, is the highest-paid female executive in the US.
The family has a history of getting things done, but Rothblatt himself acknowledges he has not had much political experience prior to his Congressional run. But politics isn't his ultimate destination, anyway.
"Congress is not my goal. Space is my goal," he says. That is, instead, "to get to Congress to streamline what is necessary to happen to encourage the explosion of American commercial space development".
And within his own district. Transport services company SpaceX, founded by Elon Musk, has already embarked on building its own expensive Texas spaceport rather than deal with ongoing government limitations in Florida.
What's needed is some new blood in politics to listen to young innovators - like Musk - to help spur the industry, Rothblatt says.
"It's the old space, new space friction," Rothblatt adds. "It's the millennials versus the good old boys."
For incumbent Bill Posey, it's not a question of new versus old blood. It's just bad blood. Elected to the US House in 2008, the Republican says he has struggled to overcome rancorous partisan politics and convince his colleagues space is vital to the nation.
"People are worried about [Islamic State] and they're worried about Ebola," he says. "I'm trying to keep space in that mix."
Posey, 66, tells the BBC he has watched his colleagues hollow out NASA's funding while he instead champions doubling it - to just 1% of the total US budget - over the next 20 years.
He has helped his staffers create the Space Advocates group, which meets with their counterparts around Capitol Hill to educate them - and hopefully their bosses - on the advantages of investing in space research.
"Space is a matter of national security, it's a matter of economic security, it's a matter of maintaining our technological competitiveness around the world," Posey says. "And ultimately space will be responsible for the survival of our species."
Posey himself has seen the ramifications of ramping down American space investment within his own district.
He describes being inspired by President John F Kennedy's call to put people on the moon, and Posey's number one priority became having his "fingerprints on the rocket that took the first Americans" there.
He later became a commercial rocket inspector for McDonnell Douglas, then moved to Nasa were he worked on the Apollo programme.
But Posey lost his job in 1969 amid funding cuts, and soon saw the once thriving town around Kennedy Space Center laid low by America's fickle feelings for space.
"The layoffs really started as soon as man landed on the moon… There weren't any jobs around here," he says, describing seeing former Nasa engineers pumping gas until their houses were foreclosed on.
In the intervening years, America has lost even more of its once-sizable advantage in the space race.
"The United States [used to account for] 100% of commercial rocket launches, but because of the overregulation and red tape, America [has] parlayed that into about 5%," Posey says.
"Almost every country now has a space program, but back in those days America was the only one," he adds. "It was just taken too much for granted and we kind of choked the goose that laid the golden egg for us."
Posey - a member of the House space subcommittee - has introduced a spate of space legislation, most recently the American Space Technology for Exploring Resource Opportunities in Deep Space (Asteroids) Act. It proposes allowing US commercial entities ownership over any resources obtained in outer space from an asteroid.
The slim five-page proposal is considered by some a stepping stone to larger global discussions about private entity ownership over resources in space.
The bill, currently expected to be the first up in the 114th Congress after the mid-term elections on 4 November, is just another way the Republican incumbent is trying to attract private space industry to his district and the US.
"It's hard to do business in the United States in aerospace," he says. "Nobody is regulated as highly as we are."
In his heavily Republican district, Posey has already far out-earned his Democratic competitor in political contributions. As he continues to make the campaign rounds, he says his platform is focused squarely on the economy and jobs.
But space is very much a part of that, in his district and elsewhere.
"It's important to mankind, it really is," he concludes.