Why Chinese couples are having their wedding photos taken in London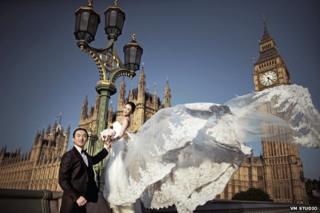 The demand for a particular type of scenic backdrop for pre-wedding photographs is driving Chinese couples to get up very early in the morning, writes Ed Prendeville.
Central London at 06:00 on an August morning can seem a very different city.
While its iconic skyline lies bathed in soft light, rubbish trucks and delivery vans have a free run of the usually heavily congested roads. The pavements, which will later be thronged with tourists, are empty, save for the odd shift worker or lone pigeon.
In a city which has yet to rouse itself from slumber, the sight of a couple in full wedding attire - posing for dramatically-staged photographs on Westminster Bridge - is charmingly incongruous.
Zhiwen Zhao and Yixuan Liu met in Beijing before moving to London a few years ago to study. They're engaged and will soon return to China to be married. Before they go they've decided to have their pre-wedding photographs taken in London.
It's a Chinese custom for couples to have their wedding photos taken before they are married, rather than on the day of the nuptials. "We wanted to take some sweet moments to share with the guests," says Yixuan. On the wedding day, the photos will be shown to the guests on cards, via big screens and perhaps on video.
In China, pre-wedding photography is a huge - and lucrative - industry. Zhiwen and Yixuan are part of a small but rapidly growing number of young couples who are choosing to have their photographs taken overseas, often in front of famous landmarks.
One of the people catering to this growing market is photographer Tao Wei. While studying at University College London, he agreed to take a series of pre-wedding snaps as a favour to a friend. More requests followed and eventually he gave up his degree and set up VM Studios. The company has been open for just a year, but in that time he's already done pre-wedding photographs for 150 couples.
One of his rivals, Crystal Leung, has been running Gigibride Wedding Photography for the past eight years and says the number of couples choosing London is growing year on year. "In the last 20 years people have more money and so it's become a growing tradition. In the past they would only maybe take one photograph," she explains.
Leung says around half of her clients are students in the UK and shortly to return to China. The remainder are couples who have flown over from China, Hong Kong or Taiwan especially to have their pre-wedding photographs taken in the capital. "Westminster Bridge, St Paul's, Tower Bridge and Bank are the most popular spots," says Tao, "but sometimes couples who have been studying here will want photographs taken in their university library or in other parts of London that are special to them."
While London is growing in popularity as a location for pre-wedding photography, Crystal says it still lags a long way behind Paris and Santorini in Greece - partly due to the fact that a separate visa is needed for travel to the UK.
According to Visit Britain, 196,000 Chinese tourists came to the UK last year. Ten years ago that number was 68,000. But it's not just the fact that more of them are visiting the UK - they're also among the biggest spenders. While the average tourist spends £640, each Chinese tourist will typically contribute £2508 to the British economy.
"We both love London and its fresh air and blue skies" says Yixuan, looking at her fiance. "Our family were very excited when they heard we were going to have our photos done here. It's expensive, but it's worth it."
It's also a very long night for the couple. As part of the package, VM Studios provides dresses for the bride, a suit for the groom and transport. Hair and make-up starts just after midnight with the couple arriving on location just before dawn to ensure they have some of the locations almost to themselves. Photoshoots will last for anywhere from five to 10 hours, but could stretch to 14 hours if the couple want a video as well.
For Zhiwen and Yixuan, the first stop is Westminster Bridge, before a stroll along Victoria Embankment for a few shots in front of the London Eye. Here, the couple are joined in some photos by a group of late-night revellers making their way home. "This happens quite often", smiles Tao. "Most people are very surprised to see the couples and want to come over to say 'congratulations'."
Tao reveals that many of his clients will only consider using a Chinese photographer - but not just because of the language barrier. "Chinese people judge beauty differently from Europeans," he suggests.
In his view, European couples prefer more "natural looking" pictures, whereas his Chinese clients prefer what he describes as a "natural, plus post-production" style. For Tao this means not only changing the colour on some photos, but digitally removing "clutter" from the background, such as litter on the ground or people who have wandered into the frame.
After another series of photographs on a roundabout in front of Trafalgar Square - Tao says they need a permit to shoot inside the square - Zhiwen and Yixuan snatch a quick break at a nearby coffee shop.
The couple huddle together on a seat holding their drinks, but Tao soon glances at his watch. It's 07:15 and time to hurry to St Paul's Cathedral, before the commuters and tourists reclaim the streets.
Subscribe to the BBC News Magazine's email newsletter to get articles sent to your inbox.