Been and Gone: The original Jersey Boy, and the inspiration for Cider With Rosie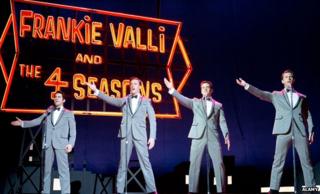 Our regular column covering the deaths of significant - but lesser reported - people of the past month.
Rosalind Buckland was the inspiration for the title of Cider with Rosie, Laurie Lee's evocative description of his childhood in a Cotswold village. Born Rosalind Gleed, she was Lee's second cousin and was the only Rosie growing up in the village of Slad during World War One. Lee's description of sharing cider and kisses with Rosie is one of the best-known passages of the book. "Never to be forgotten, that first long secret drink of golden fire, juice of those valleys and of that time, wine of wild orchards, of russet summer, of plump red apples, and Rosie's burning cheeks." In fact, little Rosie Gleed was only nine at the time, but it has long been accepted that the Rosie in question was a composite of a number of village girls. She later declared, "I feel very proud that Laurie wrote me into his book." She died just four days short of her 100th birthday.
Songwriter Bob Crewe's compositions made the Four Seasons one of the most successful bands of the 1960s. He penned the hits Sherry and Big Girls Don't Cry, both of which showcased the band's close harmonies and Frankie Valli's falsetto voice. Crewe co-wrote a number of other songs for the band including Rag Doll, Can't Take My Eyes Off You and My Eyes Adored You. Crewe was a New Jersey native who failed in his ambition to be a performer, and turned to songwriting instead. His compositions were covered by a number of artists - Silence is Golden by the Tremeloes, The Sun Ain't Gonna Shine Anymore by the Walker Brothers and Bye Bye Baby by the Bay City Rollers. In the 1970s he turned to disco with Lady Marmalade, a hit record for Labelle. As a record producer he oversaw Lovers Concerto by The Toys, based on a Bach minuet, and the soundtrack to the Jane Fonda film, Barbarella.
Pete Shutler was a founder member of The Yetties, one of the most popular bands on the British folk music scene. He went to school in the Dorset town of Yetminster, where he met the other band members and from which they took their name. After being suspended from his job with the local council for moonlighting as a musician, the Yetties went professional, releasing more than 40 albums during their career. Shutler's accordion came to the fore in the band's rendition of old English dance tunes. They became well-known for playing traditional music that had originally been collected by the author, Thomas Hardy. Away from The Yetties, Shutler accompanied Bob Arnold (The Archers' Tom Forrest) on an album of folk songs and it is his accordion version of the Archers' theme tune, Barwick Green, which plays on the Sunday omnibus edition.
The Queen is rarely seen in public without a hat and many of them were designed by Phillip Somerville. A former actor, he began designing hats in 1953, opening his own business in London in 1971. The Queen became a customer in the early 1980s and, at one time, Somerville was making more than 50 hats a year for her. It was an exacting task as he had to liaise closely with her clothes designers to ensure the colour and style of his creations matched her coats. As well as the Queen, he made hats for Diana, Princess of Wales and the Duchess of Kent. He was responsible for creating two items of headgear for James Bond films - the wide-brimmed black hat worn by the character Xenia in Goldeneye, and the fur hat modelled by Elektra King in The World is not Enough.
Sheila Stewart's book, Lifting the Latch, was compared to Lark Rise to Candleford as a vivid description of a rural England, now vanished. Based on interviews she had with a former farm labourer, it tells of life on the land in a rural community in the days of plough horses and carts. Stewart was the illegitimate child of a servant who was left with an elderly couple in Devon. But she was taken away and brought up in homes run by the Waifs and Strays Society. She won a scholarship to a grammar school and became a teacher, later setting up her own nursery school. Her memoir of her life in care, A Home from Home, was published in 1967 when she became a full-time writer. She also published Country Kate, written in the Warwickshire dialect, and Ramblin' Rose, chronicling the lives of women who had worked the horse-drawn narrow boats on England's canals.
The ginger tomcat, Hamish McHamish sprang to fame after the publication of a book detailing his adventures around the university town of St Andrews, in Fife. In theory he belonged to Marianne Baird, a retired BBC producer, but he was prone to wander, taking up residence wherever food and a comfortable place to sleep could be found. These included a number of shops in St Andrews where he became a familiar figure to the residents and students in the town. His fame spread when he acquired a Facebook page and a Twitter account which encouraged visitors to look out for him and have their picture taken with the feline star. His life was chronicled in a book, Hamish McHamish of St Andrews: Cool Cat About Town. In the end he succumbed to a chest infection, but remains immortalised in a bronze statue, unveiled earlier this year by the Provost of Fife.
Among others who died in September:
Toby Balding Racehorse trainer, one of the few to win the 'Big Three" jump races.
Deborah Cavendish Dowager Duchess of Devonshire and last of the Mitford sisters
Christopher Hogwood Conductor and founder of the Academy of Ancient Music
George Hamilton IV Country singer
Ian Paisley Founder of the Democratic Unionist Party
Donald Sinden Actor with a distinctive rich voice.
Richard Kiel 'Jaws' in the Bond films
Joan Rivers Outrageous comedienne
Subscribe to the BBC News Magazine's email newsletter to get articles sent to your inbox.