The game that flourished in WW1 trenches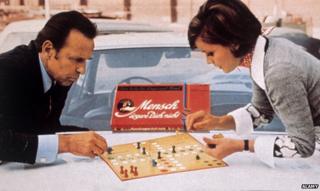 A board game played by German soldiers in the trenches of World War One is giving modern computer games a run for their money - how has it managed to stay so popular for so long?
There is, we know, a very big centenary under way. In Germany 100 years ago there was a momentous development, and the revolution that ensued is being marked with great fervour in village halls up and down the land.
People sit down around tables. There is discussion and there are moments of reflection, punctuated with loud altercation.
I refer, of course, to the invention of the board game Mensch Aergere Dich Nicht. It was devised a century ago and became popular among German troops in the trenches.
Families back home ordered games from the manufacturer, who would then despatch them straight to the frontline.
Life in the trenches
In the midst of the mud and slaughter, the game took off and it is still going strong - even in this age of computers.
Its name means "Man, Don't Get Annoyed With Me". It is the catchphrase of the game because the whole point is to move your counters round a board and have your opponents' pieces thrown off it.
You can think you are doing really well, just about to get your counter on the home square, and suddenly your opponent - a member of your family, no doubt - with a lucky roll of the dice sticks their counter on yours and you're back to square one. "Mensch Aergere Dich Nicht" - "Don't Get Annoyed With Me".
I went to a tournament in the town of Suhl, in the densely wooded mountains and winding ravines of central Germany, not that far from the Czech border.
There, people aged from seven or eight up to their 70s and 80s sat and threw the dice, shouting and calling to each other "Mensch Aergere Dich Nicht".
I asked the organiser Almut Ehrhardt what the modern appeal was.
"On the internet and the computer you're always alone. You have opponents on the internet but you don't see them. You can't see the joy on their faces. People here at the tables are not alone," she said.
Nor were they in the trenches or, more importantly for the success of the game, in the hospitals in which the wounded were treated.
The game was invented by Josef Friedrich Schmidt, an employee of the city of Munich who had three bored children to entertain at home. He devised the game with dice and counters and played it happily with an ever-widening circle, including his neighbours' children.
After a couple of years of this amateur fun, he decided to put it on the market. It only took off during World War One.
Schmidt had the very bright idea of making hundreds of copies of the game and giving them to hospitals used by the war-wounded. Sales haven't slowed down in the succeeding century.
There is, I think, something very German about the stubborn refusal of its citizens to move with the times. Of course, Germans embrace lots of aspects of modernity - "Vorsprung durch Technik" (Progress through technology) - but one of the charms of the place is that old habits die hard.
I shake hands with my colleague every morning and evening. There is a bakery on every street. We eat a proper lunch - a beef stew in the canteen, with sprouts.
They cook seasonally too - goose with red cabbage on the menu in restaurants at Christmas, cured herring in June, Pfifferlinge - a type of fine mushroom - in late August, pumpkin or Kuerbis in October.
There is a heart-warming eschewing of newness for the sake of it.
In the finance ministry the lifts are ancient. They are those open lifts which continually move in a belt and which you step onto with some trepidation, I find. Old-fashioned but effective - a fitting symbol for a finance ministry.
The German way: Improve what works but keep what pleases people - like a board game.
It comforted shell-shocked lads 100 years ago and it is giving computer games a run for their money today. How comforting.
---
A global game
Other, much older forms of the game are known about - including Patolli or Patole (illustrated), an ancient Aztec game thought to date back to the 3rd Century BC
Pachisi, Chaupar or Chausar are ancient Indian games sharing certain features, which seem to have first been described in the 16th Century, but date back much further
Variants of the game were played in England in the late 19th Century - in the UK it is called Ludo
Sources: Spielzeugmuseum Nuernberg and Expedition Magazine
---
How to listen to From Our Own Correspondent:
BBC Radio 4: Saturdays at 11:30
Listen online or download the podcast.
BBC World Service: Short editions Monday-Friday - see World Service programme schedule.
Subscribe to the BBC News Magazine's email newsletter to get articles sent to your inbox.