Have some clubs paid too much for their new players?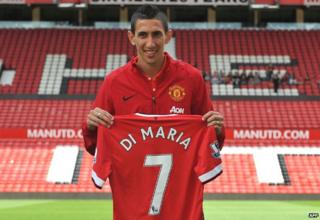 When Argentine international midfielder Angel Di Maria posed with his new Manchester United shirt last week, he had just become the most expensive footballer to be bought by a British club. But did Manchester United pay too much?
Since the deal was announced at the end of August, fans have been debating whether the record transfer fee of £59.7m ($99m) will turn out to be worth the money.
And with clubs in England's top division splashing a record £835m ($1.4bn) during the transfer window, how do they know if they are getting good value?
The CIES Football Observatory, which is part-funded by the sport's governing body FIFA and affiliated with the University of Neuchatel in Switzerland, has come up with a statistical model which estimates the transfer value of every player in the top divisions in England, Spain, Germany, Italy and France.
The model considers a number of factors including previous transfer fees, a player's age, length of contract remaining, level of the club team played for, number of matches played, goals scored, number of assists, dribbles and tackles. International appearances, with consideration of which country the footballer has played for, are also taken into account.
The Football Observatory's valuations have been accurate in predicting actual transfer fees in more than 80% of cases, according to the organisation's co-founder Raffaele Poli. He says this demonstrates that the transfer market is rational.
But his model had estimated that Di Maria was worth around £36m ($60m), as opposed to the £59.7m ($99m) United actually paid.
"Of course, Di Maria is an outstanding player but I think this is more related to the very bad start to the season, the bad season they had last year and the fact that the player himself didn't really want to leave Real Madrid, and Real Madrid didn't want or need to transfer the player," says Poli.
He thinks United also paid around £13m ($22m) too much for midfielder Ander Herrera, who signed for £29m ($48m). The model valued teenage left back Luke Shaw at around £27m ($45m), but he moved for that amount plus an extra £5m ($8m) in add-ons.
So according to the Football Observatory, United overpaid by almost £42m ($70m) on those three transfers.
Football agent Seb Ewen, however, cautions that while statistics can give a good indication of a player's value, they also have their limits.
"We're not dealing in commodities, we're dealing with humans, you deal with emotions, you deal with families, you deal with many tragedies as well within these players. These aren't machines, they aren't robots who consistently perform and produce because if they were, it wouldn't be fun."
He says a player's transfer fee is determined by the situations of the clubs who are buying and selling, the contractual situation of the player, as well as general economic and market forces.
"There are many things that you can't account for and because of that reason alone, I think it's impossible to assess and quantify accurately via statistics," he says.
In fact Ewen thinks the Di Maria deal represents good value. "Somebody like Di Maria doesn't come along very often and the amount of hope that he can give a club can't be underlined either.
"If you can go out and make that sort of statement of intent and buy in world stars for your club, it's never going to be a negative," he says.
Despite Poli's model being right 80% of the time, when it comes to predicting a player's value on the transfer market, he acknowledges there are always exceptions.
Another of these is the summer's eye-catching transfer of Mario Balotelli who moved from AC Milan to Liverpool for £16m ($27m).
As a 24-year-old Italian international with a good goal scoring record in Italy and England, Balotelli's true value is £28m ($47m) says Poli.
"For Balotelli it's a bit the opposite of Di Maria." He says the fee was lower than the model calculated because of "non-sporting issues".
"Balotelli unfortunately wasn't able in the past to behave in the best way. I would say that off the pitch and sometimes on the pitch... so this also was reflected in the price."
Poli offers another example of a player who has moved clubs for less than his "true" value - Luis Suarez, who has left Liverpool for Barcelona.
Before the World Cup, the striker would have commanded a fee in excess of the £86m ($143m) Real Madrid paid for Gareth Bale last year. However, after Suarez bit Giorgio Chiellini in the match between Uruguay and Italy, his fee dropped by £20m ($33m), to a reported £75m ($125m).
When it comes to both buying and selling, the Premier League team that has done best in the latest transfer window is Chelsea, says Poli.
Although his model shows the club paid £4m ($7m) over the odds for full-back Filipe Luis, it got a bargain with Diego Costa who is worth £8m ($13m) more than the £32m ($53m) Chelsea paid Atletico Madrid.
Midfielder Cesc Fabregas, at a reported £27m ($45m), was the right price or slightly less than he should have been, and striker Loic Remy was nearly £2.5m ($4m) cheaper than his "true" value.
It's thought that Chelsea received £40m ($66m) from Paris St-Germain for defender David Luiz - significantly more than the £23m ($38m) price that the Football Observatory put on his head. Midfielder Kevin de Bruyne (£16.7m; $28m) transferred to Wolfsburg for £3m ($5m) more than his "true" value, while Romelu Lukaku's £28m ($47m) transfer to Everton was the "right" price.
For fans of the top clubs, though, there is one statistic that will justify a player's transfer fee at the end of the season - the number of trophies they help the team win.
Listen to More or Less on BBC Radio 4 and the World Service, or download the free podcast
Subscribe to the BBC News Magazine's email newsletter to get articles sent to your inbox.