The retro cult around Fighting Fantasy gamebooks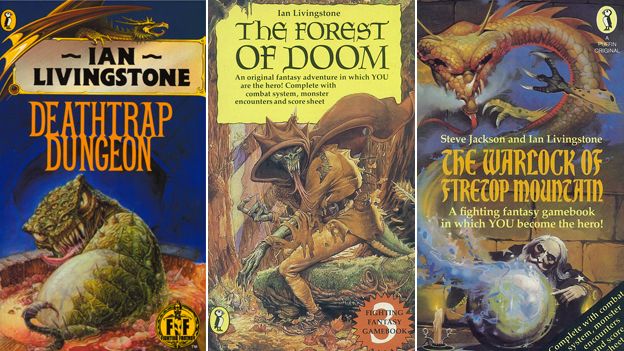 In March 1983, an unconventional series of books held the top three entries of the Sunday Times bestseller list. These were Fighting Fantasy books - stories "in which YOU are the Hero". All that you needed to take part was a pencil, eraser, dice and an active imagination, writes Peter Ray Allison.
Created more than 30 years ago by Games Workshop founders Steve Jackson and Ian Livingstone, Fighting Fantasy continues to remain popular. The forthcoming Fighting Fantasy Fest in London will see dedicated fans coming from as far as Taiwan and Australia.
Fighting Fantasy came about after a representative of Penguin visited a "games day" event in 1980. "They were fascinated by a hall jam-packed with 5,000 people playing Dungeons & Dragons," says Livingstone, "They asked us to write a book about the hobby of role-playing."
Instead, Jackson and Livingstone convinced Penguin that a game book, which simulated the experience of role-playing, would be more effective. This book was The Warlock of Firetop Mountain, and the Fighting Fantasy series was born.
Fighting Fantasy employed, ahem, a non-linear, second-person narrative with a branching storyline. After reading a section, the reader would be invited to make a decision about how the story progressed. These choices could range from deciding which way to head down a corridor or whether to help a fair maiden (an invariably fatal decision in Fighting Fantasy).
Each decision would be associated with a section number that the reader would then subsequently read. These entries would continue the story into a series of branching narratives that would lead on to further adventures. Or an untimely demise.
For example: "Walking along the path you hear footsteps and arguing voices ahead of you. If you wish to meet their owners, turn to page 317. If you would rather hide in the bushes and let them walk by, turn to 300."
If you went to page 300, you saw "two pairs of pair of spindly legs in tattered cloth shuffle past you and the voices soon fade into the distance".
But page 317? "You encounter a pair of hobgoblins which you must FIGHT!"
Second-guessing such decisions were the essence of the fun. Would the apparently innocuous decision lead to a grisly encounter? Or would the dangerous-sounding option actually get you out of trouble?
Livingstone recalls sitting on a bus during the 1980s watching people read Fighting Fantasy. He was amused to see them bookmarking pages with their fingers in order to undo decisions which concluded with failure or death.
The Warlock of Firetop Mountain was not an immediate success, but this soon changed. "Playground chat was the virality of the game," explains Livingstone, "Children became completely taken over by the roleplaying, as suddenly this was the chance to experience a book where they were the hero."
Software developer Christopher Brind was a fan at the time. "The books had been out for a while by the time I started reading them, so I was able to hammer through a whole bunch of titles once I got addicted."
Dr David Waldron, a lecturer in History and Anthropology at Federation University Australia, collected a complete set of Fighting Fantasy: "I started when I was eight years old in the early 80s. For 30 years I have pottered about thrift shops for old copies to make a collection."
The Mechanics of Fighting Fantasy
Before starting a Fighting Fantasy gamebook, readers created a character by rolling dice to determine their character's Skill (proficiency in combat), Stamina (damage tolerance) and Luck.
The higher these statistics, the better you were (and the easier the gamebook became).
Throughout the gamebook, readers would face various enemies and monsters, from bandits and mercenaries to zombies and dragons. Each of these opponents would also have Skill and Stamina statistics.
Combat would be resolved by rolling dice and comparing the player statistics with that of the monsters (some readers would forego this mechanic, due to the practicalities of dice rolling whilst outside).
In Jonathan Green's forthcoming book, You Are The Hero - A History of Fighting Fantasy, he notes that while the books were targeted at boys, the character's gender in the gamebooks was never identified. Thus large numbers of girls also read Fighting Fantasy.
Not everybody liked the books. Livingstone recalls: "The Evangelical Alliance published an eight-page warning guide saying, because children were interacting with ghouls and demons, they would be interacting with the devil. One housewife phoned her radio station and said her son levitated having read one of my books. A vicar also threatened to tie himself to the gates at Penguin Books until Fighting Fantasy was banned."
But there was a clear positive. "It got children reading," says Livingstone.
With the success of The Warlock of Firetop Mountain, Penguin wanted more. Nearly 60 gamebooks would be commissioned, with writing duties delegated to authors such as Jonathan Green and Marc Gascoigne in later titles.
In an era of potent concern over internet pornography, cyber-bullying and drugs, it is hard to imagine a game being controversial. But 30 years ago Dungeons & Dragons was the subject of a full-on moral panic.
In Green's book, he discusses writers and creators who grew up reading Fighting Fantasy including novelist and screenwriter Alex Garland, author Joe Abercrombie and Moshi Monsters creator Michael Acton Smith. Labour MP Tom Watson was another fan of the series, and appeared in Ian Livingstone's Blood of the Zombies, released as part of the 30th anniversary.
Neil Rennison, creative director of Tin Man Games, describes the books as "my first portable gaming experience - I remember family holidays where I would take along a stack of Fighting Fantasy books". Rennison was approached by Livingstone to develop app adaptations of the books.
The influence of Fighting Fantasy continues to be felt today. "Without The Warlock of Firetop Mountain I wouldn't be doing what I'm doing today," explains author Graham McNeill. "It was the first book I read that opened my eyes to the possibility of being a writer."