Amir Mehdi: Left out to freeze on K2 and forgotten
By Shahzeb Jillani
BBC News, Hasanabad, Pakistan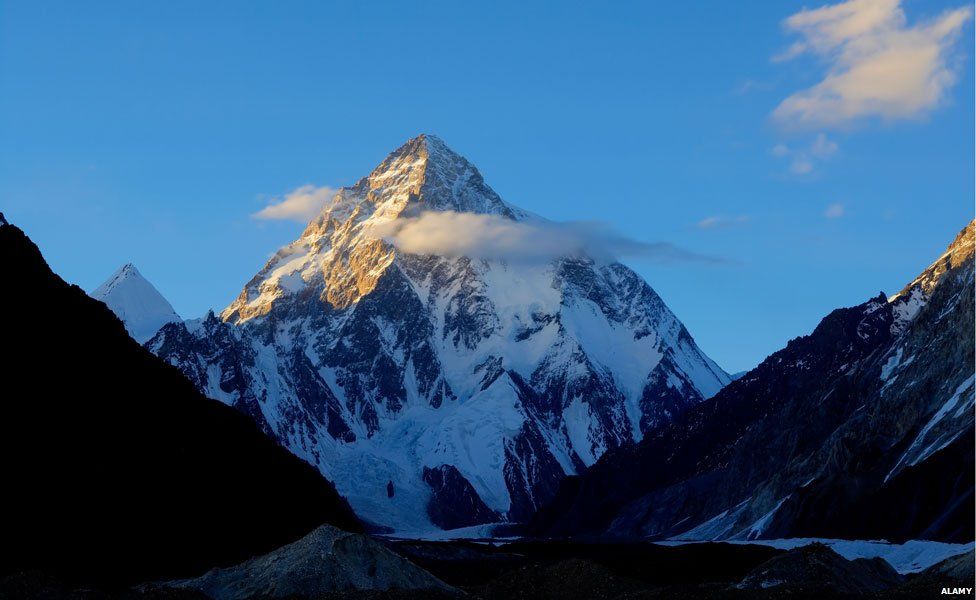 Amir Mehdi wanted to be the first Pakistani to scale the country's highest peak, K2, and as one of the strongest climbers in the first team to conquer the summit, 60 years ago, he nearly did. Instead he was betrayed by his Italian companions, left to spend a night on the ice without shelter, and was lucky to survive.
In the picturesque Hunza Valley, off the Karakoram Highway that connects north Pakistan with the Chinese province of Xinjiang, lies the village of Hasanabad.
I travelled to this remote place after discovering it had been the home of one of Pakistan's pioneering high altitude porters, Amir Mehdi - also known as Hunza Mehdi.
The Hunza porters, equivalent of the Sherpas in Nepal, are still in great demand for expeditions to Pakistan's highest peaks, such as K2, Nanga Parbat, Broad Peak and Gasherbrum I and II - five of the world's 14 mountains more than 8,000m high.
But Amir Mehdi, a member of the Italian expedition that triumphed on K2 in 1954, is today a forgotten man.
"My father wanted to be the first Pakistani to put his country's flag on top of K2," says Amir Mehdi's son Sultan Ali, aged 62. "But in 1954 he was let down by the people he was trying to help."
A year earlier, in 1953, Mehdi had proved his strength on Nanga Parbat (8,126m) assisting the Austrian mountaineer, Hermann Buhl. Buhl, the first person to reach the summit, had been forced to spend a night alone standing on a narrow ledge as he descended, and had later needed help to reach the base of the mountain. Mehdi and another local porter took turns carrying him on their backs.
So, when the Italians approached the Mir of Hunza, Jamal Khan, asking for men to help with the K2 ascent, Mehdi was among those picked from the hundreds of aspirants who packed the royal court.
He went on to make a huge contribution to the success of the expedition, which turned two climbers - Achille Compagnoni and Lino Lacedelli - into Italian national heroes.
A day before their summit bid, Mehdi had been persuaded to help an up-and-coming Italian climber, Walter Bonatti, to carry oxygen cylinders up to a height of about 8,000m, where they were to meet Compagnoni and Lacedelli.
"Other high altitude porters refused. My father agreed to the mission because he was offered a chance to get to the top," says his son, Sultan Ali.
But when they got to the designated spot, late in the evening, the tent was nowhere to be seen.
Eventually, as they searched for their Compagnoni and Lacedelli, and continued to climb, one of Bonatti's shouts was answered. The camp had been moved to a point now beyond their reach. A voice shouted to them to leave the oxygen and go back down, but the darkness made this impossible.
Mehdi and Bonatti were forced to spend the night huddled together on an ice ledge enduring temperatures of -50C (-58F). Both were ready to die, but somehow they survived what was, at the time, the highest ever open bivouac, at an altitude of some 8,100m (26,570ft).
It would later be revealed that Compagnoni had deliberately moved the camp because he wanted to prevent Bonatti and Mehdi from joining the summit bid. Compagnoni apparently feared that Bonatti, who was younger and fitter, would steal the limelight.
The next morning, leaving the oxygen cylinders there, Mehdi and Bonatti descended. Compagnoni and Lacedelli then picked up the oxygen and went on to claim the summit.
Unlike his Italian colleagues, Mehdi hadn't been given proper high-altitude snow boots. He was wearing regular army boots - according to some reports, they were two sizes too small for him. Inevitably, he suffered severe frostbite, and by the time he reached base camp he was unable to walk. He had to be carried on a stretcher to a hospital in the town of Skardu, where he was given first aid, and transferred from there to a military hospital in Rawalpindi.
Doctors had no choice but to amputate all his toes to prevent gangrene from spreading. He was only released from hospital eight months later.
When he finally returned home to his village in Hunza, Mehdi put away his ice axe and told his family he never wanted to see it again.
"It reminded him of his suffering and how he was left out in the cold to die," recalls his son, Sultan Ali.
While his Italian colleagues went on to build careers, write books and make money, Mehdi never climbed a mountain again.
Mehdi's frostbite was a diplomatic embarrassment - for Italy, as well as Pakistan, where the press responded with fury.
The Italians were accused of tricking Mehdi and leaving him mutilated. Officials from the two governments went into overdrive to put a lid on the controversy.
Italian officialdom at the time was keen to protect Campagnoni's legacy. And to do so, they needed someone else to take the heat for Mehdi's suffering. Bonatti was turned into the fall guy - in Italy and in Pakistan - accused of reckless risk-taking and scheming to claim the summit himself before the others.
Mehdi was asked to offer his official testimony. He obliged, travelled to the city of Gilgit and spent three days narrating his ordeal before a Pakistani official. Sultan Ali, maintains that his father broadly supported Bonatti's version of events of how the two of them were tricked at K2. But he says he can't be sure if Pakistani officials tampered with his father's evidence or made him sign false testimony, to wrongly blame Bonatti for his suffering - which is how most people interpreted his statement.
"My father was a simple man. He knew how to climb mountains, but he didn't know how to read or write. It's possible that his testimony was used to discredit Bonatti," says Sultan Ali.
Amir Mehdi would spend the next five decades of his life scarred by his ordeal.
For some years, he was unable to move or find work, and struggled to feed his wife and children. Gradually, he learned to walk on his stumps.
The Italian government sent him a certificate in the post, informing him that the president had awarded him the rank of cavaliere.
From time to time, he received letters and books from Italy. But Mehdi couldn't read them and they did nothing to address his financial difficulties.
Occasionally, foreign mountaineers who had heard about his open bivouac at 8,100m would come to meet him.
"Sometimes, his eyes welled up with tears," recalls his son who helped translate the conversations. "He would tell them he had risked his life for the honour of his country, but he was treated unjustly."
For the most part, though, Mehdi kept his pain to himself.
In 1994, he met up with Compagnoni and Lacedelli in Islamabad to mark the 40th celebrations of the first ascent.
Sultan, who accompanied his father to the event, recalls it as a highly emotional reunion.
"They didn't understand each other's language. But the three of them cried like babies when they hugged each other."
All along, Mehdi didn't ask for an apology. And none was offered.
The official Italian narrative, which effectively concealed the truth about the expedition, remained unchanged for decades - although Bonatti did his best to challenge it. Only the publication of reminiscences by Lacedelli in 2004 prompted an investigation, which led in 2007, to formal recognition by the Italian Alpine Club of the essential role Mehdi and Bonatti played in K2's conquest.
But that was too late for Mehdi. He died in December 1999 at the age of 86.
After the Italian expedition, 23 years were to pass before the next successful ascent of what mountaineers consider one of the most treacherous of the world's highest mountains. One member of that Japanese-led expedition was the Pakistani climber Ashraf Amman, also from Hunza, who claimed the title Mehdi had longed for - that of the first Pakistani to climb the world's second highest mountain.
But it took much longer for a fully homegrown Pakistani expedition to scale K2. That finally happened on 26 July this year, just a few days short of the 60th anniversary of Amir Mehdi's frozen night at 8,100m.
Amid all the celebrations, Amir Mehdi's name has rarely been heard, either in Pakistan or anywhere else.