The dead dog that changed colour twice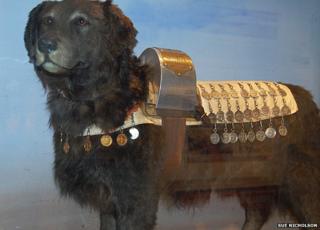 From the Victorian era until after World War Two, charity collection dogs were a popular sight in British train stations. They continued their charitable calling even after death.
"Though dead, Jack is still on duty and solicits a continuance of your contributions in support of his good work for the Orphans." So reads the plaque in London Jack's glass display case at the Bluebell Railway museum.
The black retriever has spent almost a century - eight of his living years and a further 83 years as a stuffed corpse - collecting for good causes.
Once famous for patrolling London's Waterloo station, he was one of a group of celebrity dogs who made thousands of pounds for charity from the mid-Victorian era until the 1950s.
He and others like Brighton Bob, Bruce of Swindon, Chelmsford Brenda, Wimbledon Nell and Oldham's Rebel mixed with commuters, sometimes boarding trains on their own to encourage more giving by passengers. They barked, "shook hands" and performed tricks for money, their exploits frequently reported in the national and regional press.
"They were cuter than human beings and people responded to that," says Jan Bondeson, author of Amazing Dogs: A Cabinet of Canine Curiosities. "There were very many postcards printed of them.
"If the dogs were docile enough, they were allowed to walk around the stations on their own. But some were tethered in case they walked in front of a train."
This was not the only risk they faced. In 1896, a gang of criminals picked up Tim, an Irish terrier who worked at London's Paddington station, and held him upside down over a suitcase, shaking him to free up the coins from his collection box. When released, he bit one of his assailants on the calf.
Some dogs were less than honest themselves. Initially they collected coins in their mouths and gave them in, but secure boxes had to be tied to them after a journalist for a Christian magazine discovered in the 1860s that Brighton Bob was using some of his money to buy biscuits at a bakery.
The dogs, usually looked after and trained by railway staff, proved popular and lucrative. For this reason there was a whole line of London Jacks. The first, who came into service in 1894, disappeared in 1899, but was later found in a house in Soho, where he was being held by criminals, after a boy heard barking and informed the police.
He retired, died and was stuffed and put on display in a cabinet with a slot for coins at the front. "From his glass case at Waterloo station, he still appeals to the passengers who pass by," reported the Sphere newspaper in 1901. His son took over and was said to stop and look at his late father whenever he passed by.
The fifth Jack - the one now on display at the Bluebell Railway Museum in East Sussex - was born in 1917 and started collecting in 1923. He made more than £4,000 to help maintain an orphanage for railwaymen's children in Woking, Surrey.
He wore, and still wears, a large collection of medals on his back, a silver one awarded for every £100 raised and a gold one for every £500.
In 1924 he was photographed with Jackie Coogan, the child star of Charlie Chaplin's hit comedy film The Kid, as he passed through Waterloo. The event caused a shortage of luggage porters, who rushed to view the meeting of celebrities.
By 1930, Jack's eyesight was going and he retired. The press showed him demonstrating to his successor how to board a train safely with a collection box.
He died the next year. He too was stuffed and mounted in a cabinet. But strangely at some stage during his journey from Waterloo to the Bluebell Railway, which bought him in 1967, he changed colour.
For many years he was regarded as a golden, rather than a black, retriever. A drawing of him featured on a first-day cover sent in 1979 is coloured yellow.
"He was in a case for a number of years and must have become bleached by the light over time," says Colin Tyson, who edits the Bluebell Railway's quarterly newsletter.
Jack went for a restoration five years ago and was dyed black once more after the taxidermist discovered that, judging by his roots, he was not a natural blond. He returned to the Bluebell Railway, where he still collects. For a while his takings went on funding his own renovation costs. Now these are paid off, he collects for Woking Homes, on the site of the old orphanage, which cares for retired railway staff.
"People go to a museum like ours expecting to see preserved locomotives and carriages, not preserved dogs," says Tyson. "But Jack is very popular, especially with the kids. Maybe they expect him to raise a paw when they put a coin in." He doesn't.
---
Station Jim
According to the station inscription at Slough, Jim arrived when he was three months old. He was described as a "ball of wool that could be carried around in an overcoat pocket"
He collected for the Great Western Railways Orphans' Fund, but because of ill health, managed to collect only £40
He once boarded a train and travelled alone to Leamington. Another time, he turned up at Paddington Station
He could sit up and beg, bow or stand on his hind legs. A dropped, lighted match would be "extinguished with a growl"
---
Most of the stuffed former station dogs have disappeared or are in private ownership. The most prominent of those still on display is Station Jim, who died aged just two in 1896. He remains in a case on platform five of Slough station. A spoof Twitter feed shares his imaginary observations.
Jim was part of what Bondeson calls the "golden age" of station dogs. By the time Britain's railways were nationalised in 1948, numbers had dwindled. An Airedale terrier called Laddie, who worked at Waterloo until 1956, is thought to have been the last to work the platforms. Stuffed animals were also gradually removed.
"Under the more corporate British Rail, they didn't want things like dead dogs in stations," says Tyson. "But animals like London Jack and Station Jim are a proud part of our railway heritage. They helped a lot of people."
Subscribe to the BBC News Magazine's email newsletter to get articles sent to your inbox.