Why sprinters are muscly and climbers are wiry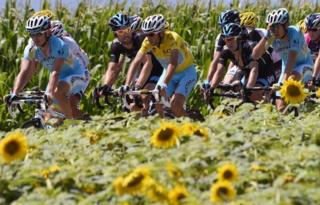 As the Tour de France heads for the mountains the sprinters will start to take a back seat. Don't expect the likes of Marcel Kittel and Andre Greipel to win any stages up there. This is the territory of riders like Vincenzo Nibali and Joaquim Rodriguez.
To look at them, they're as different as flat and jumps racehorses. The sprinters are packed full of muscle while the grimpeurs (climbers) are lithe, almost skeletal figures.
But the Alps and the Pyrenees look pretty mean, and often require 30-40 minutes of solid climbing. You would think a bit of muscle would come in handy, so why do climbers do better with less of it - and why do those muscly sprinters struggle with the gradient?
Before answering that question, let's look more closely at their physiques. According to Paolo Menaspa, a physiologist and cycling coach studying at the Australian Institute of Sport, the key factor is body mass index, or BMI. (To calculate BMI you divide someone's weight in kilos by their height in metres squared.)
"In the past climbers were usually around 175cm and 62kg but if you look at the Tour de France this year the climbers are definitely taller - they now average 180cm and are slightly heavier at 65kg. The constant thing is the BMI. For a climber, BMI is normally around 20," he says.
Sprinters, who specialise in sudden bursts of speed, may be short or tall, Menaspa says, but their BMI is usually around 22 or 23.
This is demonstrated by the riders in this year's Tour. Among the sprinters, for example, are Marcel Kittel, who is 188cm tall, and 82kg, with a BMI of 23.2, and Andre Greipel who is 184cm, and 75kg, with a BMI of 22.2. Among the climbers, Vincenzo Nibali is 181cm, and weighs 65kg, with a BMI of 19.8 and Joaqim Rodriguez is 169cm, and weighs 57kg, with a BMI of 19.9.
Cyclists' height, weight and BMI
Climber: Vincenzo Nibali
Time trialist: Tony Martin
Sprinter: Marcel Kittel
181cm
185cm
188cm
65kg
75kg
82kg
19.8
21.9
23.2
So that's the difference. Why is BMI so important?
Dr Andy Kirkland, coach and Education officer at British Cycling, says it has to do with two things, the power the cyclist exerts on the pedals and the "resistance forces" acting to slow them down.
"On a flat road the main resistive force is aerodynamic drag so the more power they can apply to overcome that drag the faster they are going to go," Kirkland says.
"The greater the muscle size the higher the absolute power they will produce. That's not necessarily sustainable power though," says Kirkland. This makes big muscles better in short bursts which is great for sprinting.
On hills it's different.
"As soon as the gradient starts to increase, about 5% or more, then gravity becomes the greatest force acting, so muscle becomes a hindrance," says Kirkland. Muscle is heavy and although you may be able to produce more absolute power with a bigger muscle the resistance force of gravity outweighs this.
"We would be looking at a balance between power and weight and we call this the power-to-weight ratio. A typical climber on a major climb would be producing round about six watts per kilo of body mass," says Kirkland. "As that body mass increases you see that they're not able to sustain such a high power-to-weight ratio."
When he looked at last year's results for one of the race's most famous climbs, the Alpe D'Huez, he found that a difference of three kilos could make a difference of up to two-and-a-half minutes over the 14km of the ascent.
So how does this relate to actually winning le Tour? A strong climber, Vincenzo Nibali, looks like the favourite this year. Is his the ideal physique for winning the race?
"It depends on the Tour de France characteristics because every year is a bit different. This year the Tour probably favours the climbers mainly because there are more hills and fewer time trials. In this case you would need someone who is lighter with a low BMI," says Menaspa.
But the route sometimes favours time-trialists. In 2012, for example, when Sir Bradley Wiggins won the tour, there were three individual time trials, compared to just one this year.
"In that case you might target a heavier cyclist, someone with a BMI a bit higher," says Menaspa. "Time trialists often have a BMI around 21 or 22."
That places them somewhere in between climbers and sprinters. Like sprinters, they have to produce a high power output, but it has to be sustained for something like 40 minutes to an hour - and sometimes the course includes uphill sections.
As well as climbers, time-trialists and sprinters there are also road cyclists who are difficult to classify, such as the Slovakian Peter Sagan (184cm, 73kg, BMI 21.5), who was among the top finishers for the first seven stages of this year's Tour.
"Some of the stages were for sprinters and some stages were for climbers but Sagan was always in the top five," Menaspa says. "And that means there are some all-round athletes who can perform anywhere."
Subscribe to the BBC News Magazine's email newsletter to get articles sent to your inbox.