Been and Gone: World athlete who began her career at 77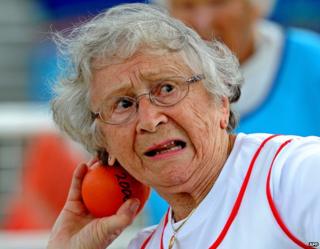 Our regular column covering the deaths of significant - but lesser reported - people in the past month.
It's never too late to start taking up athletics as Canadian Olga Kotelko proved. She was a grandmother of 77 when she began serious training and made her first appearance at a World Masters Athletics (WMA) event in Gateshead, in 1995. It was the start of an incredible career in which she accumulated more than 700 gold medals and set world records in a host of track and field events from sprinting to shot, long jump to hammer throwing. At the age of 90 she could still run the 100m in less than 24 seconds. She found that as she grew older, her biggest problem was the dwindling number of competitors in her age group. The daughter of Ukrainian immigrants she endured a tough childhood in rural Saskatchewan before entering into a marriage that became abusive. She attributed her athletic success to the determination that enabled her to overcome the challenges of her earlier years.
The battle to protect the African rhino found a stalwart supporter in the person of Delia Craig. The daughter of a colonial farmer in Kenya, she and her husband stayed on after independence where they raised cattle on their estate. In the 1980s, concerned at the impact of poaching on the rhino population, she donated 5,000 acres of land to provide a sanctuary and became part of a huge operation to identify and move wild rhinos to a new and safer home. But her greatest contribution was to engage with the local Masai people, persuading them of the need for conservation by giving them employment, schools and better sanitation. By the mid-1990s she had turned over the whole of the estate, providing 61,000 acres of land which currently contains 10 % of Kenya's endangered black rhino population. It was on her Lewa Wildlife Conservancy in 2010 that Prince William proposed to Kate Middleton.
In one of the most famous scenes in the film, Raiders of the Lost Ark, a tall black-clad Arab confronts Indiana Jones, twirling a sabre around his head and making threatening gestures. Jones shrugs, pulls out his gun and shoots him. The man in the Arab robes was stuntman, Terry Richards, a veteran of a string of action films. It was later revealed that the scene was supposed to contain an extended duel between the two but Harrison Ford was suffering from an upset stomach and couldn't do it. A former Sergeant Major in the Welsh Guards, Richards became a scaffolder before finding work as a film extra. Fittingly, his first stunt was to fall from scaffolding during a riot scene. He appeared in many Bond films, including Goldfinger, You Only Live Twice and Tomorrow Never Dies. Occasionally he appeared in dramatic roles, notably in Red Sonja, playing opposite Arnold Schwarzenegger.
Psychiatrist Lorna Wing coined the term Asperger's Syndrome and did much to raise the awareness of autism in children. After training as a doctor she began specialising in childhood developmental disorders in the late 1950s at a time when it was believed just five in 10,000 children were sufferers. Today the figure is believed to be one in a hundred. She pioneered the now accepted thinking that autism is a wide spectrum rather than a series of individual disorders. She popularised the work of the Austrian clinician, Hans Asperger who had been largely ignored prior to the publication of her paper in the 1980s. She was one of the co-founders of the charity now known as the National Autistic Society which encourages research and supports the families of people dealing with the syndrome. Born Lorna Tolchard, she met her future husband, John Wing, over a body they were dissecting when both were medical students.
As General Secretary of the Trades Union Congress between 1984 and 1993, Norman Willis found himself presiding over one of the greatest periods of change to the union movement since its inception. A decline in manufacturing industry, and the shrinking of the state sector was already seeing levels of membership falling. This was coupled with the Conservative government's reforms which stripped much of the power from union leaders and, for many people, made belonging to a union almost irrelevant. By the time he left office, union membership had dropped by a third. None of this could be blamed on Willis, a genial man who, away from the arena of industrial strife, was a great fan of the author Arthur Ransome and an expert embroiderer. He came from a working-class background, going to work for the Transport & General Workers Union as an office boy at the age of 16. A modest man, he turned down both a seat in the Lords and a knighthood.
Josephine Pullein-Thompson was one of a trio of horse-mad sisters who wrote dozens of pony club novels aimed at young girls. Her mother, the writer Joanna Cannan, is credited with inventing the genre in the 1930s. Josephine published her first book, Six Ponies, in 1946 and over the ensuing half century churned out dozens more. It was an innocent world akin to that created by Enid Blyton in which days were always sunny and filled with gymkhanas, cream teas and hunt balls. Her heroes were dashing and her heroines feminine. Many of her books were set in Scotland, where her forebears had supported the Jacobite Rising and fought at Culloden in 1746. She and her sisters were schooled at home and enjoyed a tomboy lifestyle. Her books told the story from the perspective of the rider, rather than following the tradition of Victorian novels, such as Black Beauty, which spoke from the horse's mouth.
Among others who died in June were:
Soul musician and songwriter Bobby Womack
Villain in The Magnificent Seven and The Good, the Bad and the Ugly Eli Wallach
Publisher and one of the defendants in the Oz obscenity trial Felix Dennis
Songwriter Gerry Goffin
Veteran actress famous for her role as Nursie in Blackadder II Patsy Byrne
Actor who played radio's Paul Temple and was the voice of Captain Scarlet Francis Matthews
Actor and comedian Rik Mayall
Creator of Spot the Dog Eric Hill
Subscribe to the BBC News Magazine's email newsletter to get articles sent to your inbox.