The misery of an England fan in the US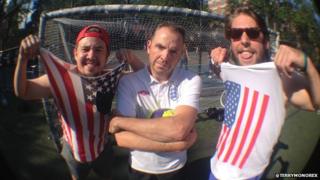 It's a rare occasion when the US football team advance further than England at the World Cup, so the pain is keenly felt by a British transplant in New York, Dom Green.
After four years of living in New York, I'd like to think I've assimilated into the local culture.
I ask cab drivers to pop the trunk. I visit the dentist every three months. I even high-fived a colleague in the office last week, without irony.
But as this year's World Cup approached, I had an overwhelming desire to watch our opening game against Italy with other English people.
People who understood the 48 years of hurt - the Hand of God, the Waddle penalty, the Beckham sending-off, the Ronaldinho free kick, the Ronaldo wink, the Lampard ghost goal... the pain, the pain!
I approached an English pub about booking a room for a group of 30 expats.
In truth, the pub was as English as apple pie, and it took a week's negotiation before the owner finally accepted we wouldn't be sitting down for a three-course meal during the game, and that savouring the duck foie gras would be impossible if Wayne Rooney headed us into the lead in the seventh minute.
Frankly, we didn't need food. We didn't even need chairs. All we needed was a supply of beer, a working television and three points.
Sure enough, 30 English friends gathered in a room that night to experience, in the company of our fellow countrymen, a familiar pattern of blind optimism, depressing familiarity and even more blind optimism. And we did it again, five days later.
The morning after England lost to Uruguay, I sat my eight-year-old down for a man-to-man chat about meeting with triumph and disaster, and how to treat those impostors just the same, even though as an England fan he was unlikely ever to meet with the former.
Then I jumped in a yellow cab and whizzed him down to the West Village to watch the Italy-Costa Rica game, talking up our chances in the back of the cab by stretching Kipling's poem to credibility-defying extremes ("If Italy beat Costa Rica... If England win our last game 4-0... If...").
Meanwhile, the rest of the city was engaging with the World Cup like never before.
There is always interest, of course, thanks to the bubble of passionate (mainly Hispanic) soccer fans in and around New York. Flushing Meadows turns into Hackney Marshes every weekend.
Even our lovely, 50-something Guatemalan housekeeper does Panini swapsies with my five-year-old son. And the game of footie I organise every Friday night on the Lower East Side is made up of a brilliantly diverse group of British, Aussie, American, Dutch, Moroccan, German and Japanese players.
And yet, and yet... There's something happening outside that bubble, too. Last Sunday, Madison Square Park was heaving with flag-waving USA fans for the Portugal game.
Bars have been advertising the games "with sound", as if suddenly realising what they've been missing all these years. And people at work have started talking to me about football.
American people.
How infuriating that football - our football - has finally become a talking point at precisely the moment the USA has progressed further than England on the world's biggest stage.
All I can do is reluctantly accept my colleagues' condolences ("Sorry for your loss") and quickly change the subject by saying what a great World Cup it's been, and soccer's been the winner, and please leave me alone, and take off that ridiculous bandana will you?
Forty-eight hours after England's last flicker of hope was extinguished, I did something I'd never contemplated as a lifelong Watford fan: I switched allegiances for a day, by taking my family along to a local bar, to support USA against Portugal.
This time, we did it the American way. We actually sat down for a meal during the game, with knives and forks and everything.
Sitting amongst their fans, I forgave their uncertain comments about what was happening on the pitch (bless) and envied, for a moment, the simplicity and confidence of their signature chant "I believe that we will win." If only us Brits could be so sure of themselves.
And when Jermaine Jones scored the USA's second goal, my whole family leapt up and celebrated like there were three lions on his shirt. I may have even whooped.
But here's the thing. I don't want the USA to go any further.
Costa Rica's progression to the very last stages of the World Cup would be wonderfully romantic. The USA's would be deeply troublesome. They don't deserve it, not for at least another 48 years. They haven't suffered enough.
So if the USA team reaches the quarter-final, I'll start reining in my enthusiasm; the semi-final, I'll support the other team; the final, I'll be physically sick. If they win the World Cup, I shall renounce my green card and leave the country.
The USA won't win the World Cup, of course. But the moment they're knocked out, you can bet my American colleagues will instantly, effortlessly, shift their focus to baseball.
That's the difference between us and them. We're always dwelling on our last defeat. They're always looking for their next win (and they usually find it, too).
Meanwhile, I'm still upset about England losing on penalties to Argentina 16 summers ago.
Which reminds me, I must cancel the room I've reserved for England's semi-final against Argentina on 9 July.
Subscribe to the BBC News Magazine's email newsletter to get articles sent to your inbox.