United Passions: How Fifa spent £16m on a film where Sepp Blatter is a hero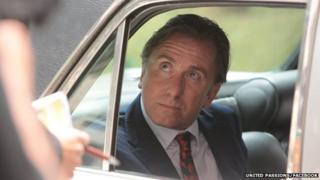 A £19m film version of Fifa's history, in which president Sepp Blatter is one of the heroes, is opening in Serbia but no plans have been announced for worldwide release. What is going on?
Sepp Blatter is happy to have been played by Tim Roth. "In this case the casting was well done," the president of Fifa said when he met the actor at a lakeside hotel. "We have some common, let's say, qualities."
Roth, star of Reservoir Dogs and Pulp Fiction, portrays the Swiss administrator in United Passions. The film tells how Fifa, world football's governing body, grew from its creation by a dedicated bunch of "mavericks" in Paris in 1904 to become overseer of today's multi-billion-pound industry.
Gerard Depardieu plays long-serving president Jules Rimet, credited with creating the World Cup in 1930. Sam Neill is Blatter's immediate predecessor, Brazilian Joao Havelange.
Fifa, which supplied £16m of the film's £19m budget, says it is "open, self-critical and highly enjoyable", as it deals with efforts to defeat corruption. It has been suggested, however, that Blatter demanded changes to the script.
It has been noted that the money is the equivalent of one year's funding for Fifa's "Goal" programme that supports football in poorer nations.
The film premiered at the Cannes Film Festival last month, with Fifa facing accusations that it is a mere vanity project showing Blatter and Havelange as commercial visionaries. "Everything I've done up until this point has been for the good of football," Blatter's character says in the official trailer.
There are unintentional echoes of Fifa's current image problems. A Uruguayan official is depicted telling Jules Rimet: "You need the money, we need the world championship."
Fifa has been accused of ignoring bribery over Qatar's successful bid to hold the 2022 World Cup. Blatter responded by describing parts of the British media as "racist".
Greg Dyke, chairman of the England's Football Association, has since called for Blatter, who has been in charge of Fifa since Havelange quit in 1998 amid allegations of accepting bribes, to resign. "Among the British public, the Fifa brand is severely damaged," he said. "I suspect that is true throughout large parts of Europe."
Fifa is now a huge brand, lending its name to computer games, football stickers, books and other merchandise. Can United Passions improve its image?
"It's an appalling trailer," says public relations expert Mark Borkowski. "In a way it underlines the level to which Fifa's reputation has gone. It's idea porn, really. People in an organisation get very excited about something and, within their little bubble, they convince themselves that it's brilliant."
"This movie, like Fifa itself, looks terrible," said comedian John Oliver on the US show Last Week Tonight. "Who makes a sports film where the heroes are the executives?"
"With Fifa sanctioning and Blatter helping promote it," writes Ryan Rosenblatt, ironically, on the SB Nation sports website, "I'm sure United Passions will be a fair, accurate look at world football's governing body."
The trailer, which has generated more than 57,000 views on YouTube, is all most people can currently see of United Passions. The film is scheduled for release in Serbia on Thursday, following a launch in Portugal last week. Fifa is promising it will be out in several other countries, including Russia, soon.
No UK release date has been announced. "We will make a communication at the appropriate moment," says a spokeswoman for publicists Cinepress.
Of the film's three stars, only Depardieu attended the Cannes premiere. Roth, who declined to speak to the BBC, has previously hinted at subversion in his performance.
"I was like, 'Where's all the corruption in the script?'" he told the Times. "Where is all the back-stabbing, the deals? So it was a tough one. I tried to slide in a sense of it, as much as I could get in there." Director Frederic Auburtin has said he inserted "ironic parts".
Given this attitude and the limited release, is there a sense of embarrassment about the project?
Football on film
The Arsenal Stadium Mystery - murder investigation is launched after a player is poisoned and dies on the pitch at Highbury, in this 1939 thriller
Yesterday's Hero - Ian McShane plays washed-up alcoholic footballer with passing resemblance to George Best, in 1979 film scripted by Jackie Collins
Escape To Victory - WW2 escape attempt by Michael Caine, Sylvester Stallone and various Ipswich Town players, takes place against backdrop of a football match played by English POWs against their German captors. John Huston directed in 1981
The Damned United - 2009 adaptation of David Peace's controversial novel, recounting the story of Brian Clough's 44-day tenure as Leeds United manager in 1974
"Hagiography has been a consummate skill in the sport-writing world, with ghost writers or tame official chroniclers portraying the lives of superstars," says Alan Tomlinson, author of Fifa: The Men, the Myths and the Money. "But no commission, no vanity project of hagiographic commissioning, has rivalled the project of Sepp Blatter.
"United Passions has a small, niched Eastern European showing well away from the action. Even Blatter may suspect that this laughable film project is best put to one side."
Organisations - and even countries - have long promoted their interests using film.
The Baz Luhrmann-directed epic Australia, starring Nicole Kidman and Hugh Jackman, was part-funded by the Australian government and timed to coincide with a tourism marketing campaign for the country in Europe, Asia and North America.
Eurostar offered funding for the 2008 Shane Meadows film Somers Town, featuring youths living near London's St Pancras Station, noted the Creative Review, which said this put the train operator "in the position of potentially being a brand that could grow to be seen as a patron of British cinema".
The 1988 release Mac and Me, about an alien who befriends a boy in a wheelchair, was paid for by McDonald's. The Rotten Tomatoes review website called it "a thinly veiled feature-length commercial for McDonalds and Coca-Cola".
Roman Polanski's 1971 film of Macbeth was financed by Playboy. "It worked to make the brand seem more upmarket," says Sheldon Hall, a film historian at Sheffield Hallam University. "But people laughed when the words 'Hugh Hefner presents...' came up on the screen as they waited for a Shakespeare production. However, it was actually a serious film."
And during the 1960s the United Nations part-funded The Poppy is Also a Flower, an action movie showing the work of its agents in tackling the opium trade in Iran. Its cast included Omar Sharif, Yul Brynner, Rita Hayworth and Anthony Quayle. But it was about fictional field operatives, not real-life administrators.
"United Passions is most unusual," says Hall. "Usually, if you are going to dramatise the history of your organisation, the people are either dead or out of the picture. I can't think of a directly comparable example."
Fifa says it is promoting "direct communication with fans" to foster "understanding" of its work. "It is hoped that this film, albeit fictionalised and therefore not entirely based on actual events, will contribute to this goal," it adds.
Mark Borkowski thinks the organisation might be on to something and that critics with a "European, media-savvy perspective" might be missing the point.
"One thing that you realise about Fifa is that tiny little places you might never have heard of are members and, unlike the UK, some of them venerate its work to develop football," he says. "The film is a way to try to influence opinions and throw out memes globally. It will be lying around long after Fifa's gone through its present trials and tribulations. It might just work."
Subscribe to the BBC News Magazine's email newsletter to get articles sent to your inbox.