#BBCtrending: Pharrell Williams 'happy' at release of Iranians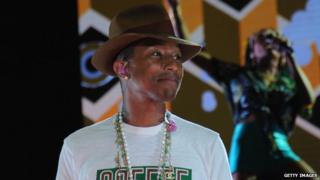 Pharrell Williams has welcomed the release of the Iranians arrested for making a version of his hit Happy.
Speaking the BBC's Jo Whiley, he called the incident in Iran "super heavy", and added: "I'm happy they were released."
"The intention of the song was to remind everyone that you have an innate liberty to find happiness," he said.
When the Iranians were arrested, he called it "beyond sad" in posts on both Facebook and Twitter. The hashtag #FreeHappyIranians trended worldwide as people called for their release.
Pharrell Williams' Happy has been watched more than 250 million times on YouTube, and has inspired thousands of re-makes around the world.
Asked about the success of Happy he said: "It was humbling for me, and it warms my heart."
You can hear the full interview with Pharrell Williams on Radio 2 with Jo Whiley on 12 June
All our stories are at BBC.com/trending