A UK-based American tells the US what to expect from Primark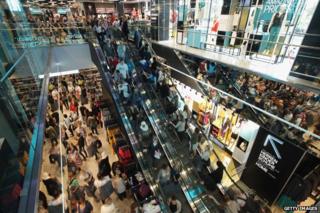 America, get ready. With Primark set to open its first megastore in Boston next year, what lies in store for US shoppers? A New York-born writer in UK offers her compatriots an introduction.
On Friday afternoons, the buzz on the Primark shop floor reaches a climax as people - mainly young women - dive in to pick up their next wear-once wonder.
From its new launchpad in the heart of Boston's shopping district, the Irish retailer should be poised to capture the imagination of impulse shoppers. Primark has chosen the former flagship location of Filene's, one of America's legendary bargain department stores, as its US base.
A 70,000 sq ft space might seem bold for a first foray, but Primark is all about volume. Jeans, jumpers, socks and shoes. T-shirts. Leggings. Bikinis. Handbags. Dresses. Cardigans. Heaps of them! All for less than £20 ($33)! How on earth will you choose?
Many people don't. They seem to take the opposite approach - scooping up everything within reach. Watching those frenzied T-shirt-snatchers at work, even the most restrained shopper might feel tempted to shovel unnecessary items into their deep-mesh basket.
Primark customers are usually volume buyers - it's not unusual to see people buying four or five of the same blue sweatshirt, or get one style of tank top in a range of colours. A lot of people come to Primark for their wardrobe staples - boyfriend jeans for £17 ($28) or a baby blue quilted jumper for a quick £8 ($13).
There are many big US chain stores that seem to specialise in providing customers with abundance. But more than most other discount retailers Primark - with more than 250 shops across Europe - hits a certain, irresistible sweet spot.
"None of the other value chains have managed to achieve what Primark has," says high-street expert Graham Soult. "It's gone from a relatively tired store to a gleaming flagship."
Their colourful clothes are bang on trend, churned out even faster and more furiously than their competitors. But Americans will find them much cheaper than brands such as Topshop or H&M - European retailers that have already made the jump across the pond. I mean, we're talking £2 ($3) for T-shirts and £8 ($13) for sandals here.
It's important to be in a good mood when you walk into Primark, otherwise it could get overwhelming. Shopping there can sometimes feel like playing a contact sport, lunging towards the goodies before they get snapped up by someone else.
If you're planning to spend much time at Primark, you'll soon become familiar with the "cruisers". These people are here for the long haul. They move slowly through the aisles, towing the large, grey plastic wheel-along buckets that Primark provides instead of wire baskets you see at other shops.
These vessels are well designed for the Primark shopping experience, since they don't hinder arm action - necessary for digging out those gems hidden between the hangers on the overcrowded racks. And don't flinch at scooping merchandise up off the floor - that's where most of it ends up by the mid-afternoon.
Soult says part of the surge in bulk buying comes down to confidence. "People are less worried about wearing labels these days," he says. "They will combine something they buy at Primark with other high street brands or designer clothes.
"In some cases, people are actually very proud of finding what they perceive as a hidden gem - and saving money at Primark might mean you can afford to get another shirt somewhere else," adds Soult.
In Britain, Primark is now such an institution that even tourists make it a point to stop in. On a quick research trip to a nearby outlet, the first five people the BBC encountered were all visitors to London. Unanimously, they agreed Primark was "special" - bigger, cheaper and better than what's available at home.
The choice of the former Filene's site might entice new American customers, says Soult. "People have a lot of affection for stores that have been around for a long time. You're buying into something."
Americans may think they already know a thing or two about bulk bargain shopping. After all, Black Friday - the first day of the Christmas shopping season - is the mother of all crazy shopping days in the US.
The swarms of people trying to get through the doors of WalMart as the sale starts at midnight often make international headlines. Now, imagine it's Black Friday every Friday - and you're starting to get the picture.
Follow @BBCNewsMagazine on Twitter and on Facebook