#BBCtrending: London ladies do lunch on the Tube to fight 'sexism'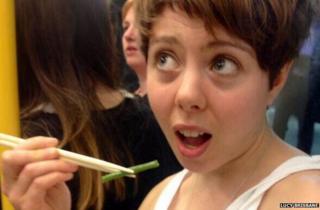 A Facebook page of photos of women eating on the London Underground has prompted a small protest of women who argue that the site is sexist.
Dozens of women had their lunch on public transport in London on Wednesday to protest against what they regard as a "sexist" Facebook page.
As the name suggests, the Women Who Eat On Tubes (WWEOT) page asks users on Facebook and Tumblr to post photographs of women eating while travelling on the Tube.
The Facebook page has almost 25,000 likes. "I set it up as an observational study," says Tony Burke, a film-maker, who started the page. "I was trying to capture a moment and create something artistic," he told the BBC. Burke says his decision to focus on women was based on his own personal observation that more women eat on the tube than men and that it was not intended to be sexist.
But it has resulted in a backlash. Lucy Brisbane, a student and journalist, organised a lunch party in protest and created a counter page called Women Eating on the Tube: Circle Line Lunch Party which has a smaller following of less than 500 likes. "We felt that women were being unfairly targeted and wanted to turn it on its head." says Lisa. "Today's lunch party is a positive celebration of women eating on the Tube."
Capturing images of women eating on the Tube has also raised questions about privacy and whether people have the right to take photos without permission. "People may be uncomfortable with the thought of their image ending up on a website, but seeking to criminalise the taking of photographs won't change much," says Jack Hart from The Freedom Association, which campaigns for personal freedom and responsibility. Hart told BBC Trending: "What's really needed is a little common sense, not new laws."
Sexism is a hot topic on social media. This video, which recently went viral, takes examples of real encounters reported to the Everyday Sexism project. It's an initiative to help tackle sexism by encouraging women to catalogue instances, including on a dedicated Twitter page @EverydaySexism which has 137,000 followers.
Reporting by Anne-Marie Tomchak
Do women eat more than men on public transport? Is it rude to eat in public? Tweet us @BBCtrending or email trending@bbc.co.uk
All our stories are at bbc.com/trending