Esther Dyson: Breaking through tech's glass ceiling
By Tara McKelvey
BBC News Magazine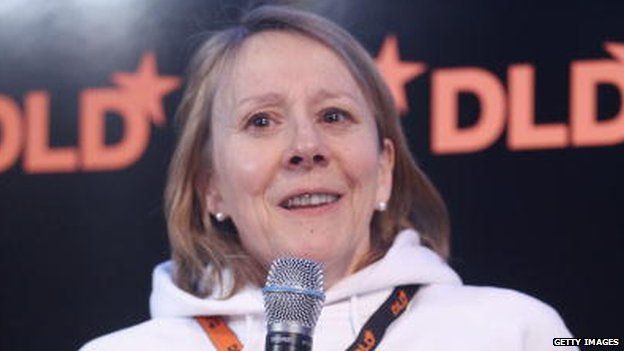 Esther Dyson has been called "the most influential woman in all the computer world". After fostering some of the biggest names in technology - and growing wealthy in the process - she is now trying to help people live better with a new health initiative.
Dyson leaps up to welcome a visitor to a New York office on a spring morning. It is a typical greeting for her, reflecting an enthusiasm - and impatience - that goes back decades.
At 16, she enrolled at Harvard.
Even back then, says her friend Bill Kutik, a software industry analyst, she seemed confident and unafraid. She used to walk barefoot in the Harvard Crimson newsroom, he says, and also in the basement "where they were setting newspapers in hot lead".
For these and other reasons she stood out.
"For the longest time I was the youngest," says Dyson. "It's kind of like being the female. It's a useless distinction."
In her case, though, she is not only female - she has played an important role in the field of computers. The New York Times once called her the industry's "most influential woman".
When Dyson hears that, she makes a face.
"There's an awful lot of women," she says, describing her colleagues in the field. "But none of us is Bill Gates."
As she talks, she is sitting on a couch in a small room at Meetup.com. The company was founded in 2002, and she was one of its first investors.
At 62, she still takes her shoes off at work, and she tucks one foot under the other. She is wearing a black T-shirt that says: "Solve for <x>".
She likes to downplay her role in the industry, but others see her as a "digital visionary" (Time). She is treated like a rock star in Silicon Valley.
"In all fields that are dominated by men there's often a few women who are very successful," says Telle Whitney, chief executive of the Anita Borg Institute for Women and Technology of Palo Alto, California.
"She is one of those role models that lets young people believe, 'Oh, I can make this work.'"
In the early years Dyson was often the only woman in the room, known for her keen intellect. Yet it would be hard for most women to emulate her, given her unusual background.
She grew up in Princeton, New Jersey, where her father, Freeman Dyson, was a physicist at the Institute for Advanced Study.
"He was Einstein's best friend," says Kutik. Her mother, Verena Huber-Dyson, is a mathematician.
After graduating Harvard, Dyson started out as a reporter at Forbes. Later she edited a must-read newsletter, Release 1.0, which she ran for more than two decades.
She also bought a company called Rosen Research, which she renamed EDventure Holdings, and invested in technology companies.
And as she told a New York Times reporter, she made "a lot of money from Google" through one of her investments.
Still, says her friend Kutik, Dyson lives mainly "in the world of ideas".
Today, she spends about one-quarter of her time in New York and the rest in San Francisco and other cities. She once trained as a cosmonaut in Star City, Russia, and has flown weightless.
"She's got an 'I don't care' attitude. It's 'I am who I am'. And she does it in such a nice way," says Vivek Wadhwa, a Stanford Law School fellow who is writing a book on women in technology. "She can be arrogant without seeming arrogant."
Dyson's business partner Daphne Kis, CEO of EDventure Holdings, says, "She's not a show-off but she gets impatient. You know that moment when Esther talks to you and she's kind of looking at your ear because she's on to the next thing?"
As founding chairman of Internet Corporation for Assigned Names and Numbers (Icann), she worked hard to keep the internet free and vibrant.
"Look at it where the internet is today - the backbone of everything we do," says Wadhwa. "She was one of the luminaries."
Today she invests in start-ups, one of the few women in the field. Only 11 percent of investors are female, according to a 2011 survey by National Venture Capital Association and Dow Jones.
She says that most requests for start-up money are still from men, though the culture is changing.
"Originally Meetup was 18 guys," she says, looking down the hallway. "Now you walk out there, and there's a lot of women."
Her latest venture is an effort to help women - and men, too - live better, more healthful lives. Her goal, she says, is "not to cure cancer but to foster health so people don't get cancer in the first place".
Her non-profit, HICCup (Health Initiative Coordinating Council), will help people in five US communities become "radically" healthier, she says, as well as collect data to help people in other places make healthful choices.
She pays attention to her own health, too. She swims 50 minutes every day - sometimes fast, sometimes slow - and wears an activity tracker. She holds up her wrist in the late morning. The band sparkles, which means she has reached her fitness goal.
"It's only 11:30," says a visitor.
"This goal is too low," Dyson says. "I need to fix it."
Her answer reflects a drive for improvement - for herself and the world - and helps explain why she decided to create a health initiative.
"If I was a maid, I'd want a dirty room," she says. "I think in American health I've found a really dirty room.
"My parents are both scientists. They like order. Ask, 'Why?' And when the answer doesn't make any sense then fix it."
As part of the BBC's Women in Tech series we spoke to six other pioneers in a traditionally male-dominated industry.
Related Internet Links
The BBC is not responsible for the content of external sites.