US players adapt to Libya's rough style of basketball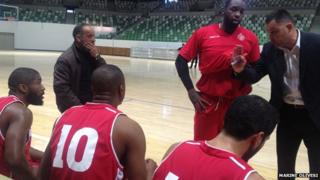 Two Americans playing basketball in Libya discover that hoop dreams extend well beyond the NBA.
When DeAndre Rice signed up with one of Tripoli's basketball clubs last fall, his Libyan teammates had good reason to be thrilled: with him on the team, their chances of winning the country's basketball championship had just increased enormously.
And they finally had an American with whom to discuss rap music.
Rice's new friends also offered some warning, but not about Libya's shaky security.
"As soon as I got here, my teammates were like, 'there's nothing to do here man, no nightlife'," says Rice.
On days off, Rice and his Libyan teammates alternate between playing video games and going out for coffee - pretty much all there is to do in the Libyan capital.
"It's OK though," says Rice from the terrace of a cafe in Tripoli's old town. "I'm not over here to go out even though it would be enjoyable to do sometimes. I'm here to play basketball."
Playing basketball, and making pretty good money: between $5,000-$8,000 (£3,000-£4,850) a month.
Rice won't say exactly how much he's getting paid.
The Libyans on the team earn up to three times less, and he doesn't want to stir up jealousy.
But he said the pay cheque is worth the sacrifice of not being home - he even turned down an offer to play in the National Basketball Association's minor, or development, league.
"I didn't want to take a pay cut," says Rice. "Plus, we live for free and we eat for free so all my money is always wired back home."
The 28-year-old provides for his two daughters back in Houston, Texas. They are six and seven years old. He hasn't seen them since September, except on a computer screen.
"I talk to them on Skype almost every day," he says. "That doesn't replace picking them up, but I'm used to it now."
Rice played college basketball for two years, then spent time in the NBA's development league. He has been playing overseas since 2007, when he left the US for Syria.
"I just wanted to make more money and to get out and see the world," he says. "I always have an open mind to go places. You have to experience everything for yourself."
Rice played in Aleppo for a season, then went off to Tunisia, Ukraine, back to Tunisia and finally Libya.
This season marks the first time since the revolution that foreign players are allowed back in Libya's basketball championship.
He was the only foreigner on the team until Shane Burrell signed up in late January.
For Burrell, a Jamaican-American who lives in Los Angeles, the adjustment wasn't as easy. Burrell has also played overseas before, in China, Holland and Mozambique. But this is his first time in an Arab country, and not a very stable one.
"My fourth or fifth day here, I heard this crazy gunshot and I got really scared. I called my agent and said, 'I got to get me out of here'."
"It's normal man," he remembers Rice telling him. "Just try to go to sleep."
Burrell says he knew about the revolution and about Gaddafi from his time in Mozambique, but that he didn't expect Libya to be some sort of Wild West.
"I have teammates that carry guns to practice," he says.
And Burrell soon realised that in Libya, things can get rough on the court too.
"Libya basketball is different from any place I've ever been in my life. I call it jail basketball: rough, fouling at all times, hitting you in your face," he says.
It's hard to imagine Burrell being pushed around. He's 6ft 8in, 250lb (113kg), covered with tattoos from shoulders to wrists. And on the court, it's not just his body that stands out.
Burrell shouts, jumps and pumps up his teammates. He throws a real show, American-style.
"My game is kind of emotional," Burrell says. "I think that we come here and we put some fire under their butts and tell them we've got to win these games and I think they buy into it."
The public does, too. At least, the 70 or so people scattered in the stands - almost a crowd by Libyan basketball standards.
The game was supposed to be an easy win for Ittihad, Burrell and Rice's club, which now ranks first in Libya's western conference. Instead, they're pushed into overtime.
The club's new Serbian coach is furious and scolds the players during a break.
"Everybody with the ball wants to penetrate," he says. "That's impossible! Rice, I want you to get the ball every time."
Burrell says that kind of play doesn't sit too well with some Libyans, who now have to make room for not one but two Americans.
But it was worth it in the end.
The team won. Rice hit five three-pointers, three in overtime alone, for 47 points total in the game.
"Now you get it," the club's manager says in a whisper after the final whistle. "Why everybody wants Americans on their team."
Follow @BBCNewsMagazine on Twitter and on Facebook