Viewpoint: Is macho culture causing young men to take their own lives?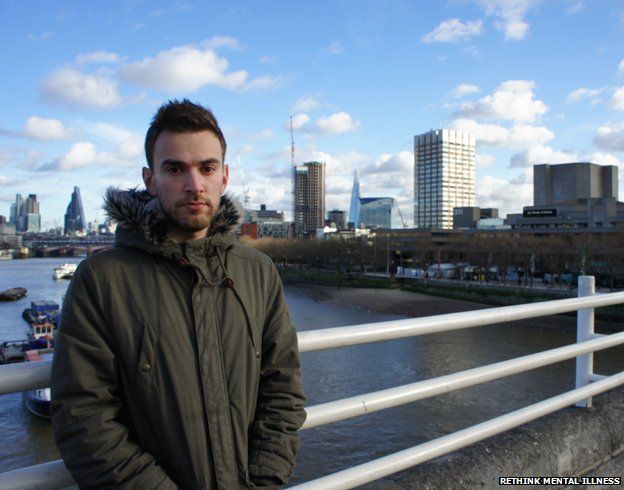 Three times as many men as women kill themselves. Is a culture of masculinity where men struggle to communicate their feelings partly to blame, asks Jonny Benjamin.
I can vividly recall the moment I decided I was going to take my own life. It was early on the Sunday evening of 13 January 2008. Suicide had been something I had contemplated since my mid-teens, but it wasn't until now, just a couple of weeks from my 21st birthday, that I made a plan to actually end my life.
From the point of making my decision to the moment I attempted to go through with it the next day, I came into contact with various people, including family, friends and even doctors. I had just been diagnosed with schizophrenia and depression and was in hospital being treated for it at the time. None of them had any notion of my imminent intentions. Simply, I was too ashamed and afraid of what they might think if I were to tell them about the suicidal thoughts and feelings that were consuming me. Furthermore, I just could not find the words to vocalise my state of mind.
I was stopped from killing myself by the incredible kindness of a passing stranger, who I recently launched a social media campaign to track down so I could express my gratitude. The Find Mike campaign quickly went viral, and within just two weeks we were reunited.
The purpose of the campaign, launched by the charity Rethink Mental Illness, was also to raise awareness of suicide. The term itself seems to be a taboo in our society even though it currently takes the lives of 16 people every day in the UK, according to the Office for National Statistics (ONS).
Fortunately, there has been a significant reduction in the suicide rate among females, with the number of women taking their lives having almost halved in the past 30 years. In this same period, however, the number of men taking their lives has actually increased.
The figures clearly illustrate that this is a problem we can no longer ignore, but what exactly is it going to take for us to really confront it?
When I was growing up, Saturday afternoons were spent with my dad going to watch Crystal Palace FC play. Never before had I seen grown men express their emotions in the way they did on the terraces. It was the first time I remember seeing a man cry in public, and probably the only time I've seen men not trying to conceal their tears.
Society seems to like dictating how we should act as males. A magazine last week dedicated an issue to How To Be A Man, By Women. We were advised to "go out, earn some money, come back and look after the children. Men should be men." The dictionary itself synonymises "masculinity" with phrases like "toughness" and "robustness".
But when I was unable to cope, it was the fear of not living up to such expectations that led me to almost taking my own life. What stopped me was another man's understanding of how I was feeling. Perhaps we need to redefine the meaning of masculinity, stop telling males to "man up", and start showing them that grown men do actually cry.
It is in our education system that we have to start delivering this message. I was taught everything in school except how to look after my well-being. The most striking memory I have of being there was sitting in a guest lecture given by an author who said: "It's OK not to be popular or funny." As a 15-year-old boy battling with his identity, it felt like a weight had suddenly been lifted off my shoulders. If we can tell the youth of today that it is OK to struggle in life, perhaps they will feel empowered to reach out when they really are unable to cope. Physical education has long been a compulsory part of the curriculum - mental health education is just as important.
Lack of resources hinders the ability to help when someone does come forward. Yesterday six leading mental health organisations, including Mind and Rethink Mental Illness, published an open letter warning that planned cuts to mental health trusts will put more lives at risk. Subsequently, NHS England has broken a pledge to make mental and physical healthcare equal.
While access to services needs improving, there needs to be a restriction on the growing number of pro-suicide websites. According to a British Medical Journal report, "those searching for suicide help are more likely to find sites encouraging them rather than offering support". I strongly believe that websites that glorify suicide must be banned as part of the government's suicide prevention strategy. We should also focus on signposting people to sources of support. This was something that male suicide prevention charity Calm (campaign against living miserably) did when it launched in Merseyside in 2000. The result was a halving of young male suicides in a decade.
However, across the UK, the most recent statistics show the number of males taking their own lives is the highest it's been since 1999, and that suicide is now the leading cause of death for men between the ages of 20 and 49. The latest figures for 2012 show that more than 4,590 males took their lives.
Isn't it about time to break the silence that shrouds the issue of suicide, particularly among men?
I was going to kill myself because I did not believe there was any other escape from my despair. However, talking about it led me in a different direction. I now know that it is possible to overcome thoughts of taking your own life. This is the message we desperately need to start communicating in society. Behind all of this is the devastating impact on families and friends that tragically lose a loved one to suicide every year.
How you can seek help: Rethink Mental Illness has more than 200 mental health services and 150 support groups across England. Its number is 0300 5000 927. Samaritans provides 24-hour emotional support for people who are experiencing feelings of distress or thoughts of suicide. Its number is 08457 90 90 90.