The allure of an old-fashioned pen pal
By Kate Dailey
BBC News Magazine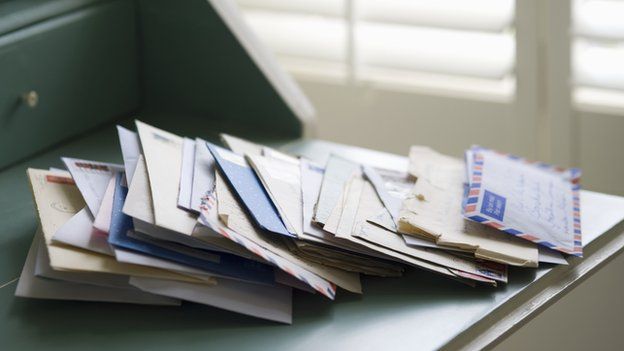 Despite the ease of digital communications, many people find there's no replacing the personal touch that comes with a handwritten letter.
Last month writer Marianne Kirby made a simple proposal.
"If you write to me, I promise I will write you a letter in return," she said on the website XO Jane, where she is a contributing editor.
For years, Kirby has been writing letters, but only decided to return to the practice as a hobby last February, when she participated in the second annual Month of Letters, a challenge organised online in which participants send something through the post every day.
To kick off this year's Month of Letters, Kirby gave the readers of XO Jane her post-office box and the promise of a letter in return.
"I underestimated how many I would get - by a lot," she says. "I got close to 200 letters within a three-week time span, and they are still coming in. I got one from Turkey the other day. How small is the world when you can get a letter from Turkey in your mailbox?"
Thanks to technology, of course, the world is very small - Kirby could easily tour a Turkish street via Google Maps or find someone from Istanbul to chat with on Facebook. Crowdsourcing has made it possible for anyone with a laptop to scan the Indian sea in hopes of finding flight MH370.
But perhaps for the same reason, the allure of the written letter remains as strong as ever for a committed few.
"In a world where it is so easy to hop online to email or to send a fast text, it is so personal and so precious to know someone chose to turn off the virtual world to spend some time with you," says Katherine Moller, who met her husband online but writes several letters a week.
Now, people are using digital tools to seek out old-fashioned pen friends.
Julie Trevily-Pigeon, a Montreal-based stationery designer, founded the League of Extraordinary Pen Pals (LEPP) last year, with one of her 15 pen pals. Since she rebooted the site in January, more than 200 people have paid for access to the group's Facebook page, pen-pal matching service, and even pen-pal mentors.
"The fact that these people are willing to pay mean they are really interested in writing," she says, and their interest is rewarded with lots of mail, since the small subscription fee - $5 (£3) a month - keeps out epistolary dilettantes.
LEPP is just one of several clubs formed to help connect strangers who want to write letters. Kirby started one via XO Jane after she received so many letters last month. And it's not just for those nostalgic for an analogue past - Tavi Gevinson has expressed interest in starting a pen-pal club for the readers of her online magazine Rookie, aimed at teen and tween girls.
Aficionados say letter writing provides a needed break from the online world.
"You can sit down with a cup of tea or coffee and put some music on, you choose some nice stationery. It's a fun process," says Trevily-Pigeon. "It can be therapeutic."
It also offers an intimacy that email can't, she says. "It's like you are having this conversation with a friend, but it's on paper, and sometimes the friend is on the other side of the world. Through snail mail I've shared secrets, I've shared dreams and drama and sorrows, but also joy."
Indeed, the appeal of a tangible letter is part of why, as the Wall Street Journal reported, US paper companies have grown at a rate five times that of the S&P 500, with successful companies making the transition from office supply to high-end stationery.
"The more cheap and easy uses of technology permeate our culture," a paper executive told the Journal, "the more valuable are the moments of real-world interaction."
In fact, for many writers the stationery is half the fun. Search "pen pals" on Pinterest and be treated to a bounty of beautifully handmade letters, stamps, envelopes and labels.
"It's very DIY," says Kirby. She started making rubber stamps to decorate her envelopes and received so many rave reviews when she shared her creations that she's started an Etsy shop.
"It's really fun to get pretty things in the mail. I like to send pretty things. It goes back to that effort you're putting forth," she says. "It's an expression of care in that sense."
Writers make envelopes out of old maps or paper doilies, and many use the decorative Japanese Washi tape to embellish stationery.
For many the net effect of writing to a pen pal is like combining a cathartic journal entry with a soothing art project - both of which provide a break from staring at a screen.
"It feels wonderful," says Sonnia Jean Kammar, a writer. But even more wonderful, she says, is coming home to find colourful envelopes full of funny, thoughtful, personal messages from around the world.
"Personal letters in your mailbox are way better than bills," she says.