Ukraine revolution brings peril to envoys abroad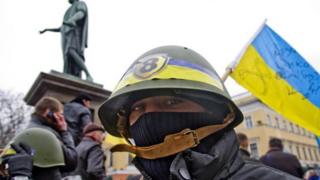 Diplomats are supposed to express the views of their bosses at home. Sometimes, though, envoys choose a different path.
Officials in Kiev told the consul general in New York, Igor Sybiga, to put a positive spin on events in Ukraine when he talked to Americans. For weeks Sybiga followed his orders to "disinform", he says.
"First and foremost it was right to do our tasks, our consular functions - no matter what feelings and emotions overflowed our souls at the time," he says.
"I should say frankly it might have been the most difficult time in all of my professional life."
The violence in Ukraine got worse. Finally he chose "to sabotage the instructions".
It was an act of defiance - done in a diplomatic manner.
"You should understand that I could not do it openly," he says.
Instead of saying that Ukrainian authorities were justified in their crackdown on demonstrators, as his bosses had instructed, he chose to say nothing.
"It was a protest of silence," he says. Speaking on the phone at his office in New York, he sounds proud - and anxious.
For decades he had done what he was told. That was his job - to represent the views of his boss, regardless of his own opinions. Sometimes, though, diplomats such as Sybiga face a dilemma.
Marwan Muasher once served as Jordan's deputy prime minister and is the author of The Second Arab Awakening, on political change in the Arab world. He says he understands that diplomats are in a tough position during periods of transition.
"It's very difficult to represent a position when that position is not known," he says.
Recalling his decision to disobey his bosses, Sybiga says, "Of course I was scared - I was nervous.
"My wife was not happy with the fact that I was doing this. I didn't think about it. I just did it - because I'm a man. Because I'm a human being. What they were doing was illegal."
When the government at home gets into trouble, so do their diplomats. Some try to project an upbeat message, as Sybiga did for a while. Others jump ship.
A diplomat at the embassy of Myanmar (also known as Burma) Kyaw Win, sought asylum in the US in 2011. He wrote a letter to then US Secretary of State Hillary Clinton, telling her that senior Burmese military officials had been "seeking to stamp out the voices of those seeking democracy, human rights and individual liberties".
Woodrow Wilson Center's Marina Ottaway, co-editor of Yemen on the Brink, says: "I don't think there are any rules of what to do in case of a revolution. It's a bureaucrat's worst nightmare."
During the Arab Spring, Libyan diplomats broke ranks. "They resigned when the uprising started," she says.
Over the years she has watched how diplomats have reacted to turmoil at home. In contrast to their Libyan counterparts, Egyptian diplomats stayed in their jobs. The Egyptians were "old foreign service establishment", she says. They were playing the long game.
After President Hosni Mubarak lost his position in 2011, the diplomats did not seem to build close ties with the new government led by the previously-outlawed Muslim Brotherhood.
In 2012 Ottaway invited members of the Brotherhood to a Washington conference on Islamist political power.
Traditionally, diplomats are in touch with political leaders before they visit a foreign country.
The Egyptian diplomats in Washington, however, had apparently not spoken with members of the Muslim Brotherhood about their visit to the US. This lack of planning showed the distance that existed between the Muslim Brotherhood and the diplomatic corps in Washington.
A few days before the members of the Muslim Brotherhood arrived in Washington, someone from the Egyptian embassy called Ottaway.
"They asked if I would make the members of Muslim Brotherhood available to them," she says, adding that she was surprised by their request. "I ended up giving them the name of the hotel where they were staying."
For Ukrainian diplomats, the story of revolution is still unfolding.
Oresta Starak, first secretary of the Ukrainian embassy in Washington, signed a statement in February to "express solidarity with those who are in the streets".
She says: "It was a very difficult time for all of us. We hope everything will be OK for our country."
As it turns out, there were no repercussions for the diplomats in the US who broke ranks. Their boss, then-Foreign Minister Leonid Kozhara, did not even notice that Sybiga had refused orders.
Kozhara is now out of a job, one of the first officials dismissed when a new government took over and ousted President Viktor Yanukovych.
Since then, Russian troops have poured into Ukraine's Crimean peninsula. President Barack Obama is deciding whether or not to impose sanctions - or act more aggressively - to stop Russian President Vladimir Putin from encroaching further on Ukraine.
Ukrainians wonder what will happen next - and talk about strategy. A muted protest, especially during a violent revolution, can be seen as cowardly.
"I can understand people wondering, 'Why did we remain silent?'" Sybiga says.
Standing in front of the Ukrainian embassy in Washington on Sunday, Vitaliy Shpak, a 27-year-old graduate student at the University of Maryland, says the diplomats were too passive.
He looks up at photographs of protesters who were killed. Wilted daisies were lying on a step, along with pieces of candy and white candles. The place smelled of rotting flowers.
He points to a patch of brick sidewalk where he had lain on a chilly day last month. The bricks are cold to the touch, and on that afternoon he was wrapped in a Ukrainian flag.
Yet his ordeal - he was lying on a yoga mat - was nothing compared to what the protestors at Kiev's Independence Square experienced, he said.
"We can't do much," he says. "But we need to do something."
Shpak has short hair and hazel eyes. He is an Eagle Scout and a Fulbright scholar. He says the diplomats should also have done something, but he is too polite to say anything harsh.
When asked about the diplomats' silent protest, he shrugs.
"It makes things a little different," he says, "but it doesn't justify the fact that nobody made any effort to help."
The revolution in Kiev unfolded because some Ukrainians wanted closer ties to Europe, and diplomacy will play a key role in the months to come.
Whether seen as heroes or cowards, the diplomats will continue working for Ukraine. In this way they are following in the footsteps of envoys from other countries that have gone through revolution, at least those who are not sacked.
Now, Sybiga says, they are waiting for the next chapter - and are expecting orders from the new minister.
"After the sadness we feel free," he says. "We feel a very great hope to build a great country."