Web warriors cause big bother for Big Brother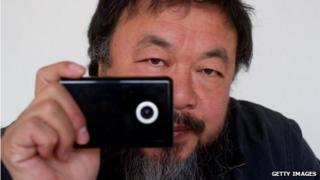 While working for the Wall Street Journal, Emily Parker met bloggers who fought for freedom - and was amazed by their courage. She has written a book based on her experiences of nearly a decade covering these netizens in Beijing, Havana and Moscow.
When Parker visited the studio of Ai Weiwei in Beijing in 2010, she saw two surveillance cameras outside his studio. Beforehand, as he told her, security officers would hide in the bushes. When he tried to talk to them, they ignored him.
"These cameras are more polite," he said.
Armed with a dark sense of humour and a Twitter handle, Ai and other activists have battled authorities.
Authoritarian leaders in countries such as China, Cuba and Russia are distressingly good at crushing dissent on the streets. They try to silence protesters online, too, but are less effective.
The internet is too big and unruly - and dissidents such as Ai have learned how to take advantage of it.
One of those activists, Michael Anti (his real name is Zhao Jing), told Parker that the repressive environment in China made it hard for him to meet other activists. The web gave him a sense of community.
He began to feel disillusioned with the government in the 1990s and was relieved to find kindred spirits online. "He said, 'Now I know who my comrades are. I know I'm no longer alone,'" she recalls.
That sentiment is the title of Parker's new book, which describes his and other dissidents' struggles.
She interviewed activists in China, Cuba and Russia, places that she describes as "the next battlegrounds between netizens and the state", for her book Now I Know Who My Comrades Are: Voices from the Internet Underground.
Chinese dissidents use Twitter as "a direct line to the outside world", she writes. They rallied around blind lawyer Chen Guangcheng in 2012 when he sought refuge at the US embassy.
News of his whereabouts leaked on Twitter, overturning "the official narratives".
In Cuba bloggers write about social ills, such as the way elderly people sell soap in order to survive. Activist Aleksei Navalny blogs about corruption in Russia.
Parker spent time with them. Along the way she learned about life in a police state and the respite offered by the web.
The Chinese government is clumsy, as she discovered when she saw the cameras - and terrifying. Ai has been detained and beaten.
In Russia, authorities despatch "brigades of bloggers who spread the Kremlin's message", she writes. They also send out heavily armed police during elections.
"The riot police - they're really manhandling people," she says. "They were everywhere, sending a message of brute force."
In Cuba, meanwhile, the surveillance is insidious.
"The line between informer and neighbour and shopkeeper is very, very thin," she says. "It's very creepy. You never know who is who."
Having an online presence in Cuba is dangerous. You can be arrested or worse.
But it also protects them. "Before the internet age it was pretty easy to make someone disappear," she says. "Now if you arrest a Cuban blogger, other bloggers are going to write about it."
Still bloggers are detained and charged with "counterrevolutionary activity" - and spend time in rat-infested jails.
She is hopeful about the potential of the internet. Yet she also recognises its limitations.
"We tend to talk about internet activism in this binary way - will it cause revolution or will it not cause revolution?" she says. "Even if there's not a revolution in China, it doesn't mean that the internet has not radically transformed the country."
Esther Dyson, the chairwoman of EDventure Holdings and a technology guru, says Parker is not "starry-eyed" about internet activists.
"She shares their ideals, but she's not blinded by ideology," says Dyson. "She's not trying to promote this. She's trying to tell their story."
Parker, who is now a senior fellow at New America Foundation, a public policy institute, says: "One thing we've seen is that it's not just authoritarian governments that are threatened by the internet."
Her current research looks at online activism here and abroad - and she has been struck by the recent stories about surveillance in this country.
"Once it sees something that it sees as a threat to national security, it starts singing a different tune."
US officials are nervous, but only to a point. "We're having a very open debate about Snowden and his revelations," she says.
This kind of openness is not found in other countries. Yet as her book shows, internet activists are working - slowly and against great odds - towards that goal.