How do you say 'Sochi'?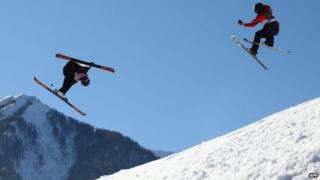 Days before the start of the 2014 Winter Olympics, Martha Figueroa-Clark of the BBC Pronunciation Unit offers some guidance.
Sochi, the venue for the Winter Olympics, is usually anglicised as SOTCH-i (-o as in not, -tch as in catch, -i as the "y" in happy) by English and Russian speakers alike - and this is the pronunciation we recommend to broadcasters. However, the Russian pronunciation of -o in Sochi is somewhere in-between the English "law" vowel and the English "lot" vowel (so somewhere between SAW-chi and SOTCH-i).
When forming recommendations, our approach is to reflect the native pronunciation as closely as possible while bearing in mind practical considerations. Our pronunciation advice is anglicised for ease of pronunciation by English-speaking broadcasters and to ensure that names can be discerned by BBC audiences.
One of the skiing venues is Krasnaya Polyana, pronounced KRASS-nuh-yuh puh-LYAA-nuh (-uh as "a" in sofa, -ly as in million). Historically, the word krasnaya (feminine form) or krasny (masculine form) meant "beautiful". Nowadays, it means "red". Polyana means glade or clearing.
Turning to the Bolshoi Ice Dome, the word Bolshoi (big) is often anglicised as BOL-shoy (-ol as in olive, -oy as in boy), as in Moscow's Bolshoi Theatre. In Russian, it is closer to buhl-SHOY (note final syllable stress), although there is a palatalised 'l' in Russian which has no equivalent in English. It is similar to what you would hear when the word "lucrative" is pronounced as LYOO-kruh-tiv (-ly as in million) - as opposed to LOO-kruh-tiv (-oo as in boot).
In ice hockey's Shayba arena, "shayba" is pronounced SHIGH-buh (-igh as in high, -uh as "a" in sofa) and means puck. Another venue, Rosa Khutor, is pronounced ROZ-uh KHOO-tuhr (-o as in not, -uh as "a" in sofa, -kh as in Scottish loch, -oo as in boot, -uhr as "or" in doctor). Khutor means hamlet or farmstead.
And what about President Vladimir Putin? In other Slavic languages, the name "Vladimir" can be stressed on the first or last syllable but in Russian, the stress falls on the penultimate syllable. "Putin" is sometimes anglicised as PYOO-tin, perhaps by unconscious association with other English words like "putative" or "punitive". The correct pronunciation, anglicised, is vluh-DEE-meer POO-tin (-ee as in street, -eer as in deer, -oo as in boot).
The Pronunciation Unit is part of the BBC's Information and Archives department. Its service is available exclusively to BBC broadcasters and programme-makers. The pronunciations discussed are represented using BBC text spelling.
Follow @BBCNewsMagazine on Twitter and on Facebook