A visit to Toulouse's last remaining public showers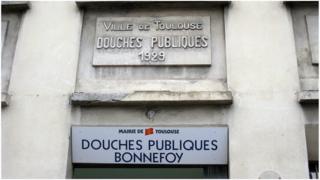 The number of public showers in France may be dwindling but in Toulouse, they still provide a vital public service - especially for those who've fallen on hard times.
I have come to take a shower. The address is the Douches Publiques, showers open to all and run by city hall. There used to be five in this city but there is just one left. It is in the suburb of Bonnefoy and it has been here since 1929.
The entrance is simple and low-key in a nondescript street in a drab neighbourhood literally on the other side of the railway tracks from the prosperous and attractive city centre.
From the outside the building looks a bit grubby - but inside I am pleasantly surprised. Out on the street, it might be unseasonably cold for this time of year but the clunky metal radiators within are working overtime.
The walls are bright, it is all freshly repainted. The look is simple but, most importantly, it seems clean.
I have brought my own shampoo and towel but I need not have. The attendant hands me a clean towel and some shower gel.
There are nine cubicles to choose from and there is a sign up saying I have got 20 minutes.
The water is warm - 40C (104F) - and there is a hair dryer and mirror outside in the hallway. A long bench by the entrance allows users to stay warm next to the radiators after the shower rather than head straight out into the winter cold.
It costs one euro (80p), if you pay at the door, but you can bring the cost right down by buying vouchers at the main railway station. In fact, unlike most things in life, the cost of this facility is lower than it used to be - providing a little dignity for the distressed.
Many of those who come to use these municipal showers are what you might call traditional long-time drifters, people who shuffle from city to city and who prefer to clean up here rather than in a homeless shelter which might have a less wholesome atmosphere.
The attendant is a former boxer called Joel Prat. He sits in a tiny office which has a window hatch like the ticket office at a station.
He makes sure his customers play by the rules. Alcohol and drugs are not allowed on the premises. Pets are not permitted either - you will sometimes see dogs tied up outside.
He does admit that one customer managed to smuggle his poodle in under his trenchcoat. All was revealed, though, when the dog started yapping in the shower.
Joel has been in the job for nine years and says it has given him real insight into who is hardest hit in French society.
While down-and-outs are not new, he says he has noticed the emergence of a new working poor among his clients.
Men and women who have jobs but are finding it nearly impossible to make ends meet. They cannot afford the rent, so to get by they live in their cars or vans on quiet streets and come here to wash. Most live alone in their vehicles, but there are some with young children and they come in together to get clean.
Businessmen who have fallen on hard times also pass through - everything was going well until they lost their jobs. Perhaps it was coupled with a costly divorce and suddenly their car is their only possession.
Then there are students or low-income families who cannot afford to install a bathroom or use their hot water, as heating bills keep rising. And young squatters who live in abandoned or empty offices where there is no running water.
Stephane Cazaux from Toulouse social services says the municipal showers are not just about hygiene these days. He says they play an increasingly important role in a society that is more and more individualist and made up of people who may be more isolated and cut off from each other.
That's why, for some, it is less a question of money but more the human contact that brings them here, especially the elderly.
Rene, who is 82, is one of them. This former painter comes three days a week for his morning wash.
He does have a shower at home but lives alone and admits he is here mainly for the company. It is the one moment in the day when he can have a conversation with other people, whether it is about politics or the latest rugby results.
But Joel says not all of the reasons for using the facilities are sad ones. He runs a public service, he insists, telling me about the day one of the tallest, most beautiful blondes he had ever set eyes on appeared in a panic, desperate to have a shower.
It seems she had a romantic rendezvous and her boiler had just exploded.
From Our Own Correspondent: Listen online or download the podcast.
BBC Radio 4: Saturdays at 11:30 and some Thursdays at 11:00
BBC World Service: Short editions Monday-Friday - see World Service programme schedule.
Follow @BBCNewsMagazine on Twitter and on Facebook