Philip Boit and Bjorn Daehlie: Cross-country friends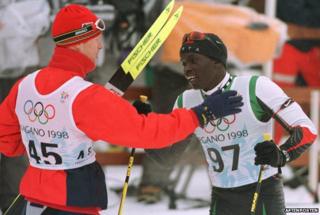 As Zimbabwe and Togo prepare to make their Winter Olympic debuts in Sochi, Kenya's first international skier recalls the unexpected friendship that turned him into a poster boy for snow sports in Africa.
When Philip Boit put on his skis at the Nagano Winter Olympics 1998, it was only two years since he had first seen snow.
Boit was born into a farming family in Eldoret in western Kenya, home to some of the world's fastest runners, but when the sportswear company Nike came looking for a runner prepared to to train as a cross-country skier, the 26-year-old stepped forward.
"It was a bit challenging at first because I had never experienced cold weather like that in my life," he says, remembering his first trip to Finland, where he went to train.
"Even putting on skis was so difficult! But after some time, I learned to adapt."
Some pundits said Nike was using Boit as a "marketing pawn", but he quickly excelled at this tough endurance sport. After training on roller skis in sunny Kenya, as well as in Finland, he qualified for the 10km classic style event at the Winter Olympics.
His rivals included the world's most successful cross-country skier, Bjorn Daehlie, who was and remains a huge icon in Norway, where the sport is as popular as football.
"The whole Norwegian team had heard about this strange guy from Africa who was trying to participate," he recalls.
"We thought that was quite interesting and we were eager to see if he would succeed!"
Chaos preceded the start of the race, when the athletes were unexpectedly soaked by heavy rain.
Boit was unaccustomed to skiing on wet snow, and had more problems with it than most.
"I fell down so many times," he laughs.
"Going uphill, the skis were collecting snow. It was like I had put on high heeled-shoes!"
As expected Bjorn Daehlie won the event, becoming the first man to win six gold medals at the Winter Olympics.
But instead of going straight to the medal ceremony, he waited for the final competitor to finish the race - Philip Boit.
"We heard on the speaker that he was near the stadium and I felt really impressed that he was able to finish the race in these conditions and I wanted to wait to have him over the finish line - this African, brave skier," says Daehlie.
Boit describes the crowd "going wild" when he eventually entered the stadium and says he can remember getting a sudden burst of energy.
"They were shouting 'Kenya GO!, Philip GO!' It was like I was winning a medal even though I was last."
He finally crossed the finish line 20 minutes after Daehlie and was embraced by the Norwegian star.
"My coach had been telling me about him and I had seen him on the television and I couldn't believe that he was the top guy and he was holding me," he recalls.
The two skiers have different versions of what happened next. Boit insists he immediately thanked Bjorn Daehlie. Daehlie says his first words were about the next Winter Olympics, scheduled to take place in the US in 2002.
"He said, 'I will beat you in Salt Lake' and I was quite astonished. That was quite a funny answer!"
Bjorn Daehlie's gesture of sportsmanship quickly became global news. The media clamoured to interview them together.
By the time Philip Boit returned to Kenya he was already a huge celebrity. Fans met him at Nairobi airport to accompany him to his home village, singing and dancing as they went.
"I kept telling them I had come last!" says Boit. "But they were so proud and they were telling me, 'You should say you are the champion, because there were no other Kenyans there, so you won for the Kenyans!'"
Despite his difficulties in Nagano, Boit continued his skiing career and qualified for the Salt Lake Winter Olympics. He didn't get the chance to take on Daehlie though, as the Norwegian star was recovering from a roller-skiing injury.
Boit competed internationally until 2011, funding his training between sponsorship deals by selling his family's cows.
He wasn't the first black African to compete at the Winter Olympics - Senegalese skier Lamine Gueye beat him by 14 years - but his 1998 Olympic appearance, and the touching moment on the finishing line, helped to inspire a new generation of winter sport stars in Africa.
Since 1998, Cameroon, Ethiopia, Ghana and Madagascar have debuted at the Winter Olympics, and Zimbabwe and Togo will compete for the first time in Sochi.
"They all say we came to like these sports because we saw the television in 1998 and we said that if Kenya can do it, we can do it too," says Boit.
"They tell me: 'You are a pioneer, because without you, we could not venture into winter sports.'"
Just weeks after the 1998 Winter Olympics, Boit named his first child after the Norwegian icon.
"All my friends and family said he had to be a very good-hearted man because he waited for me in Nagano, and that I should keep his name in my family," says Boit.
Now 16, Daehlie Boit has visited his namesake several times, most recently during the World Championships in Oslo in 2011, when he was joined by his parents and younger siblings Olympia, Faith and Alex.
The teenager has also been coached on the slopes by Daehlie senior. So is he set to follow in his father's footsteps?
"I don't think he will be a cross-country skier, but I am sure he will be a really nice man," laughs Daehlie.
Boit and Daehlie have now retired from the sport, but they have continued to ski together in charity competitions in Norway and recently trained together in Greenland.
"I think that was the coldest Philip has ever been," says Bjorn Daehlie.
"After just a few minutes on the slopes he ran inside and hid under the bed covers for most of the trip!"
Daehlie hasn't yet visited his friend in Kenya, but Boit is confident he will one day.
"Bjorn wants to come so that we can do roller ski training and a bit of running and hiking, but he is scared of lions and snakes in the forest! But I told him they belong to the [safari] park so we won't find them," he says.
"I need him to visit my family and Kenya and to enjoy this with him. He is a dear friend."
Philip Boit and Bjorn Daehlie were interviewed for the BBC World Service's Sporting Witness programme. Listen to the programme on Saturday 25 January or catch up later on iPlayer.
Follow @BBCNewsMagazine on Twitter and on Facebook