Tracking down a missing dog in Mali's corrupt capital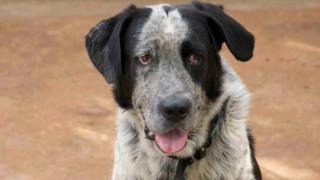 In Mali, as in many countries, bribery and corruption are a way of life. Want to pass your school exams? Don't bother studying hard, you'd do better saving up! You can buy your baccalaureate for $500 (£300). So when a policeman rings up, I am suspicious.
The voice on the end of the phone is deep and mysterious.
''My name is Lieutenant Gakou. I found the dog hiding under a container on my forecourt. I had him taken to the gendarmerie canine unit. I can help you get him back.''
The runaway mutt, Kerouac, is not even mine. He came into my life - and ran out of it - two months ago. He and his French owner, Stephane, had parked their camper in my street for a week.
Despite the risk of kidnapping by al-Qaeda, there is still a breed of traveller that defies warnings by various governments to churn through this region in old lorries.
Stephane and Kerouac were part of such a convoy. Except that on the day his party set off Kerouac was nowhere to be found. Hostage to a hormonal high, he had apparently run off with a pack of local hounds. Stephane left Mali in floods of tears.
The mean streets of Bamako are no place for a bumptious slobber pot who sleeps with his owner and cries when he is left on the wrong side of a door.
In Mali keeping a pet is almost unheard of. Children throw stones at dogs and both grow up in fear of one another.
Having hung up on Lt Gakou and his apparent bad intentions, I am suddenly struck with remorse. I have visions of the fluffy black-and-white setter cowering in confused terror in a filthy dog pound.
I cannot bear it. I decide I need to find the gendarmerie dog unit.
Bamako puts up its usual obstacle course of potholes, tides of motor-scooters, fleeing chickens, children begging at junctions and donkeys pulling impossible loads.
But eventually, in a distant southern suburb, I find the unit and its chief, Lieutenant Boh, who takes me to see Kerouac.
The hound is looking his usual floppy and placid self - thin but calm and with only a torn ear to show for his run-in with the local dog pack.
Then comes the bit I have been expecting: times are hard. As I can see, Kerouac is in good condition. But he is a large animal with a big appetite and Lt Boh has fed him for 49 days out of his own pocket.
Daily visits by a vet have been needed. And the grand total? 200,000 CFA francs (about $500, or £300).
I do not believe for a moment that Lt Boh has forked out for Kerouac.
I get back in the taxi, ponder my options, and decide to call back Lt Gakou.
He is mortified because I never asked him to take me to the dog pound. But when I mention the bounty money, he says: ''Meet me at my office in 30 minutes.''
Which is how I find myself, at the end of this shaggy dog story, sitting face to face with Lt Gakou's boss, the director-general of Mali's national gendarmerie.
Colonel Diamou Keita's bread and butter is Islamists, secessionists, suicide bombers, cocaine trafficking and murder.
"It is only about a dog,'' I stutter, feeling that I am a canine whisker from being locked up for wasting the gendarmerie's time.
But I need not have worried. It turns out Lt Gakou is the colonel's chief of protocol. Both he and his boss are proud, dog-loving Malian officers of the law.
An extremely brief phone call is made and I am sent back to the canine unit to collect Kerouac. A sheepish Lt Boh asks me to sign a note stating I have received the dog in good condition, at no charge.
Kerouac comes bounding out of his kennel and dives into the collar I have bought him. Stephane flies over from France.
The two of them spend a further week with me here in Bamako, before heading off to Mauritania on another On The Road adventure.
So perhaps not every Malian in authority is corrupt?
"We all have to find ways to survive. Some of us are better at it than others," explained Lt Gakou.
He apparently spends more time selling second-hand cars from the forecourt where Kerouac was found, than minding his boss's diary. Survival, I suppose, after all he does have eight children.
And sure enough, the lieutenant does want something for his trouble. Could I arrange for someone in Britain, for a fee, to foster his youngest child, 11-year-old Moussa? I explain that I do not think fostering works like that.
"Oh but it does," he replies. "I already have seven children studying in Europe."
From Our Own Correspondent: Listen online or download the podcast.
BBC Radio 4: Saturdays at 11:30 and some Thursdays at 11:00
BBC World Service: Short editions Monday-Friday - see World Service programme schedule.
Follow @BBCNewsMagazine on Twitter and on Facebook