Presenting a warm front: 60 years of the British TV weather forecast
By Nick Higham
BBC News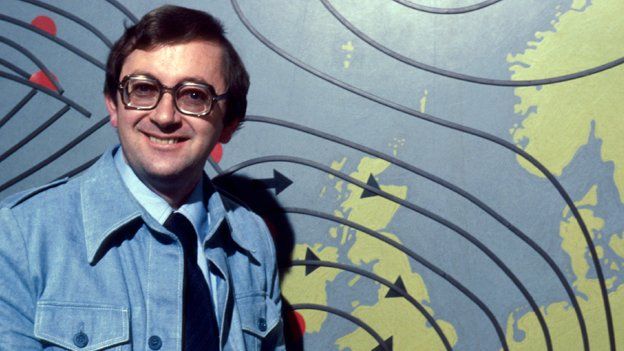 The BBC weather centre is celebrating 60 years since the first television weatherman appeared on a UK screen. The public may have a love-hate relationship with the weather, but the men and women who predicted it have generally enjoyed a warmer reception.
For decades they were some of the best-known people in Britain - on air at peak time every evening, watched by millions of viewers, their dress sense and mannerisms the subject of fascinated comment in the press.
Forecasters were rarely subject to the kind of obsessive interest the British reserve for the weather itself, but they were talked about, written to and considered old friends.
Much of that probably had to do with the late George Cowling, a tall and distinguished looking cove who gave the first televised weather broadcast on 11 January 1954.
Then there was Bert Foord, a dapper figure who was the BBC's most popular weatherman until he left in 1973.
There was Jack Scott, the doyen of the team for many years, who never lost his Durham accent and exuded a particular blend of authority and warmth until his retirement in 1983, when he promptly defected to ITV. It was Scott who featured in a Kenny Everett comedy sketch in which the weather studio was invaded mid-forecast by an angry punter using his umbrella as a weapon.
There was Bill Giles, an avuncular chap with a Devon accent who did two stints at Television Centre, from 1972 to 1980 and then again from 1983, when he took over from Scott as chief weatherman until his retirement in 2000.
There was Ian McCaskill, whose Scottish accent, machine-gun delivery and penchant for garish clothing were made for imitation - there was even a McCaskill puppet on Spitting Image.
And there was Michael Fish, whose name will be forever associated with the most inadvertently famous forecast in the programme's 60 year history, delivered on 14 October 1987.
"Earlier on today," he said, "a woman rang the BBC and said she'd heard there was a hurricane on the way... don't worry, there isn't!" A few hours later the worst storm in 300 years hit southern England, uprooting thousands of trees and killing 19 people.
But it was Cowling who set the tone for all his successors with his relaxed manner and informal way of speaking.
That came as a shock to a viewing public, who had grown used in the early days of television to the stilted, technical language of forecasts from the Met Office, read out before closedown in the dry tones of a continuity announcer (think Radio 4 Shipping Forecast without the evocative place names) too late at night for many early risers like fishermen and farmers.
Then in March 1953 the director-general Sir Ian Jacob had lunch with the former air minister Lord Brabazon. Sir Ian relayed a suggestion from "a young but highly professional meteorologist who was in the party that a far better job could be done if the meteorologist himself was allowed to go on the air".
Cowling, at the time a 34-year-old meteorologist, grasped at once the need to talk in language the man or woman in the street understood.
"We'd been briefed to try and be a bit human, and I mentioned that tomorrow was going to be a good day for hanging out the washing," he said in a BBC interview in 2004. "This was something that had never been said before and the press really took this up, and I thought that was a jolly good thing.
"And another milestone was, I said there was rain coming in from the west the following day, and I said this would reach north Wales and the north-west coast of England round about lunchtime. And I got a telegram from a viewer saying: 'Well done. Rain arrived Liverpool one o'clock.'"
None of those early forecasts - one a day, running to four or five minutes in length at the start of the evening's programmes - were recorded.
There is a recording of one of the tests before the service officially started, presented by Jack Armstrong, who later did the job from 1956 to 1965. As you'd expect from a pilot it's a little rough around the edges. The earliest real forecast to have survived in the BBC's video library appears to be one from BBC Scotland.
To begin with, the weather charts were drawn up in the Air Ministry offices in London's Kingsway, then rolled up and taken by taxi to the BBC studios at Lime Grove. There the presenter, armed with a wax crayon, would add further details as he spoke. On rainy days viewers could sometimes see steam rising under the very hot studio lights from the forecaster's damp clothes.
But however ragged they may appear to modern eyes, the new forecasts generally went down, ahem, a storm.
"Viewers said, time and again, that the weather reports had meant much more to them since the Meteorological Office has taken charge," the BBC's audience research department reported. "For one thing, they find a first-hand account of the weather more convincing, and also far more interesting, than 'just staring at a map and listening to someone reading a lot of data'."
The Met Office was happy as well. Clive Rawes, BBC television's presentation editor, reported its director "seems well-pleased with the lustre his forecasts are bringing to a department often accused of being dull and unimaginative".
For many years, the television job was tied to a particular grade in the Met Office, so promotion meant you vanished from the screen. In due course Cowling was promoted, to work for RAF Bomber Command and then overseas.
It wasn't just the presenters who changed. When colour television arrived in 1967 the studio technology moved up a notch.
Steel wall charts were made onto which magnetic rubber symbols could be attached - triangles for showers, round dots for rain, flexible snaking black lines to create isobars. Predictably, the magnetism sometimes wore off and the symbols fell off live on air.
In 1975, a 22-year-old graphic design student called Mark Allen created a new set of weather symbols - clouds with and without raindrops, a bright yellow sun with chunky rays - which are still the ones the BBC uses online.
But the rubber magnets weren't abandoned until 1985 when the BBC took the plunge into computerised graphics directly linked to the forecast computers at the Met Office.
One innovation that was not popular with every viewer was the introduction of Barbara Edwards as the first female forecaster in 1974. As she later admitted, she was unprepared for the level of scrutiny that awaited her.
People wrote her rude letters about her penchant for tank tops, and when she married, one newspaper gatecrashed the ceremony at her local registry office. The thrill of being recognised while out shopping soon wore off.
"Some people love publicity and like to be recognised and would hate it if they weren't," she once said in a BBC interview. "But until it happens to you I don't think you know, and I found out that I didn't enjoy it and I wanted my privacy and there's no way you can have it if you're on television, privacy just goes out the window. I just couldn't accept that."
She also found the job a rather lonely one. "You were just this one Met Office person at Television Centre in a little office all on your own, and the few people you get to know in the studio, you found when you were free they were busy, and you'd go down to the canteen and have your lunch, usually alone."
Few of today's forecasters - with the possible exception of Breakfast's Carol Kirkwood - are as well known as their predecessors, nor are they likely to get lonely. There are simply too many of them.
Today the weather centre at New Broadcasting House in London produces around 120 weather forecasts a day on TV and radio, not to mention forecasts for the web and mobiles, with a team of 18 on-screen forecasters.
They are still Met Office employees, though not all are meteorologists - when 24-hour news channels arrived there weren't enough of those to go round - and they work with BBC editors, producers and graphic designers as well as a duty forecaster from the Met Office.
Some things about the forecaster's job haven't changed in 60 years. One is the ability to speak without hesitation or deviation and precisely to time for up to four minutes without a script.
But most of the job would be unrecognisable to the pioneers like George Cowling and Jack Armstrong.
They used to spend their day preparing just a couple of forecasts. Now their successors may find themselves doing two, three or more every hour. That leaves them little time to analyse the weather data for themselves and make their own predictions, as Cowling did.
Things haven't always gone without a hitch. The most recent major overhaul took place in 2005, when the old maps and weather symbols were pensioned off and a new 3D image of the country introduced with animated graphics based on high-end computer games.
It provoked uproar, and a deluge of some 16,000 emails. Some viewers complained of motion sickness. Some objected to the brown colour of the land. But most complained that, because the image curved away from the viewer to mimic the curvature of the earth, Scotland was made to look much smaller than it really is in relation to England.
The design was tweaked, but not abandoned, and has been constantly updated since. The most recent change came just last month, when the system started displaying the weather at a much higher resolution.
But don't rule out a more radical change in the near future - the contract with the firm that supplies the current system is up for renewal.
So, with all this clever technology, have the forecasts actually got better?
Darren Bett, one of the current team, maintains they have: "It's been shown that today's four-day forecast is more accurate than the one-day forecast of 30 years ago."
George Cowling would be impressed.