The rise of the young non-drinkers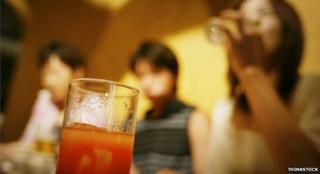 UK teenagers might have a reputation for binge drinking, but in reality the number of young people consuming alcohol has declined sharply. Why?
"There is nothing that says you can't go out and have fun without a drink," says Liam Brooks, 18. Since November he's been old enough to buy alcohol legally in pubs, but he's never touched a drop.
"It's the mindset the media has that every 18-year-old goes out and gets drunk. Maybe people in the previous generation did. But nowadays, most people would go out to hang out."
It was the sight of intoxicated older people that helped put Liam, from Dagenham, east London, off drinking for life. One occasion when he had to put his parents' inebriated friends to bed convinced him that "there is no pretty drunk".
Anyone familiar with regular newspaper stories about young people creating drunken havoc in British town centres would be forgiven for finding Liam's words surprising.
But while his strict abstinence may be atypical, all the figures suggest that young people in the UK are becoming more like him.
Just 12% of 11 to 15-year olds said they had drunk alcohol in the previous week in 2011 - down from 26% a decade earlier, according to National Health Service statistics. The proportion who said they had ever drunk alcohol fell from 61% to 45% over the same period.
Among older teenagers and young adults, the pattern was the same. In 1998 71% of 16 to 26-year-olds said they'd had an alcoholic drink that week. By 2010 only 48% did so.
It's in sharp contrast with the middle-aged who, as the Spectator's Fraser Nelson has observed, are spending more on alcohol than ever. He calls this the Ab Fab effect, after the BBC comedy Absolutely Fabulous, in which daughter Saffron watches with disgust as her mum and her friends get legless.
It's a trend that defies many people's expectations of young people, and a whole variety of theories are offered by experts to explain it.
One factor may be that alcohol is becoming more difficult for young people to get hold of, says Jonathan Birdwell, senior researcher at the think-tank Demos and author of two reports on UK alcohol trends.
Pubs and clubs are also getting better at challenging under-age drinking, he adds. Retailers have more of an incentive to check IDs after the government doubled the fines for those caught selling alcohol to young people to £20,000.
Recent awareness campaigns about daily alcohol guidelines, the arrival of "drink aware" labels on bottles and an increase in negative media stories around binge-drinking culture may have all played their part.
Straitened economic circumstances may have also played a part, Birdwell suggests. "With the rise of tuition fees, young people going to university want to get more out of their experience to make sure they are competitive in the labour markets."
Demographic trends also appear to have contributed. Britons from a Muslim background are less likely to drink for religious and cultural reasons, and Muslims now make up 8% of the population under 16 in England and Wales - up from 5% in 2001.
Research has also found that pupils who go to more ethnically diverse schools are less likely to drink, whatever background they come from personally, Birdwell says.
But with Muslims making up just 5% of the resident UK population in the 2011 census, the decline is too sharp for it to be down to this one community alone.
Relevant too is the growth of technology allowing young people to socialise with friends and keep themselves entertained, suggests Henry Ashworth, chief executive of the Portman Group, which campaigns for the drinks industry on social responsibility.
"There has been an exponential growth in social media since 2005 and this has correlated with a steep decline in risking behaviours such as drinking - so it seems that young people may be diverting to other activities," he says.
Whatever the reasons for its rise, new businesses have sprung up to serve this rising non-drinking population.
In parts of London, Manchester and Bradford now you will see whole streets lined with shisha cafes and ice-cream parlours open late for a dry clientele.
Catherine Salway founded the alcohol-free Redemption bar in west London after paying attention to the trends.
"Lots of people thought I was mad to come up with the idea of an alcohol-free bar but I like to think I was just at the cutting edge," she says. "It is the young at the forefront of this movement."
It's not just alcohol use that has fallen, however. Young Britons are more abstemious in general than in previous generations.
NHS statistics show that in 2011, 17% of pupils had ever taken drugs, compared with 29% in 2001. Tobacco use has also dropped.
Despite these trends, alcohol abuse remains a problem among the young.
Experts have warned that liver disease is on the rise among people in their early 30s. And in international terms, young Britons are still drinking more than most of their neighbours, according to The European School Survey project on Alcohol and Drugs.
"The young people who are drinking are drinking more than their European counterparts," says Rosanna O'Connor, director of drugs and alcohol at Public Health England. She says the drops in overall consumption represent "good news but a partial picture".
It may be premature to say goodbye to the nation's boozy reputation. But Birdwell argues that young people should be given credit nonetheless.
"The media headlines can be quite popular around binge drinking and some towns and cities do have a significant problem," he says.
"But I think overall in the UK we need to have a more dominant conversation around the fact that young people are choosing not to drink and noting the positive development of that."
But young abstainers still stand out. So far Liam's friends haven't followed his example.
For now, he says: "If I'm hanging out with friends and they have been out of their minds drunk, I'm the one keeping an eye on them making sure they don't make any mistakes."
You can hear Young, British and Sober on BBC Asian Network on Thursday, 9 January at 17:00, or listen online
Follow @BBCNewsMagazine on Twitter and on Facebook