St Petersburg 1914: The door to another age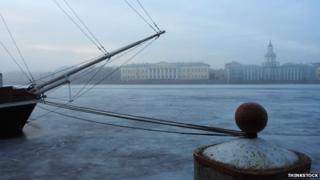 As war approached in 1914, the Russian capital St Petersburg was the scene of imperial splendour and abject poverty, utopian hopes and portents of impending doom.
I have never met anyone who is more proud of her kitchen door than Firuza Seidova. In fact, Firuza is so proud of the door in her St Petersburg kitchen that she has invited me to her flat on Liteiny Prospekt to see it.
I'm here very early in the morning - the night train from Moscow has whisked me to a St Petersburg which is still dark and sleepy and bitterly cold. But at home, Firuza is wide awake and welcoming. She's made me breakfast - black bread with thick slices of cheese and a cup of piping hot green tea.
We're sitting at her kitchen table eating our buterbrody - and staring at the door. To be honest, it doesn't look very special. The old wooden panels have faded. They're blotchy - and scratched. I can't help thinking the whole thing could do with a fresh lick of paint.
But when Firuza starts recounting the history of her apartment, I realise this is much more than just a battered old door - it's a gateway to a golden past, to the St Petersburg of 1914.
"Back then, all sorts came through my kitchen," she says. "The Emperor Nicholas was here, Sergei Prokofiev, too, and some of the most famous names in the history of chess."
Firuza shows me an old black and white photograph of two men engrossed in a game of chess. I instantly recognise the door at the back of the picture - it's the one in Firuza's kitchen!
One hundred years ago, Firuza Seidova's flat was the headquarters of the St Petersburg Chess Society. The kitchen door is all that's left of the original rooms - the last surviving link to an intriguing story.
It was spring 1914. And to mark its 10th anniversary, the St Petersburg Chess Society organised a tournament for some of the greatest players on the planet. Not everyone could make it. Chess stars from Austria-Hungary had to decline their invitations, because of pre-war tension with Russia.
Nevertheless, the list of competitors was impressive.
The favourite was from Germany: the world champion for the last 20 years, Emanuel Lasker - such an elegant, inspirational player that the St Petersburg press dubbed him "the poet of the chess table". His main rival was the man soon to be hailed as "the human chess machine", the flamboyant Cuban diplomat Jose Raul Capablanca.
From England came the heavy-drinking Mancunian Joseph Blackburne (nickname "The Black Death"). From America, top tactician Frank Marshall. Representing Russia, the attacking Alexander Alekhine. And there they all were, fighting it out in Firuza's flat.
For one glorious month Europe seemed to forget it was on the precipice of war and was transfixed by battles on the chessboards of St Petersburg. Each move, every twist and turn in this grand tournament was transmitted back across the continent by an army of reporters. The venue wasn't nearly big enough for the crowds that came. One journalist complained that "the stuffiness and the heat were almost tropical".
And this is how newspaper Novoye Vremya described the atmosphere:
"Spectators were packed in unceremoniously like sardines in a barrel. They craned their necks; they stood on tiptoes, even on chairs so they could see the play… and the room was so thick with tobacco smoke, it was like a mortuary where they're busy cutting up corpses."
And yet, in this stifling, smoky hell of a chess club, there was a feeling that something very special was being forged from the intellectual tussles taking place here, something which transcended chess, something great that would change the world for the better. The newspaper Kopeika predicted that in St Petersburg "the noble game of chess" would "promote the idea of world peace".
In the journal Rech, Emanuel Lasker went even further. He seemed to imply that the competitors would be thinking so hard about their chess moves that, somewhere along the way, they would think up a whole "new set of values" for mankind. A very lofty, rather ambitious thought.
But even "chess poets" and "human chess machines" need some down time. So one day the competitors were treated to a tour of St Petersburg. And what they would have seen that day would have made them feel very much at home. For St Petersburg was Russia's most cosmopolitan city, a capital created with one purpose - to make Russia look like Europe.
The palaces were like those you'd find in France, Italy or Germany; the canals were like Amsterdam or Venice. Even the city's name, Sankt Peterburg, had been deliberately chosen by Peter the Great to sound more Dutch than Russian. Over the centuries, architects, engineers, shipbuilders and shopkeepers travelled here from across Europe, taking part in this unique project to westernise Russia. Many of the visitors put down roots and foreign communities became part of the fabric of St Petersburg. In 1914 the city boasted German butchers, Austrian bakeries, English sweet shops. At the city's grandest delicatessen, the Yeliseyev, goods were advertised in Russian, French and German.
And then there were the cinemas, with their exotic, non-Slavic names. St Petersburg's main street, Nevsky Prospekt, was full of them - the Crystal Palace, the Majestic, Folies Bergere, foreign titles which conjured up images of European grandeur. In 1914 a new cinema opened up on Nevsky, the Parisiana. It was, by all accounts, a remarkable building. The auditorium was built in the style of Louis XVI of France, with stucco walls and a giant marble staircase. Some of the stalls and the balcony lodges even had their own telephones. And the cinema roof could be opened mechanically so you could relax, watch a film and gaze at the stars.
The Parisiana symbolised everything Russia wanted to be in 1914 - a world leader, an innovator, an industrial, technological and cultural powerhouse. I try to find the Parisiana on Nevsky Prospekt. Sadly, it's no longer there. It's been replaced by a Swedish clothes store. Still, I suppose that even Swedish sweaters, socks and bras keep up that St Petersburg tradition of embracing Europe.
I get chatting to a security guard in the clothes shop. He tells me about an old cinema that has survived, just down the road. A narrow archway leads me into a back yard and there it is - a hidden jewel of St Petersburg cinema history. Since communist times, this semi-circular structure with classical columns has been known as the Aurora - in honour of the naval cruiser which, legend has it, fired the first shot in the Russian Revolution.
But the cinema's original name was the Piccadilly. It, too, was new in 1914 and, like the Parisiana, was conceived as a sumptuous palace of film. Inside I discover the most stunning cinema foyer I've ever seen, with gigantic Chinese vases and exquisite frescoes.
If the spectacular St Petersburg cinema halls of 1914 projected a brash confidence, a country oozing money and ambition, the films themselves told a different story. That year, Russian silent movies were obsessed with destruction and violence.
In the film Life in Death, a doctor is so keen to preserve his wife's beauty that he kills her and embalms her body. And in Child of the Big City, director Yevgeny Bauer foretells the disintegration of Russian society. Desperate to escape her sweatshop existence, seamstress Mary seduces a wealthy gentleman called Viktor. She then drains him of all his money and throws him penniless onto the street. Viktor shoots himself. On seeing his lifeless body, the heartless Mary is quoted as saying, "Well, they do say that meeting a dead man brings you good luck." She steps over his corpse and never looks back.
In many ways, the silver screen reflected the dark reality of St Petersburg 1914. True, this was a city of plenty, where you could buy anything from foreign maple syrup to coats made of kangaroo fur. But it was also a place of abject poverty for many of the workers, of poor housing, appalling sanitation and widespread disease.
The death rate in St Petersburg was higher than in any capital in Europe. Suicide was on the rise, too. And it was a violent city. A sharp increase in street crime pointed to growing hostility between the social classes.
The local press lamented the disturbing new phenomenon of "hooliganism". Little did they know that in Vladimir Putin's Russia, female punk bands and Greenpeace activists would be charged with the same crime.
There were strikes at factories, arrests of suspected revolutionaries. More than anything, there was a sense of impending doom. On 19 May, St Petersburg was invaded by dragonflies, a bizarre infestation of biblical proportions - the skies, the streets and the River Neva were teeming with insects. Many people in the city saw it as a terrifying omen.
This was a very different St Petersburg from the city experienced by the stars of the 1914 chess tournament - they were treated to concerts, lavish banquets and presented with gilded wine glasses specially made by Faberge. Locked in their intellectual bubble, the players could think grand thoughts about changing the world. But outside, the world was changing anyway, and it wasn't the masters of chess who would shape the future.
One week before the dragonflies descended, Lasker was declared chess champion of St Petersburg. That summer, there was another international chess competition, in Mannheim, Germany. It featured 11 players from the Russian empire.
By this time, though, few people believed in the power of chess to change the world. After round 11 of the Mannheim tournament, Germany declared war on Russia. All the Russian players were arrested and imprisoned, including the future world champion, Alekhine. Later he'd be put in solitary confinement for smiling at a guard.
In response to the declaration of war, Tsar Nicholas II renamed his capital. Suddenly "Sankt Peterburg" sounded too German and the city became Petrograd - far more Russian. Of course, Russia's 20th Century nightmare was only just beginning. World war would lead to revolution and brutal civil war.
But what I find most remarkable about the St Petersburg of 1914 is that it was this moment in history - the eve of cataclysmic change - when Russia reached her creative peak. When artists and composers decided that anything goes, experimenting like never before with words and sound and colour.
Many of Russia's most creative writers and poets gravitated towards the Stray Dog Cafe in St Petersburg - an artistic salon in a cellar where they could stay up all night reciting their works, and arguing about art and politics. The Russian Revolution would destroy many of them. Mandelstam died in a Soviet prison camp. Tsvetaeva and Mayakovsky committed suicide.
Sitting at her kitchen table, in what was once the St Petersburg Chess Society, Firuza Seidova has a simple explanation for this explosion of creativity, which preceded Russia's catastrophe.
"It's the same with my house plants, when I don't look after them properly," she says, pointing to flowerpots on the windowsill.
"You see, when flowers feel that they're dying, they try to blossom one last time."
Music on the Brink: The Essay series will be broadcast Monday to Friday this week at 22:45 GMT on BBC Radio 3. Monday: Vienna. Tuesday: Paris. Wednesday: Berlin. Tomorrow: London.
Follow @BBCNewsMagazine on Twitter and on Facebook
Find out more on the BBC World War One website