How to bounce back, Newport-style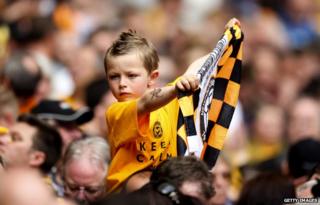 Newport had a troubled High School and a near-bankrupt football team. Now pupils are flourishing and Newport County FC is back in the Football League for the first time in 25 years - and the city's department store is trying to follow their lead. Simon Cox pinpoints 10 ways the south Wales community hauled itself up.
1. Rebrand: If you can't shift a poor reputation, the answer could be to ditch your name and rebrand yourself. That's what Llanwern High School did.
Located in one of the most deprived areas in Wales, in 2012 it changed its name from Hartridge High School, built a £29m new building and adopted a smart uniform for pupils.
Student numbers have shot up and so have the results. In one year Llanwern went from having the second worst exam results Wales to being the most improved school across England and Wales. The head of English, Emma Llewellyn, recalls how before the revamp, her first job would be to mop up the classroom floor.
"It frees up my mind totally," she says. "The thought of not having to come and clean up but just coming into a classroom that's clean and ready to learn is amazing."
With its elevation into the football league after a 25-year break, Newport County FC rebranded itself, too. It traded in an old stadium for a bigger, more impressive one the club now shares with the local rugby team.
Newport's commercial manager James Watts said the rebranding had made a big difference to their fortunes. "There are some big companies who never would have worked with Newport in the past," he says. "A lot of businesses have come in and seen where we're going".
2. Get a new leader: They're the people you are hoping can get you out of trouble. Justin Edinburgh has done the trick as manager of Newport County, moving them from bottom of the Vauxhall Conference to the Football League and challenging for promotion to League One. He put much of this success down to his leadership as a manager: "I've never seen a squad of players get sacked. He is the leader of the ship. Everything starts and finishes with the manager."
There isn't a single fit. Peter Jenkins, the head at Llanwern High School, has a more collegiate approach. After listening to what his staff needed, he gave them an ultimatum. He said there was "a no excuse scenario, we've given you everything you've asked for, now deliver".
3... Who may be an outsider: Take a tip from football - managers rarely come from within. Justin Edinburgh came to South Wales with no allegiances to existing players or staff. Chairman Les Scadding says it's only a matter of time before the manager is poached by a rival, having turned around the club's fortunes. "He has created this success himself, more than anyone. He is the best manager at this level and he will definitely be going, we know that."
Llanwern High School also wanted to look further afield for its new leader, and Jenkins was recruited from another school in Wales.
When Llanwern first advertised for a head, it had few takers. Anne Lewis, the school's Chair of Governors, decided to re-advertise. "We knew we needed an experienced head teacher who had experience of working in a school that isn't full of middle-class parents and would take the staff along with them and the pupils," she says.
4. A family affair: No matter how good the leader is, if you want to move up the table or even just stay afloat, you'll need to pull together. Wildings department store, a feature of Newport High Street for 140 years, has been struggling to make a profit.
The managing director, Peter James, says without his dedicated band of staff, things would be far worse: "I'm amazed we still take the money we do given the state of the town, the reason we do is customer loyalty to our nice members of staff."
And he has a novel approach to hiring. "We don't do any staff training, we just recruit nice people with a bit of personality." Having tasted success as a Premiership player, Justin Edinburgh knows at the lower levels, it's not just tactics on the pitch that wins games but creating a family.
"As a man manager, that's where I excel," he says. "Making the people back at the offices feel as important as the player that scored the winning goal on Saturday. That's the spirit, the foundation that's enabled us to survive and to move on."
5. Be a motivator: To ensure you don't return to the bottom you'll need a few inspirational tricks up your sleeve. Llanwern High School has regular motivational assemblies for GCSE pupils lead by chief cheerleader and assistant head teacher Lisa Southcombe.
She shows pupils a video of the Welsh rugby team singing the national anthem.
"They're in their uniform, they're proud, they stand straight, they can do it," she tells the youngsters. "If you walk into that exam and say you can do it too, you will. You can do anything you want."
6. Get lucky: To succeed in football you need heaps of this, but it's not just about a dodgy goal or sending off. Without luck, Newport County wouldn't have its current chairman, Euro Millions lottery winner Les Scadding.
Although he pocketed £45.5m, Les Scadding isn't South Wales' answer to Roman Abramovich, and he refuses to reveal how much he has ploughed in. "I do know how much I've spent. It's a fair amount but I'm not going to tell. It would probably buy you a couple of houses".
7. Show me the money: To get out of a hole you sometimes need to splash the cash. Llanwern High School got tens of millions to build their new home, Newport County has lucky Les and Wildings is paying for a shop refit.
"We will be risking a significant amount of capital making those changes," James says. But he believes it's a gamble worth taking. "It's a decision that probably a corporate wouldn't make because the chances of getting a return on that investment are highly risky. In fact, we're probably not looking for a return but looking to draw a line under reducing sales."
8. Roll up your sleeves: For Llanwern High school to bounce back from terrible GCSE results in 2012 it took relentless grind, according to Southcombe: "Every night there was revision, every lunchtime there was revision." But she wasn't prepared for all the other things she would be required to do in order to reach the promised lane of decent exam results.
"I didn't realise it would be buying biscuits and making pupils hot chocolate so they'd come to their maths revision lessons."
9. One step at a time: It's not always about aiming for the top - sometimes just reaching the middle is hugely challenging. Llanwern High School went from 18% of pupils getting five good GCSE's to 45% in just a year. The head teacher, Peter Jenkins, says his long-term aim, though ambitious, is both realistic and achievable.
"I would be disappointed if we didn't hit 50%," he says. Getting half of students from one of the most deprived areas of Wales to that figure "would be a remarkable achievement".
10. Keep laughing: When you're at the summit you can get by with a smug grin but lower down the chain you need laughter to keep you going.
At Wildings, the ever cheerful Tracy Pitman, a 24-year veteran, has watched the dwindling customer numbers but retains a beaming smile and a chirpy attitude. "It's still the icon of Newport, Wildings is," she says. You've got to stay positive, every day is another day. You have to keep smiling. It's a show."
The Only Way is Up will be on Radio 4 at 17:00 on 5 January.
Follow @BBCNewsMagazine on Twitter and on Facebook