The final episode of a stowaway's story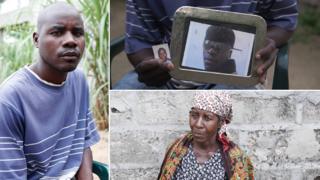 Many months after a man from Mozambique fell to his death from the undercarriage of an aeroplane flying over London, his family has been traced.
Jose Matada's body was found in Portman Avenue, Mortlake, in September 2012, soon after a flight from Luanda, Angola, flew over the residential area.
He had no identity papers on him and no-one had reported him missing. Police were unable to trace his next of kin, but his family recently came forward and identified themselves to the authorities in Mozambique.
Jose's mother, Eugenia Ndazwedjua, and his older brother, Paulino Domingos Matada, who live in Maputo, said they had read about his death in a local newspaper called Verdade.
"I was shocked, it was a huge feeling, knowing he'd already been dead for some time - an overwhelming feeling," said Paulino.
He had thought his brother was in South Africa, where he had been employed for several years as a housekeeper and gardener.
The last time Paulino spoke to his brother was in June 2012. After that, when he tried to call him, he couldn't get through.
"I called others who knew him there, but they said, 'he's disappeared'. I didn't expect him to go to another country, I just thought he'd suddenly appear here one day, or call."
Paulino is still not sure why Jose stowed away on the flight from Angola.
He wonders if Jose was trying to re-join his former employer, who had moved from South Africa to Switzerland. "When I heard he had died, I found a Sim card of his here that had messages, with declarations of love on it."
Whatever the reason - whether Jose had fallen in love with his former employer, or whether he was trying to get to Europe to get her help in finding a job - it was a desperate measure. Most stowaways on long-haul flights are killed by the cold and lack of oxygen.
Jose's mother Eugenia wishes that his body could be returned to Mozambique. "He should have been buried in our village, next to his father, next to his great-uncles and aunts, and my other two children who died - but we have no money to bring his body back home."
The family say they have been told that it would cost £7,000 ($11,500) to repatriate Jose's body.
"I am struggling since he died... His father died a long time ago, but even though we are poor, I had my children - that's the only consolation I had."
There is nothing to mark the grave where Jose Matada is buried in Twickenham, west London - no headstone with his name, or his date of birth.
But we know now that Jose Matada was born on 8 September 1985. He died in London on 9 September 2012, the morning after his 27th birthday.
Listen to Rob Walker's documentary The Man Who Fell to Earth, first broadcast in the UK on Sunday 29 December. It will also be broadcast on BBC World Service on Tuesday 7 January.
Follow @BBCNewsMagazine on Twitter and on Facebook