Spy pigeon secrets of former head of MI5 Eliza Manningham-Buller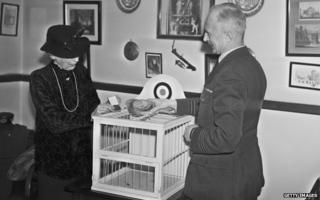 The village green in Tackley is picture perfect Oxfordshire, the kind of place which looks as if it has barely changed in centuries let alone the 70 odd years since World War II.
But behind its tranquil facade, the creeper-covered Victorian house on one side of the green holds a wartime secret. It was a spy base. And not just any spy base - it was a pigeon spy base.
And it was operated by a woman whose daughter would go on to lead MI5.
Eliza Manningham-Buller, who ran MI5 between 2002 and 2007, is one of the Today programme's guest editors this week.
She had never visited the house where her mother conducted secret wartime work until she was taken there by the BBC.
Eliza was born after the war had ended but had heard whispers of her mother's secret past.
"I always knew she had kept pigeons but I never knew much more than that. At the time it was top secret and she never really discussed it with people," she told me.
The current owner displayed remarkably little surprise at a former head of MI5 turning up unannounced on his doorstep and kindly invited us in.
He had heard the house was haunted but knew nothing of pigeons.
In the back garden there is no remaining sign of the pigeon loft presumed to have been there during the war.
Lady Manningham-Buller, mother of Eliza, had been recruited by the War Office to breed, house, train and then release pigeons on top secret missions from the loft.
Hers were just some of the homing pigeons that played a little known role during the war - one which provided real intelligence and also directly saved lives.
Eliza's father, Reginald Manningham-Buller, was elected to parliament in 1943 and would eventually become attorney general, personally prosecuting some of Britain's spies who went bad like MI6 officer George Blake.
During the war his wife was left largely alone in Oxfordshire with her pigeons and a corporal who may even have slept in the pigeon loft as he assisted her in the work.
"I wonder what the village thought of her. They must have thought she was a fairly eccentric woman," she murmurs.
As well as the pigeons and the strange man in the loft, the neighbours might also have wondered about the motorbikes roaring up in the quiet Oxfordshire village on regular occasions to collect notes from the house.
The notes were messages that the pigeons had brought home from occupied Europe after the birds had been dropped in wicker baskets by parachute.
Secret agents would scribble down intelligence about German operations, movements or new weapons and then attach the note to a capsule on the bird's leg and then set it free.
The pigeon's homing instinct would take it all the way back home to Oxfordshire, sometimes wounded by German marksmen en route.
On their return the War Office would be notified and they would send up a motorbike. But what kind of intelligence might the Manningham-Buller pigeons have brought?
To try to find out, I travelled to Bletchley, not far from Milton Keynes.
Bletchley Park is most famous as home to Britain's wartime code-breakers but it also had another secret. It was home to another classified pigeon loft from 1938.
The loft sits around the back of the main mansion house above a garage.
The park housed 30-40 pigeons which were mainly dropped behind enemy lines in France. A landing board with an electric bell would alert staff if a pigeon returned in the night and messages would then be taken to the local police station where a despatch rider would pick them up.
Pigeon heroism
My guide is Colin Hill, pigeon historian. His interest in pigeons dates back to when he was a boy and he decided to save a pigeon rather than see another boy drown it.
His father built him his own loft and 60 years later he still keeps his own pigeons as well as having become an authority on the secret work of their predecessors, curating an exhibition in Bletchley Park which sits alongside the displays about code-breakers and early computers.
"We still get people come in and ask if it is all make believe which annoys me a little bit. But you've got to be diplomatic and you've got to tell them the story. And they go out of here with a different view of pigeons," he explains as he shows me round the exhibition room packed with parachutes, containers and stories of pigeon heroism.
In all about a quarter of a million pigeons were used in World War II in different roles, some dropped individually, others in containers carrying six birds, others strapped to a man who was being parachuted into enemy territory.
Their uses for intelligence work were varied. Some were dropped into enemy territory along with MI6 agents, others were used by the Special Operations Executive either for their agents or for deceiving the enemy, whilst a third set were dropped in enemy territory carrying a questionnaire hoping to elicit useful intelligence from locals sympathetic to Britain.
"If we hadn't had the pigeons during the war, I'm not saying we wouldn't have won the war, but they helped a hell of a lot," says Mr Hill.
As well as carrying vital intelligence, pigeons were also involved in directly saving lives. Inside the exhibition is a picture of an RAF crew. They owed their lives to a pigeon called Winkie.
RAF aircraft carried pigeons so that if the plane crashed, the location could be scrawled on a note and attached to a pigeon to send for help.
In February 1942, Winkie was aboard a Beaufort which crashed into the North Sea following a mission to Norway.
Despite being sopping wet, Winkie flew 120 miles to her owner in Scotland who then alerted an RAF base.
Using details about the pigeon's condition, the owner was able to direct the RAF search teams to look for the crew much further out than they had been looking before which led to their rescue.
Winkie was one of 32 pigeons awarded the Dickin medal for valour on the part of animals. More pigeon have been awarded the medal than any other animal.
Inside the exhibition sits a book listing all of those owners who contributed pigeons during the war, including Lady Manningham-Buller.
A few weeks later Mr Hill contacted me and told me he had found out more about her work: "She had a small team of about 20 pigeons - but they flew all secret service flights into France, Holland and Belgium.
"The majority of her pigeons brought very important messages back. Her pigeons were all used for dropping behind enemy lines to the agents. We know for a fact that on one of the runs one her pigeons was on was to bring back messages about the V1/V2 (rockets). That is for sure by the place the bird was coming from."
He then drops a bombshell.
"We did find out that one pigeon flew three different journeys and was given a Dickin medal," he explains, making it one of the true elite among its feathered colleagues.
"We didn't know she existed," Mr Hill says of the former head of MI5's mother, "but that's how secret things were."