The super-shared stories of 2013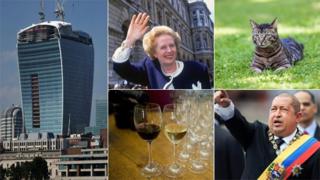 It was a year which saw a number of notable deaths, including Margaret Thatcher, Nelson Mandela and Hugo Chavez, the Pope's resignation and a meteorite crash in Russia.
But 2013 also saw other issues engaging BBC News website readers. The prospect of a global wine shortage, the rescue of a dolphin from a fishing line and the skyscraper which melted parts of a car were all more unusual stories that captured the imagination. And there was a host of major news events as well.
Here is a selection of the stories on the BBC News website that were either widely shared on social media or received large amounts of readers from social media.
January
The year started with a helicopter crashing into a crane on a foggy morning in London, killing the pilot and a person on the ground. The Metropolitan Police said it was "miraculous" more people were not killed but safety experts later claimed the crash was "preventable".
A woman captured the moment a dolphin was rescued from a fishing line in Hawaii. She told the BBC that the dolphin "communicated" with the diver to request help.
February
Pope Benedict XVI unexpectedly announced his resignation on grounds of poor health, making him the first pope to do so in nearly 600 years. Cardinal Jorge Mario Bergoglio from Argentina was subsequently elected as Pope Francis.
Scientists confirmed a skeleton buried under a car park in Leicester was that of English king Richard III. The lead archaeologist said it was "beyond reasonable doubt" the bones were those of the monarch, who was killed in battle in 1485. A battle of a different sort, over where his remains will be buried, continues at the High Court.
Nearly 1,000 people were injured by a meteorite which crashed in central Russia. One Russian politician reportedly blamed American weapons testing for the incident although it's thought to have been caused by the partial burning of a large meteor in the lower atmosphere.
March
Millions of Venezuelans mourned the death of president Hugo Chavez, aged 58. The controversial leader of 14 years had been ill with cancer for more than a year and many queued for hours to see his body lying in state.
Also in March, a man dressed as Batman marched into a Bradford police station to hand over somebody wanted by authorities. The man behind the outfit, takeaway delivery driver Stan Worby later revealed he did so for a joke after watching his team's cup final in London.
However, the next month, the 39-year-old was himself charged for burglary.
April
The death of Margaret Thatcher, Britain's first female prime minister, was announced. The 87-year-old died "peacefully" following a stroke whilst staying at the Ritz hotel in central London. Crowds of supporters and some protesters lined the streets of London for the ceremonial funeral which followed at St Paul's Cathedral.
A day earlier, two explosions at the finish line of the Boston Marathon killed three people and left hundreds injured. One of those suspected of being behind the attack was shot dead, while the other survived being shot through the face, legs and left hand.
The BBC's Great British class calculator, which suggested there are seven identifiable social groupings in the UK, really got readers talking. New affluent workers, emergent service workers and precariat - the poor, precarious proletariat - were among the new classes to emerge from the study of 161,458 people.
It also revealed 20th Century middle-class and working-class stereotypes are out of date with only 39% of participants fitting into the established middle class and traditional working class categories.
May
A deadly machete attack in Woolwich, south-east London grabbed the nation's attention. It was later confirmed that Drummer Lee Rigby of the 2nd Battalion the Royal Regiment of Fusiliers was the victim.
June
Sharers were smitten by the secret life of the cat, a study which tracked the movements of 10 cats over a number of weeks. The felines featured were found to have squabbled with their fellow furry friends over territory, visited other homes and roamed for up to eight acres a day.
There was also a fair degree of fascination with Finnish babies, who sleep in cardboard boxes. The boxes are a gift from the state, and contain a mattress and heaps of other goodies, to give all new mothers a more equal start in life.
July
As we entered the second half of the year, readers jumped at the chance to find out "where can I afford to live?" The house price calculator encouraged plenty of discussion and compared the cost of renting and buying across the UK. The results revealed a geographical divide with prices in northern regions flatlining or falling, whereas in London and the south east prices are on the rise.
August
An entrepreneur in Leeds turned the tables on cold callers by setting up his own premium rate number. Lee Beaumont installed a personal 0871 line, which means telephoning him costs 10p per minute, of which he receives 7p. "I want cold calls" he said after revealing he had increased his revenue by keeping those who had previously been bothering him talking.
Further afield, there was intrigue at the Brazilian man who illuminated rooms using nothing more than plastic bottles filled with water and a bit of bleach. The lamp he created is now widely used across the world and although he's not financially well off as a result, his invention has given him an enormous sense of pride. Did Moser believe that his creation would have such an impact? "I'd have never imagined it, no," he says. "It gives you goose-bumps to think about it."
September
Light grabbed readers' attention for a different reason in September after a skyscraper melted parts of a car. The City of London came under siege from rays of light reflected by a building dubbed the "Walkie-Talkie". "You can't believe something like this would happen," said Martin Lindsay, who saw parts of his Jaguar buckle. "They've got to do something about it."
October
There was alarm for wine drinkers after a report warned the world faced a wine shortage with global demand outstripping supply. "The deepest shortfall in over 40 years of records" was caused by a combination of vines being deliberately pulled up to reduce production and poor weather, and could lead to higher prices in the short term. But critics dismissed the story.
November
Lostprophets lead singer Ian Watkins pleaded guilty to a series of "depraved" child sex offences, including the attempted rape of a baby. The Welsh rock band's front-man accepted he was a "determined and committed paedophile" after evidence was found on computers, laptops and mobile phones. The 36-year-old was subsequently handed a 35 year sentence.
December
Tributes from across the globe poured in for South Africa's first black president Nelson Mandela, who died aged 95. The anti-apartheid icon had been receiving intensive medical care at home for a lung infection after spending three months in hospital. His funeral took place 10 days later following more than a week of national mourning.
Fast & Furious star Paul Walker was killed in a car crash in California. The 40-year-old American actor was a passenger in a Porsche sports car driven by a friend, who also died, when it crashed north of Los Angeles.
Icelandic police shot dead a man who was firing a shotgun in an armed operation, something which had never previously happened there.
British diver Tom Daley used YouTube to announce he has a boyfriend. "Of course I still fancy girls but right now I'm dating a guy and I couldn't be happier," the 19-year-old said.
Follow @BBCNewsMagazine on Twitter and on Facebook
On a tablet? Read 10 of the best Magazine stories from 2013 here