10 bizarre objects found in 'cool' offices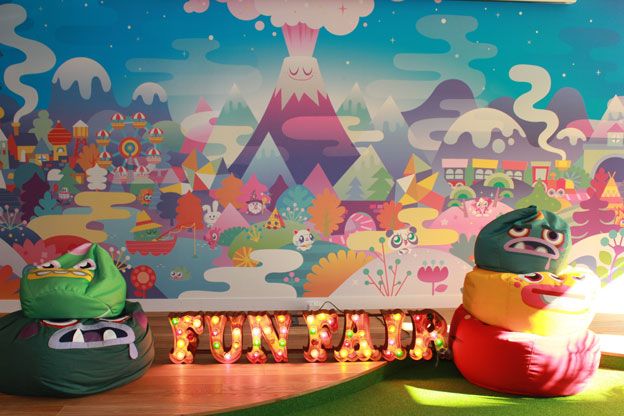 A man is sitting in a room surrounded by a life-sized plastic llama, an indoor slide and a disco tunnel. It might sound like the beginning of a strange dream, but these are all objects found in some of the UK's "coolest" offices, writes Kate Magee.
Companies, particularly in the creative or tech industries, are ploughing money and energy into designing offices that look more like adult playgrounds than a place of work, in the hope that it will make their employees more creative.
It's a trend that had its genesis in the US, with basketball hoops and jelly bean machines cropping up in creative offices.
Having a fun environment, they believe, will help spark conversations and collaboration, encourage people to be playful and, crucially, generate great ideas. It will also impress clients and help with talent retention and recruitment.
Google recently released early design plans for its new UK headquarters in King's Cross that included a climbing wall between floors, a swimming pool and a running track on the roof. It withdrew the plans shortly after, saying it wanted to challenge itself to be even more ambitious.
Apple revealed plans to create a spaceship-like building that will hold up to 13,000 employees in California, designed by British architect Norman Foster.
Here are 10 examples from the UK.
A wooden treehouse (Mind Candy)
Mind Candy, the company behind children's game Moshi Monsters, has an office that encourages employees to think like its customers. It is based at the Silicon Roundabout at London's Old Street and has a wooden treehouse and gingerbread house as meeting rooms, a colouring-in wall and quiet areas that look like hobbit holes.
Thinking like a child can aid creativity because it means people question the norm, says Now Go Create's founder Claire Bridges, who advises companies like Pret A Manger on how to be more creative. "Much of creativity is about risk-taking and pushing boundaries. A child will always ask 'why' and this mindset can be helpful when coming up with original ideas," she says.
Earlier this year, US firm Ticketmaster opened the doors to its new overseas head office in London. The ticket sales company designed the office to prioritise socialising. Its standout feature is a metal slide that staff can take to reach the bar area, where table football, a jukebox and pinball machines await.
Playfulness is a vital part of creativity, says Matt Kingdon, co-founder of an innovation consultancy that styles itself ?What If! and author of The Science of Serendipity. But he adds "the way to trigger this is not an indoor slide. It is much better to create a space or opportunities that encourage colleagues and different teams to bump into each other. This is more likely to trigger thinking that challenges the status quo."
But Bridges says the impact of a playful environment can be helpful: "If a space gives you permission to have fun and enjoy yourself, that is more likely to make you creative than a stiff formal situation."
Coming into work through a "disco tunnel" might be calculated to dissipate Monday morning blues. Advertising agency Karmarama also has a collection of strange objects inside its offices including a huge red Buddha, a VW camper van and a life-sized plastic llama.
A recent study at the Carlson School of Management at the University of Minnesota suggests that these wacky offices could help people be creative as researchers. It found that people working in orderly environments were more likely to conform to expected behaviours.
One of the report's authors, assistant professor of marketing Joe Redden, says, "Our work supports the notion that funky offices aid creativity. The key idea is that a non-conventional office supports non-conventional thinking. One of the challenges in being creative is to break out beyond the typical way of thinking... A less organised office helps people do this."
There is a scientific excuse for a messy desk after all.
Grass floor not a glass ceiling (Innocent Drinks)
The entire office floor at Innocent is made of fake grass, even under the desks. The main kitchen area is filled with natural light, bunting and benches for people to sit together. There is also a cosy reading corner with a selection of books.
Innocent's environment manager Charlie Heavey says that while there are tea stations on every floor, "there is only one kitchen area so everyone has the opportunity to mix with everyone else - we were very particular about the layout of the building because we wanted to encourage interaction".
Picnic benches - Duke Studios
Like Innocent Drinks, Leeds-based Duke Studios has an outdoors feel to its interior. The co-working space was founded by a photographer and interior designer who disliked other office spaces offered in the city. Inspired by Google and Pixar, they created their dream office last year, which now houses 42 small creative businesses. The pair made the office open-plan to ensure people spoke to each other, and have a strict application process to maintain its open culture.
"The benefit of talking to other people is that you are exposed to ideas you wouldn't otherwise have come across," says co-founder James Abbott-Donnelly. "Networking with other people requires extra effort, and that doesn't come naturally to most people. We have engineered a space where people will meet each other in an informal way without the need for name badges and handshakes."
An indoor sky (Virgin Money)
Virgin Money's Edinburgh operation centre has an eye-catching sky painted on its ceiling. The new layout secured an award from the British Council for Offices.
The theory is that staring up at the clouds is likely to have a beneficial effect on creativity. Bridges says that to be really creative, a person needs to use their unconscious mind to work on a problem.
A padded cell (Wieden + Kennedy)
Ever felt so frustrated at work that you want to scream? Employees at advertising agency Wieden + Kennedy have a green leather padded cell at their disposal. MD Neil Christie says the cell was installed after someone told his creative director Tony Davidson, "The way you carry on, you should be in a padded cell." Workers there suggest that as well as being an offbeat fixture, it also turned out to have great acoustics for conference calls.
One huge desk (Mother London)
There are no teacher's pets at advertising agency Mother. Every member of the agency sits at the same huge concrete desk that spreads throughout its space in Shoreditch's Tea Building.
This helps staff to talk to each other and removes hierarchies.
Kingdon says that being exposed to unusual or unanticipated thoughts can help increase creativity, particularly ideas that might not initially sound particularly sensible. "Bumping into someone that you haven't seen for a while is one of the best ways of colliding different strands of thinking," he says.
Beach huts (Man Bites Dog)
PR agency Man Bites Dog has been inspired by its Brighton location. Its office has a full-length indoor pier, its meeting rooms are beach huts and one of them is decorated to look like a forest.
Managing director Claire Mason says it would be easy to dismiss the decor as a gimmick, but argues: "If we look at hard performance measures such as staff retention, engagement, productivity, quality of work and team satisfaction with their workplace, then it's a clear winner."
The social network Badoo's office has a huge chalkboard updated with invitations to parties and product news, as well as swinging seats, a pool table and a roof terrace for natural light. Like the other offices in this list, it encourages staff to talk to each other.
Monica Parker, workplace director at Morgan Lovell, says companies need to be careful about placing too much importance on collaboration because "you can only be creative if there is also a period of contemplation, but this is still perceived as skiving by many firms".
She adds that this very public sharing of ideas only suits certain types of personalities: "Forcing an introvert to take part in this type of collaboration is just a killer for their ideas." There is an oft-cited piece of research from Yale University from 1958 that cast doubt on group brainstorming.
"Companies need to give people the freedom to make their own decisions about what stimulus they need. Recognise there are different triggers for creativity and don't make assumptions on behalf of an individual," Parker says.
Ultimately, no amount of design gimmicks will compensate for a not very creative office.
"Culture trumps design every time," says Parker.