A tale of three murderers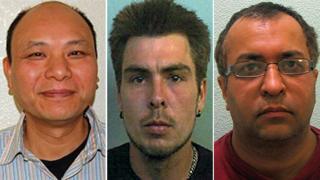 Three murderers were sentenced to life imprisonment on one day. The minimum terms set were 18, 27 and 40 years. Why were they so different?
On 28 November 2013, in separate courtrooms around England, three men were handed life sentences. Each was given a different minimum tariff before they could be considered for parole.
Lee James, 24, who murdered a disabled neighbour who had been wrongly branded a paedophile, was told he must serve at least 18 years in prison.
Serial conman Rakesh Bhayani, 41, who killed a woman at her flat in London, was ordered to serve a minimum of 27 years.
And Anxiang Du, who murdered a family of four in a revenge attack, was jailed for a minimum of 40 years.
The sentences were quite different, but in each case the judge was following the same guidelines, which are set out in schedule 21 of the Criminal Justice Act 2003.
This sets out the basic "starting points" for the minimum term to be set with a life sentence. These are:
A whole life order for "exceptionally" serious offences
30 years for the murder of a police or prison officer on duty - and murders involving firearms or explosives; for gain; to obstruct or interfere with the course of justice; involving two or more persons; involving sexual or sadistic conduct; or aggravated by race, religion or sexual orientation
25 years where the offender took a knife or other weapon to the scene
and 15 years for all other offences.
This figure will then be raised or lowered depending on the aggravating and mitigating circumstances of the case.
But though the code sets out parameters, judges still have to make decisions based on the unique circumstances before them.
"Schedule 21 is there to give consistency in approach but every case is an individual case," says Michael Caplan QC, a partner at Kingsley Napley solicitors and a member of the Sentencing Council.
18 years
James beat Bijan Ebrahimi to death and set fire to his body in the Brislington area of Bristol in July.
Mr Ebrahimi's murder was the culmination of a series of threats and abuse directed at him on the estate over several years. Before the killing James had accused his victim of being a paedophile, but police say there was no evidence for such an accusation.
A neighbour said she saw James stamping on Mr Ebrahimi's head, shouting "have some of that", the court was told.
At Bristol Crown Court, Mr Justice Simon said it was "a vigilante crime" and "an act of murderous injustice".
In his sentencing remarks, the judge took his starting point as 15 years. As James had not taken a knife or other weapon to the scene, this is in line with the guidance in schedule 21.
"If it was a knife taken to the scene that would have been a 25-year starting point," says Andrew Ashworth, Vinerian professor of English law at the University of Oxford. "If it was a gun it would have been 30 years."
The judge also told James that burning Mr Ebrahimi's body had aggravated the offence.
However, he added that there was "the most important factor" in mitigation - James had pleaded guilty and expressed his remorse.
For this, James was told he had received the maximum credit. A one-sixth reduction, not exceeding five years, is given to those who plead guilty at the earliest opportunity.
This took James' minimum tariff to 18 years. Stephen Norley, 25, who had admitted assisting an offender, was given a four-year jail term.
27 years
Carole Waugh, 49, was stabbed in her flat in Marylebone, central London, in 2012. Her body was found in a south London garage months later.
At the Old Bailey, Mr Justice Wilkie told Bhayani he had "comprehensively set about stealing her identity" and embarked on an "asset-stripping of her persona".
This resulted in Bhayani and his co-defendant obtaining £250,000 worth of assets within a three-month period.
The judge said that his starting point was 30 years, in line with schedule 21.
"What would have aggravated it is the fact it was for gain and the victim's body was concealed," says barrister Brian Altman QC.
However, the judge said he was unable to consider Ms Waugh's death as premeditated and "must regard it as unplanned and committed on the spur of the moment".
Taken together, this resulted in a tariff of 27 years.
Co-accused Nicholas Kutner, 48, was jailed for a total of 13 years after he was found guilty of perverting the course of justice by concealing Ms Waugh's death.
40 years
Mr Justice Flaux described the killings committed by Anxiang Du as "horrific".
Du stabbed Jifeng "Jeff" Ding and his wife Ge "Helen" Chui, to death in their Northampton home following a dispute over money. He then went upstairs and murdered their daughters Xing, 18, and Alice, 12.
He also attempted unsuccessfully to track down another business partner, before fleeing the country.
The judge told the court he had considered handing Du a whole life order. Explaining his decision not to do so, however, he cited a European Court of Human Rights ruling that such tariffs breach a prisoner's human rights.
Following the ECHR ruling UK courts have been declining to pass whole life orders, says Altman.
The judge also quoted case law that the order was reserved for "the few exceptionally serious offences... when the judge is satisfied that the element of just punishment and retribution requires the imposition of a whole life order. It is not a mandatory or automatic or minimum sentence". On this basis he said a whole life order was not appropriate.
According to section 21, exceptionally serious cases warranting a whole life order include:
The murder of two or more people where each killing involves a substantial degree of premeditation, abduction or sexual or sadistic conduct
The murder of a child, if this involves abduction or a sexual or sadistic motivation
Murder for the purpose of advancing a political, religious or ideological cause
Murder by an offender previously convicted of murder.
Since the seriousness of the offence was so high, and because it involved four people, the judge said his starting point was 30 years.
This was aggravated, he said, by "a significant degree of planning and premeditation". So too were the fact that the murders were considered acts of revenge and that Du had gone looking for a fifth victim.
He rejected all the mitigating factors put forward by Du's legal team. The fact that Du had been suffering from depression, had expressed remorse and was of previous good character did not lessen his culpability, the judge said. As such, "the appropriate minimum term is one of 40 years".
Follow @BBCNewsMagazine on Twitter and on Facebook