Game creators use literary tricks - and lure audiences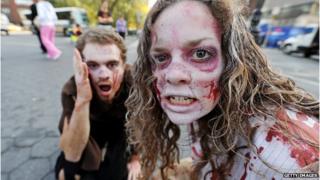 Once known for being crude and violent, some video games now feature sophisticated storylines and characters. Some players see a new literary tradition arising.
Clementine is a girl who is trying to survive a zombie apocalypse in a video game series based on the comic book and television franchise The Walking Dead. But for Michael Abbott, who teaches theatre at Wabash College in Crawfordsville, Indiana, she is more than that.
"I would just be driving down the road in the car, and I'd be thinking about her," he said.
In this way Clementine resembles great figures from literature - she looms large in people's imagination, he said.
Abbott and many other fans find her even more compelling than a character in a work of fiction, because players of the game are responsible for her survival.
Writer Robert Kirkman and illustrator Tony Moore came up with the storyline for The Walking Dead for a comic book series almost a decade ago. Now it's the most-watched drama in the history of cable television, with a 16.1 million viewers for its fourth season premier.
Telltale Games will release the second season of The Walking Dead video game series next week.
Abbott says the best way to experience The Walking Dead is through the video game, since players are forced to confront tough moral choices. Players have to decide, for instance, whether a former history professor named Lee Everett should abandon a character named Lilly to die.
"When I hear my students talk about it, they use 'I' in the first person, but they're only playing that character," Abbott said. "I've never heard students talk about a story that way."
The relationship between literature and video games is close, and many developers have adapted works of literature into games. In 2010, for example, the studio Visceral Games adapted The Divine Comedy into a game called Dante's Inferno.
But increasingly companies are adapting stories originally written for video games into novels, comics and movies. The Assassin's Creed (2007) and Halo (2001) franchises have been turned into novels and films.
Assassin's Creed has surpassed $1bn (£613.8m) in sales in the US. Halo, with $1.7bn in US sales, is one of the top-grossing video games in industry history.
According to Entertainment Software Association, more than half of American households own a video game console. For the third quarter of 2013 alone, the sector generated $3.45bn in sales, up 17% from the same period last year.
While storytelling in video games isn't new, advancements in technology provide new ways of presenting a narrative.
Irrational Games' Ken Levine is the developer behind the BioShock franchise, a series of first-person shooter games. He said he aimed to make his games less about killing people and more about character development.
"When we made System Shock 2, the graphics were so crude, I couldn't show them to my parents," said Levine, referring to his 1999 game.
In Levine's BioShock, gamers explore an underwater city, Rapture, in the aftermath of a brutal class war. The story is influenced by Ayn Rand's theory of objectivism.
"This is a medium that truly immerses players into a world," Levine said. "When a movie or book shows you a world, you follow their lead."
With video games, he explained, you can make a character turn left - and experience moments of discovery that do not exist in novels. In addition video game creators use narrative techniques borrowed from books.
Take Aveline de Grandpré, an African-French heroine in Assassin's Creed III: Liberation. Jill Murray, a novelist, brought her to life in the video game through dialogue.
"It's important to think about the way people speak," said Murray. "The things they say in between their words and their mannerisms - that's something that translates well in games."
Earlier this year the Writers Guild of America recognized Murray and her co-writer for their work on the game.
Part of the allure of video games is rooted in Greek antiquity.
"Video games are like those oral epic traditions because that moment of performance is much more prominent," said Roger Travis, an associate professor of classics at University of Connecticut.
Travis says Greek bards recounted their tales in song. The story could not be told again in the same way, because bards had to recall the stories from memory. Travis said that is what happens when a gamer plays Call of Duty or Halo.
Abbott said the experience was visceral.
"[Games] can truly do something that no other storytelling can do - they put us in a situation where we're simultaneously the audience and the playwright," said Abbott.
"They sink their tentacles into you like all great literature and film does."