Lee Halpin: The death of an aspirant journalist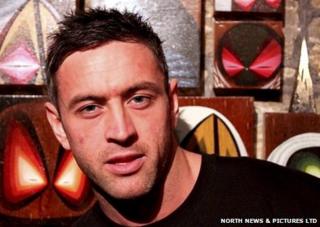 Film-maker Lee Halpin planned to sleep rough on the streets of his native Newcastle for a week to investigate homelessness. Three days later, his body was discovered. An inquest this week found the aspirant journalist had died of sudden adult death syndrome.
"Describe to us a time that you were fearless in a pursuit of a story," ran the second question on the application for Channel 4's 2013 Investigative Journalism programme.
Twenty-six-year-old Lee Halpin, an ambitious journalist, had enthusiastically applied. Applicants were asked for a piece of work they were particularly proud of.
He saw in the question an opportunity to cover a subject about which he had recently become passionate. With homeless figures in the North East increasing, Lee wanted to know what life was really like for those surviving at the bottom.
Descriptions of Lee by his friends include "alpha male", "social chameleon" and "poet". A young man whom, when he spoke, demanded everyone's attention. He was good-looking, talented, impatient, and like many young people, constantly on the lookout for his big break.
Lee was a fan of what is known as "gonzo journalism" - where the writer becomes a central character in the story. During one of the videos he uploaded to YouTube as part of his Channel 4 application, he said: "It's really important for me to have an 'I' in the narrative, in the same way Hunter S Thompson, Norman Mailer, Tom Wolfe, and other great journalists did, to put themselves in the frying pan and live and breathe the story."
When he packed his bag in preparation for a week sleeping rough, George Orwell's Down and Out in Paris and London was tucked alongside marker pens, jumpers, and a kiwi fruit.
As Lee readied for a week sleeping rough, without much more than the clothes he wore, his friend Hayley recalls: "It was really, really cold. My main concern when Lee went was the temperature. I genuinely thought, 'he'll bloody freeze to death'." March was unusually cold across the UK, and there had been snow around Newcastle most days. Hayley asked him to hold off until it got warmer, but the invincibility of youth and the confidence of a man who had conquered everything so far drove him on.
The plan was that two cameramen would film him in shifts. His best friend Jody would do evening filming, and a friend-of-a-friend, James, would cover the day shift. Three days later, the recollections of those two friends and the footage they shot would become the last record of Lee and his project.
On Monday 1 April he pounded the pavements with James looking for homeless people. They found Danny, a slim man, of indeterminable age with a high-pitched, nasal North East accent. Danny gave Lee tips on how to beg and told him he needed to "blacken up" - make himself scruffier so he would be less of a target.
That night he slept out in the open. In a small walled-off area, at the top of a staircase, his view looked out over a roundabout. The asphalt-lined floor was littered with debris - broken glass, syringes, and empty crisp packets.
The next day Lee and James met up with Danny again, in a derelict building where he sometimes slept. Copper wiring hung loose from the ceiling, staircases missed steps and there was graffiti everywhere.
Lee interviewed Danny, learning that he was ex-Army and had been on the streets - or in and out of jail - for 15 years. Danny gave Lee his jumper.
Lee clearly saw something in Danny he thought was going to make his documentary stand out - a man who, from what he said, had chosen to be on the streets. He claimed to live "like a king", free from the trappings of society.
Lee's cameraman James warned Lee to be on his guard. "When we'd left Danny, I just said 'you're going to potentially be under pressure to fit in with whatever they're doing'."
On Tuesday evening Lee decided to take up Danny's invitation to spend the night at the derelict building. After a couple of beers he and Jody parted ways, pleased with their day's filming. It was the last conversation they would have.
At 07:00 the next morning - Wednesday 3 April - James waited for Lee in his car. After an hour and a half, he went looking for him, and came across Danny.
"That lad from yesterday, your friend, he's dead," shouted Danny across the room.
Later, reflecting on the comment, James said: "Danny just seemed like Danny. He didn't seem any different - he was just like he was. Again, readying himself to go to the police station but for a different reason this time."
Initial news reports said Lee might have died from hypothermia. The day after his death, Danny and another man were arrested on suspicion of being concerned in the supply of a controlled drug. They were released without charge.
A post-mortem failed to find the cause of death and there were further tests. This week an inquest in Newcastle found Lee died as a result of sudden adult death syndrome - natural causes - after a pathologist ruled out other causes.
There were no drugs in his system apart from an expected level of anti-depressants, prescribed by a doctor. He drank alcohol at a pub the night before his death but was around the drink drive limit and so some way short of a fatal amount.
Hypothermia was ruled out as a possible cause. The pathologist also ruled out any third party involvement in his death. There were no suspicious marks on his body. A heart expert, Dr Mary Sheppard, said the death could have happened anywhere.
Jody, the cameraman who last saw him alive, said: "When I left he was compos mentis, he was a normal temperature. When I said goodbye to him there was nothing suspicious."
His friend Lydia recalls bumping into Danny outside the building the day after Lee had died.
"Apparently they'd been chilling and Danny had a couple of beers," she said. "And then, when they went to go to sleep, Lee was complaining that he was too hot, he had a sleeping bag, but he was using it as a pillow… and Danny said to him 'You need to actually have a cover on you, it's too cold not to' and Lee was like, 'No, no I'm fine' and then he'd been going to sleep, Danny said he was sweating a little bit and did seem quite hot, and he tried to put a cover over him, and Lee knocked it off in his sleep."
Lee Halpin was just discovering what it was he wanted to do with the rest of his life when it was tragically cut short.
Lee made the news because he was a middle-class man making a film. Most homeless people die without the media noticing. Perhaps his death can draw attention to a situation that is all around us but most choose to ignore.
Follow @BBCNewsMagazine on Twitter and on Facebook