From Our Own Correspondent 2013 highlights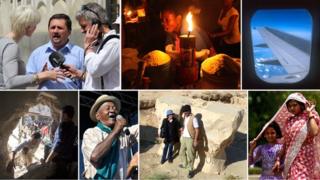 From Our Own Correspondent has, for decades, brought insight, analysis, and colour from reporters around the globe to the Radio 4 audience. Here are some of the most memorable reports from the programme this year.
At the beginning of 2013, with intervention by international forces in Mali looming, Nick Thorpe recalled travelling through the Sahara Desert in more peaceful times, more than 30 years ago.
Neal Razzell visited Lagos as the state government announced an initiative to introduce street lighting to many formerly dark and threatening streets.
Flying across Nigeria takes one-and-a-half hours while taking the train takes one-and-a-half days. Will Ross took the slow route into the north of the country.
The Pink Panthers are the most notorious gang of thieves in modern times, and Havana Marking was hot on their trail.
In the rough country along the border with Colombia and Venezuela are smugglers with dangerous lives and amazing stories. Charlotte Pritchard met one smuggler who claimed he had fathered 27 children.
Peter Day revisited a pledge he made on the programme a decade ago, to never recline his seat on an airplane. And he explains why he loves to fly economy - because of the view.
But for some correspondents, travel is a curse rather than a perk. Laura Trevelyan admitted her high anxiety over flying.
The troubled economy has forced many young Portuguese people to look for work in the country's former colonies. Emma Jane Kirby looked at the effects of emigration on families in Portugal.
Peter Meanwell sampled the unusual delights of Equatorial Guinea, where the musical mix includes an enchanting tune only played in full twice in a person's life.
The minerals boom meant cold hard cash in Australia, where James Fletcher met the many macho miners who have swapped their dollars into motors.
A journalist forced to sleep on the floor of a newspaper office in Sri Lanka gave Fergal Keane cause to recall his own beginnings in the industry, in Ireland.
The internet has revived classical Vietnamese music, but as Justin Rowlatt found out, not all of it is exactly tuned to western ears.
Juliet Rix found a nice spot for a picnic in the capital of one of the world's most secretive states, North Korea.
After interviewing former Soviet leader Mikhail Gorbachev, Steve Rosenberg got an unusual request - on the piano.
Earlier in the year a series of scandals swept Europe when it was revealed that horsemeat was being passed off as beef. Nick Thorpe visited a slaughterhouse in Romania where horses and cows were being killed side by side.
Growing up, James Luckhurst always wanted to pursue his hobby of playing the organ. His latest chance came when he came face-to-face with a 9,000-pipe monster in Switzerland.
How do Germany's family businesses survive in an age of global competition? Stephen Evans visited a town home to 113 instrument makers to find out.
For a century, the Apollo Theatre in New York's Harlem district has been at the centre of African-American cultural life. Reggie Nadelson visited to mark its anniversary.
Rajan Datar took a van ride to a mountain village in Georgia along with a troupe of polyphonic singers - and he got a lesson along the way.
And finally, Kieran Cooke took a long but boisterous train ride along the west coast of Ireland.
How to listen to From Our Own Correspondent:
BBC Radio 4: Saturdays at 11:30 and some Thursdays at 11:00
Listen online or download the podcast.
BBC World Service: Short editions Monday-Friday - see World Service programme schedule.