Trending: The dark side of online chess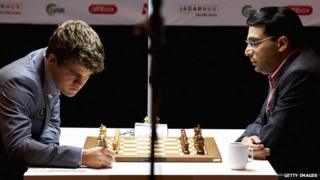 Chess currently has its highest profile for years - with millions gripped by the world championship. But one attempt to capitalise on this interest - a Norway versus the Rest of the World match - has been abandoned due to online sabotage.
Kjetil Kolsrud, the Managing Editor of Norway's Aftenposten newspaper, thought a Norway versus the Rest of the World online crowdsourced match would boost audience engagement and be a bit of fun. That's not how it turned out. "It didn't take long for chat rooms to fill up with pranksters," says Kolsrud. People in Norway - and the rest of the world respectively - had one hour to decide each move. Each hour, the most popular move would be played. Anyone with an IP address in Norway would play for team Norway; anyone outside, for the Rest of the World.
The online match was timed to run alongside the tournament between India's Viswanathan Anand and Norway's Magnus Carlsen in Chennai, India. It kicked off at 10:00 Norwegian time on Monday, and was expected to last four days. Norwegians were encouraged to tweet using the hashtag #apsjakk and the Rest of the World, #apchess.
But within hours the Aftenposten team noticed some suspiciously bad moves by the Rest of the World. After 12 hours, they closed the game entirely, citing abuse. Kolsrud says this appears to have been stoked by one specific online forum - which has now been removed.
A number of the tweets allege Norwegians were using fake proxy servers to deliberately make bad moves on behalf of the opposition. But many of those accusations come from accounts with very little activity prior to this, suggesting they may not be genuine. Another theory is that disgruntled Indian fans may be to blame - keen to shut down the game in revenge for Anand being behind in the real tournament.
Crowdsourced chess games are common - Gary Kasparov famously took on the Rest of the World, and won - but their sabotage is new. "These type of matches are a great way to popularise the game and are usually very successful," says Susan Polgar, the first woman grandmaster, and one of the four official commentators of the World Championships. "It's just sad and disappointing that people would try to sabotage like this."
Reporting by Cordelia Hebblethwaite