Do more women than men watch musicals?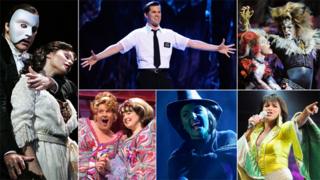 As a Channel 4 series takes a behind-the-scenes look at the world of West End musicals, is it a myth that more women than men are in the audience?
On an average night in London's West End over 32,000 theatregoers see a show, and the most popular choice is not a play, opera or dance event. Last year over 57% of theatregoers in the area went to see a musical, according to the Society of London Theatre.
But while some women can happily bring along their other halves, there are some men for whom the thought of performers breaking out into song every few minutes sends a chill down their spine. But as the West End evolves, is this really still the case?
It is difficult to find contemporary statistics on the gender balance of West End theatre audiences. Figures published in 2010 in an Ipsos MORI/Society of London Theatre report did show a more female audience bias, with women making up 68% of UK theatregoers.
For tourists it was a little more equal - 55% were female - but the report suggests that women tended to initiate the decision to see a show and then brought their partner along with them.
Paul Barker, head of the music theatre course at Royal Central School of Speech and Drama, says any gender divide begins at a young age at school.
He says boys often tend to opt for sciences and girls the arts, which could potentially contribute to any male lack of engagement with the art form and disparity in the ratio of men and women in the audience at musicals. However it can also have an impact on performers on the other side of the curtain.
"Every college that trains people for music theatre is aware there are far more girls trying to be on the stage than there are boys. The reality of the stage profession is that there are far more boys jobs than there are girls jobs," says Barker.
It is not just in Britain where the audience may have tipped in the past in favour of women.
"I know that in [South] Korea, where I've been in Seoul, musical theatre is more than 90% female audiences and so girls never take their boyfriends, for instance," says Prof Barker.
Matthew Hemley, senior reporter at The Stage newspaper, who has a particular interest in musical theatre, says traditionally the genre has attracted a more female audience with shows such as Mamma Mia, but the West End landscape is shifting.
"I think we are seeing a real change in the industry at the moment because you have shows like The Book of Mormon, which has come into the West End, and I know that when I interviewed the stars of that show who came from Broadway to London they quite clearly saw that it was men bringing their girlfriends along to this production.
"It seems to be a much more masculine feel and I would also say that Rock of Ages too, We Will Rock You even, there are more shows that tend to appeal to both sexes," says Hemley.
He says musicals are so powerful because the stories are heightened by the music and that producers have become a lot braver and more edgy in the last few years with shows like Matilda, The Book of Mormon and The Scottsboro Boys, which opened recently at the Young Vic and tackles issues such as racism and prejudice.
"As men become more cosmopolitan, there's less of a stigma I think about going to see a show perhaps. A while back there may have been a kind of, 'well that's for women or gay men,' but actually I think people who love theatre, love theatre and [if] they want to they'll go and see a musical or a play whether they're straight, gay or female," says Hemley.
Julian Bird, chief executive of the Society of London Theatre says the variety of musicals now available in the West End means the genre has become less typecast.
"It isn't all jazz hands and the historic musicals of the 1950s/60s, there is a huge diverse range of musicals now and you can't pigeonhole musicals, any more than you can a play," says Bird.
Anecdotally, ticket agents would say there are more female ticket buyers than male, according to Bird, even though men are going to the theatre as well. However, it is all relative as certain shows appeal to different audiences.
Wicked, says Bird, attracts a family audience but there is also a slight balance towards females, because it is a show that has two strong female characters at its core and resonates with women of all ages.
However, Bird says shows like The Commitments, which has opened recently in the West End, will attract a much broader audience.
According to the Society of London Theatre, 2012 was a record year for Theatreland with 13,992,773 visits and ticket revenue of £529,787,692 and this year there will be nine new musicals eligible for the Olivier awards with Andrew Lloyd Webber soon due to launch Stephen Ward - a musical based around the events of the Profumo Affair.
Not only are new musicals becoming grittier, like Tim Rice's From Here to Eternity, set amid the events of Pearl Harbor, they are also branching out into horror - with a musical version of American Psycho, starring Doctor Who's Matt Smith opening at the Almeida Theatre in December.
"There's a subject matter that one might not normally expect to be a musical," says Bird.
So what next for musical theatre?
According to Barker, musicals are changing to reflect local populations and we could see a new wave of musicals hit the West End from Asia.
"China is particularly interested in creating its own musicals rather than just importing those from Western countries, and I think possibly the most interesting musicals are perhaps going to happen outside of Western Europe in the near future and we'll be bringing them here."
Follow @BBCNewsMagazine on Twitter and on Facebook