John Lewis's Christmas ad: 10 interpretations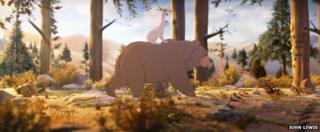 John Lewis's Christmas advert is now one of the most discussed parts of the festive run-in. But what does this year's offering mean?
The 2013 ad is an animated tale of a hare battling to ensure a bear doesn't miss out on the festivities accompanied by Lily Allen singing Keane's Somewhere Only We Know. While the bear is asleep, the hare sneaks back to his cave and deposits a small package wrapped in red paper and tied up with a green bow.
Interpretation 1: It's a Watership Down remake
"The store's animation, using old-fashioned line drawing (by artists who worked on The Lion King), features a rather grumpy brown bear and his friend, a hare, who looks - with his doleful eyes - as if he has jumped straight out of Watership Down to escape the bulldozers." says the Telegraph's Harry Wallop.
BuzzFeed's Tom Phillips goes one step further. Alongside the headline "The John Lewis Christmas Ad: Alternate Ending" he links to a YouTube video simply entitled Watership Down Violence. He apologises swiftly after.
James Murphy, the chief executive of Adam & Eve DDB - the agency that made the advert - reveals the agency was aware of the similarity early on. When he showed an early edit to his wife, she was crying "within 10 seconds". "She said the hare reminded her of the rabbit character" in Watership Down.
Interpretation 2: They want to make you cry
John Lewis "has again eschewed celebrities in favour of trying to make you cry", observes Wallop. The marketing news site The Drum says John Lewis is "seeking to tug on the heartstrings". While it has touched some, it hasn't made everyone cry, notes Brand Republic. "Some 80% of the tweets praised the ad, describing it as 'cute' and 'sweet', while 5% of tweeters claimed the ad had reduced them to tears." One tweeter who did admit crying was Loren Saunders, who tweeted "I well up at the John Lewis advert everytime."
Interpretation 3: It's all about emotional connection
"Part of its ambition, in the words of Craig Inglis, its marketing director, is to 'connect emotionally with our customers'," Wallop suggests. "The bear has never experienced Christmas because he spends all winter hibernating in a cave, we learn. This makes the hare even sadder, but he gives the sleeping bear a present in the hope he might be roused from his slumber and join in the woodland fun. Since the gift is an alarm clock, his ruse works."
Interpretation 4: Think about what to give your loved ones
Murphy says his advertising agency inherited the same brief that the previous agency had "which is to talk about what we call thoughtful gifting.
"There is a unifying theme. If you want to find a gift for someone you love that they would love then come to John Lewis."
Interpretation 5: Lily Allen's finished maternity leave
"The real star this year is the song," says Wallop. He calls the folksy style Allen adopts as "John Lewis's trademark tug-at-the-heartstrings style". Wallop thinks she's made a canny move. "She is in little doubt that it is a sensible 'way of stepping back into the marketplace' after three years away to have children."
Interpretation 6: TV ads still matter
Campaign Magazine's Ben Bold says it's "the biggest advertising event of the year". Wallop cites research from market analysts Nielsen that claims retailers will spend about £390m on advertising over the last three months of 2013. John Lewis alone is spending £7m on its Christmas campaign. "This is a remarkable turn of events. Only a few years ago, it was predicted that TV advertising would slowly die, as we all started to watch programmes on catch-up boxes, such as Sky Plus, or on tablet computers."
Interpretation 7: This ad isn't an ad
The Sun says X Factor viewers "branded the ad breaks better than the show itself". But the ad appears to miss out one vital component - the products they are trying to sell. "Not entirely sure how this helps sell Le Creuset casserole dishes," BuzzFeed's Tom Phillips muses. But from the 2011 ad onward the ads don't feature specific John Lewis products. Marketing Week's Sarah Vizard told the Guardian the retailer may appear to be trying not to be a retailer. John Lewis's marketing director Craig Inglis explains in the Guardian: "This is really about telling a story and making that emotional connection. It's not all about glitz and glamour, it's all about animation and the brand." If you watch the ad on YouTube and click on "follow the story" you're directed to a page where you can buy Lily Allen's single, the bear, the hare and Christmas cards of the bear and the hare, among other products related to the advert.
Interpretation 8: Buy Coca Cola
When things get this subtle, customers can get confused. Marketing Magazine reports that the teaser to the advert, aired the previous week, confused some people into thinking about Coca-Cola. "ITV viewers got a sneak preview of John Lewis's Christmas ad last night when a teaser aired with the hashtag #sleepingbear, although some viewers believe Coca-Cola was behind the ad."
Interpretation 9: Animals do the funniest things
All this leaves one question unanswered for Capital FM's Anna Tyler: "How can a hare wrap a present?"
Interpretation 10: The hare hates the bear
Beauty blogger Miss Candy points out: "Chinese people think buying someone a clock is extremely bad luck."
Follow @BBCNewsMagazine on Twitter and on Facebook