Trending: Chinese mock monuments to living leaders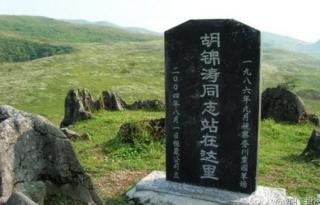 A handful of monuments to living leaders have been erected across China over the past few years. They're clearly intended to honour the nation's top brass, but are being widely ridiculed on social media in China. Why?
On a wind-swept plain in Guizhou province in the south of China stands a monument to Hu Jintao - China's president until last year. "Comrade Hu Jintao stood here," it reads, along with details of the location and the date. This image and others like it have been widely shared and lampooned on social media in China.
"It's just ridiculous," says Chinese blogger and social media expert Michael Anti. "It's like a tombstone - it's so weird." Many of those commenting on Chinese social media have been even harsher. "The party's favour is like the ocean. It's ass-kissing like thunder," writes one user on Weibo. "It's an upgraded version of graffiti," says another.
"These monuments are made by local officials who want to gain favour and make themselves look good," says Jo Xu, who has collated a number of examples for the online social media magazine chinaSMACK. Criticism is aimed mostly at those who have erected them, he says, rather than at the leaders themselves. But censorship is widespread in China - especially when it comes to senior politicians - and some of the posts on Weibo have been removed.
China has a strong tradition of erecting monuments to its leaders, but usually after they have died. It's rare - and many feel in bad taste - to have monuments like this to the living. Hu Jintao himself would probably not be amused.
There's a kind of mash-up of different traditions going on here. Centuries ago, it was traditional for Chinese emperors to leave notes written in careful calligraphy, as an appreciation after visiting key sites. These would then be inscribed in stone and displayed in prominent locations. With politicians taking the place of emperors, the practice continued, but was banned in 2008. Some argued it encouraged corruption or bribery.
Reporting by Cordelia Hebblethwaite