Trending: Spanish students' fury at changes to Erasmus funding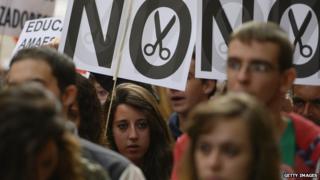 Young Spaniards have taken to Twitter and Facebook in droves, in a display of anger against changes to a 'study abroad' scheme.
When Spain's central government announced a funding change to Erasmus last week - a pan-European scheme that allows students to study abroad - they may not have realised how quickly Spanish young people would take it to heart.
After all, it's not as if the scheme is being cut altogether. Students who study in another European Union country can still get grants from the EU, and in some cases from their region, but there's been a change to the 120 euros (£100) a month living allowance available from Spain's central government. From now, only students from low-income households will be able to get the money. The government had initially planned to make the cut from this year - affecting existing Erasmus students - but in a U-turn, has announced that those already abroad will still get the grant.
The change was first mentioned in an official government bulletin a week ago, which then caught the attention of a student blog site, La Taberna Global. Maria Rosa Sanchez from the blog wrote a passionate piece about the cut, sparking anger on social media. Things got going on Twitter on Monday, 90,000 people used a new hashtag, #ErasmusRIP. One of them, Laura Zornoza, who is studying in Madrid and wants to study in Germany next year, started an online petition. At the time of publishing, there were more than 190,000 signatures.
So why have young people become so angry? "I think that many people are already tired of the situation we are living in Spain, with budget cuts in almost every area - especially in education and health care," says Zornoza. "When I realised that friends of mine were going to be affected too, I decided to start the petition," she adds. Youth unemployment stands above 56% in Spain and the austerity programme has bitten hard.
The Erasmus scheme is an important way for young Spanish people to get exposure to other European economies. More Spaniards use it than any other European country - around 40,000 a year. The Ministry of Education maintains that the cut doesn't affect everyone. They told the Spanish paper El Pais that students who are genuinely struggling will still benefit from these grants.
Reporting by Charlotte McDonald
Have you spotted an interesting trend? Tweet us using #BBCtrending