Trending: Spotted In... the local Facebook forums springing up across the UK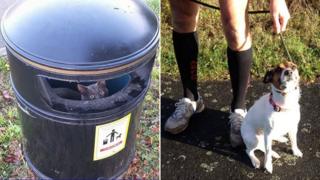 No-one knows exactly who is behind them, but in towns, villages and cities right across the UK, "Spotted In" Facebook pages are springing up - offering a kind of local information, dating site, and lost and found service all rolled into one.
From big cities and towns like Cardiff and Reading, to the small village of Grampound in Cornwall, these sites are increasingly popular. In many places, more than one in 10 people are following their local "Spotted In" site.
Almost all have been set up within the past year. The posts are a dizzying splash of late night post-pub sprawls, people shopping in pyjamas, and information about firework displays - all rolled up in typically British humour.
Popular posts on the Spotted in Andover site include a cat found in bin - who became known locally as "Bin Cat" or "Stealth Pussy" - and the "so bad it's good" local rapper video (which spurred its own parody). Lost pets, wallets and ID are more regular fare - as is online flirting. "There are lots of happy endings... We are still waiting for our first engagement and wedding. It will happen though!"
Some Spotted sites deal with serious subjects too. Spotted in Ipswich - which has more than 13,000 likes - was the first to expose a local man who claimed to have terminal cancer as a fraud.
Also hugely popular are sites like Spotted on a Bus, Spotted on the Train, and Spotted on the Road. Some Spotted sites have had problems with bullying and harassment and have closed down - the most successful ones operate strict house rules and are carefully moderated.
"It's almost like a forum for the town," says the admin of Spotted in Chippenham - who admits that being privy to the Wiltshire town's most "juicy secrets" is one of the perks of running the site. "Just to hear people say 'Did you see that on Spotted last night' is brilliant. My mum often talks about it and so does most of Chippenham." Spotted in Chippenham - like other sites - though is run anonymously. Not even his mum knows.
Reporting by Cordelia Hebblethwaite
Have you spotted an interesting trend? Tweet us using #BBCtrending