Is there really a 'rookie tax' in American football?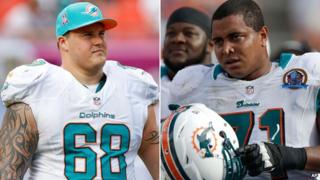 The world of American football has been shaken by bullying allegations which have shone a spotlight on the so-called "rookie tax" in which new players are forced by older players to pick up dinner bills worth tens of thousands of pounds.
One player has quit and another has been suspended, leaving the Miami Dolphins, one of the US's most famous and historic sporting names, enveloped by crisis.
Offensive lineman Jonathan Martin has suddenly left the team for emotional reasons, amid claims that he was subject to prolonged harassment by a player in the same unit of the team, Richie Incognito, who has himself protested his innocence.
The case has raised awareness of the "rookie tax", a custom in which new players do favours, sometimes monetary, for older ones. One accusation is that Martin had to pay $15,000 (£9,300) towards a trip to Las Vegas that he did not even go on.
The Miami Herald has claimed that other rookie players have picked up dinner bills of $40,000, and one young defensive player has gone broke because of pressure to pay for older players. The paper described the way veterans are using the younger players as "an ATM".
Rookie tax is a new term, says OJ McDuffie, who played for the Dolphins from 1993-2000. "We just called it paying your dues as a rookie. It happens at every team in every position and it was happening before I got there."
McDuffie escaped lightly. He had to buy doughnuts and sandwiches for the other wide receivers in the squad (initially 10-12 in number, then about six), he had to sing and he was thrown into the cold tub.
Before his first season started, a senior player announced that McDuffie was his rookie and that was the message for him to be left alone. From then on, all he had to do was to get the doughnuts and sandwiches. Other team mates had to pay for dinners that cost a few thousand dollars, he says, but nothing like the tens of thousands being mentioned today.
A Dallas Cowboy, Dez Bryant, said a few years ago that it was "funny" that he had to pick up a dinner tab of $54,896. Perhaps a salary reported to be approaching $3m softened the blow.
"It's what rookies are supposed to do," Bryant said about the incident in 2010. "Some of the older guys apologised. I felt there was no need for them to apologise because it just happened."
But not everyone can handle such sums, says McDuffie. "It's amazing, the sums we hear about now. I think the salaries have gone up so much they think the rookies can handle it. But it's totally unfair for those that aren't earning it.
"A lot of the financial problems happen because they try to live the same lifestyle as the other guys earning $5m. They can't buy the same cars."
Most guys don't say no because they're trying to fit into a new dressing room and they're fearful of what the others would do, says McDuffie, who believes one of the older veteran players should intervene and put a stop to it.
Rookie players are high earners - usually a minimum of $400,000 - but so many go bankrupt that the National Football League is trying to educate players in financial prudence.
One of the country's most renowned American football analysts, Adam Schefter of ESPN, says sticking the bill to the rookies has always gone on - but it's wrong.
"I covered the Denver Broncos for 16 years and it happened every year. A positional unit goes out for dinner, say it's the linebackers.
"They eat the biggest steaks, they drink the finest wine and they smoke the best cigars. Then they hand the bill to the rookies.
"I think there are a lot of things that can be good for team spirit but there's a certain line that's been crossed here."
The Martin episode will force the NFL to take a hard look at what is acceptable, he says. It's fine for a rookie to carry a veteran's pads off the training field, get the doughnuts in the morning and be given the car keys to get the car washed.
"But it's unacceptable for the rookie to pay for a dinner that costs five figures, or to have his eyebrows shaved or get a Friar Tuck haircut. Then a line of trust and professionalism has been crossed."
Some of the guys eating these meals earn up to eight million a year, he says. And for those that say the rookies earn enough to take it, Schefter says handing someone earning $400,000 with a $40,000 dinner bill is the equivalent of someone earning $50,000 being forced to pay a $5,000 bill.
"A lot of these young players have enough issues trying to manage their newfound wealth, they don't need another."
Follow @BBCNewsMagazine on Twitter and on Facebook