Trending: Bollywood 'soft porn' angers some Pakistanis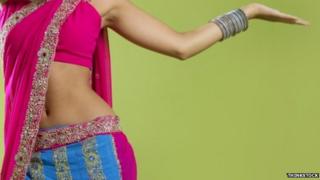 Why is Pakistan's Geo TV being accused of being a traitor?
Pakistan loves Geo TV. At least, that's what the ratings say. Together with parent company Jang, it's the country's biggest media group.
But on social media, things look different. Since Monday, tens of thousands of Pakistanis have lambasted the channel on Twitter for showing Indian content, using hashtags like #BanGeo, #TraitorGeo and even #GeoIndianDog. Some refer to Indian TV shown on Geo as "soft porn" and complain Geo's news is pro-Indian.
Pakistan has a history of ambivalence towards TV, films and songs made in sworn enemy India. Conservative Pakistani voices deride the sexy songs and risque themes of Bollywood films and dramas, but they remain hugely popular with Pakistan audiences.
Some Twitter accounts using these hashtags have tweeted hundreds of times in a short space of time, and mostly about this issue - suggesting there is organised campaigning against Geo TV, alongside the genuine tweets,
The #TraitorGeo hashtag seems to have first been used by a Twitter user named Madeeha, who says she is a 19-year-old living in Islamabad. She told the BBC that Geo shows too much "nudeness" and "promotes Indian culture". But her objection goes beyond risque movies - she, like many others, complains of Geo TV's formal connections with India. In 2010, Geo created a joint peace initiative with the Times of India, an Indian media giant. It's called Aman Ki Asha - Hope for Peace - and organises initiatives to bring Pakistanis and Indians together across the border.
This project has "hit a nerve in Pakistan of people who I would call the hyper-nationalists," Beena Sarwar, editor of Aman Ki Asha, told the BBC. They've had insults like this right from the start, she says.
In recent months there have been several unsubstantiated allegations that Geo is linked to the Indian government and media - claims which Sarwar says are "preposterous". Just before the flurry of anti-Geo tweets, these allegations were repeated on a television talk show on a rival network in Pakistan. Geo TV have so far declined to comment to the BBC.
Have you seen an interesting trend? Tweet us using #BBCtrending