Fighting fear by lighting Lagos's streets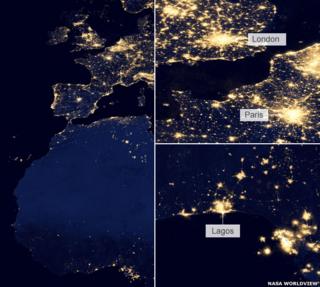 Flying into Lagos at night, you would never know there are up to 21 million people down there. There is no orange glow, as you see on approach to cities such as New York or London (both with about eight million inhabitants).
Waiting for you on the streets of Lagos is darkness. And with it, fear.
I spent days and nights following electricity crews who are trying to change that. They are building big generators and installing lights that bypass what Nigerians call the "epileptic" offerings of the national power grid.
At night the crews work with a security detail. On Lagos Island, the man in charge of it is called Mr Omo.
He is short and beefy, not sculpted, like a body-builder, more rounded and somehow solid, like a large refrigerator.
"You are the tough guy," I said when we met by the side of a darkened road. Above, the street lights were out. Below, an electrician was on his knees with a torch in his mouth and a nest of cables in his hands.
"I am not the tough guy," Mr Omo said, with a shrug, but he said it with a demeanour that suggested he was not someone who would back away from trouble.
I liked him immediately. And not just because I had already been in dark neighbourhoods where shouts and noises and people come from every direction; and when you walk you cannot see the ground, so you almost trip over children, or fall into storm drains; and you have no idea why that crowd of young men over there are yelling and fighting, or where to go if they come any closer.
"Just a second," Mr Omo said. He raised a phone to his ear. "Go ahead," he said. Then, to me: "Soon the lights will come on."
They did and there was a collective "Aaah". I looked around and was surprised. I had no idea there were so many people around me. The crew started to pack up and I asked Mr Omo why they needed a security detail in the first place.
The big problem, he said, was the "area boys" - gangs of young men who hassle the crews for money. They are a scourge across Lagos.
I had once stopped to record the sound of children crowded under a street light. They were dressed in creamy white clothes, singing prayers with an imam. I was there maybe five minutes before a group of area boys came up and started demanding money from my guide. They spoke heatedly in Yoruba, the local language.
My guide sounded firm, but soon he said to me in English: "Let's go."
We did not give them any money, but I spoke with street traders who said they regularly paid 10% of their daily take to area boys, who would threaten to beat them up or wreck their stalls.
The government in Lagos hopes light will change that. At the Iyana Ipaja market - a major trading centre in the north of the city - it has spent £750,000 ($1.2m) to install and restore lights.
I met a man there named Mr John, who sells alcohol from a small stall. He told me about the moment the lights came on, a week earlier.
"There was a jubilation along this street - ask anyone," he said, waving his arm. "We opened drinks for people because of the light."
He and the other traders used to close when the sun set around 6.30pm. "Now they stay open as long as they like," he said gleefully.
Mr John says the area boys have vanished and profits are up. Others in the market say the same thing.
On Lagos Island, Mr Omo is also starting to see change.
"As more light comes, it is getting easier," he says. "The tension is going down, little by little."
Electricity crews have yet to come to the street where Mr Omo lives. The plan is to do the main roads first, then work into neighbourhoods. So far, they have lit about 120 miles (190km) of road, in a place where there are more than 8,000 miles.
Standing in the dark outside his house, Mr Omo and I began to hear shouts from the other end of the road, then crowds of men began to run past looking over their shoulders.
"Come to the back," Mr Omo said, as he put himself between me and the street. "Maybe they are fighting. They might be throwing stones or bottles."
We had been talking about Lagos's reputation as a dangerous place. "You now, do you feel safe?" he asks.
Of course I do, I say, I'm with Mr Omo.
From Our Own Correspondent: Listen online or download the podcast.
BBC Radio 4: Saturdays at 11:30 and some Thursdays at 11:00
BBC World Service: Short editions Monday-Friday - see World Service programme schedule.
Follow @BBCNewsMagazine on Twitter and on Facebook