The mass escape of Jews from Nazi-occupied Denmark
By Ellen Otzen
BBC World Service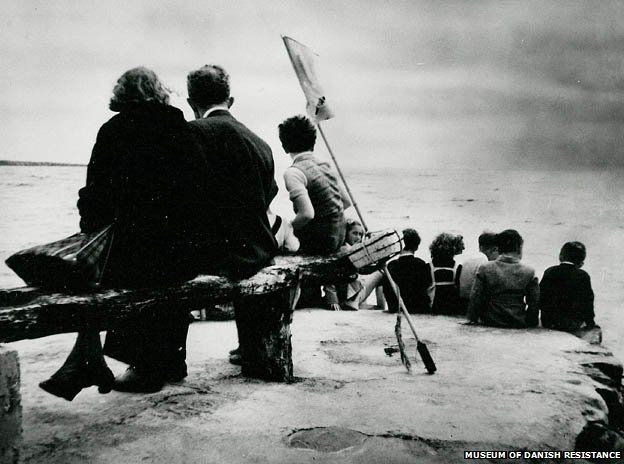 Seventy years ago this month, an extraordinary mass escape happened from Nazi-occupied Denmark. Tipped off about German plans to deport them to concentration camps, almost the entire Jewish population - several thousand people - fled their homes and left the country.
As he stepped onto the fishing boat that was meant to carry them across the Baltic sea to safety, 14-year-old Bent Melchior feared he might never see his home again.
A week earlier, he had left the home in Copenhagen he shared with his parents and four siblings. It was 8 October 1943 and Denmark was under Nazi occupation. Along with thousands of other Danish Jews, Bent and his family were fleeing the Germans.
"We were gathered in this boat that was supposed to carry herrings, but instead it was now carrying human beings," he says.
They set off after dark. There were 19 people on the boat, hiding below deck in case German planes should spot them from overhead. The night air was chilly and the sea rough.
"People started to be sick, and every minute felt like an hour".
Melchior and his family were part of a mass escape. That autumn night, 2,500 Jews set sail for neighbouring Sweden from Danish beaches and ports, in rowing boats, canoes, as stowaways on ferries and cargo ships. Some even swam across.
In September that year, the Nazi secret police - the Gestapo - had decided to deport all Danish Jews to concentration camps, just as they'd done to millions of other Jews across Europe. The raid was scheduled for Friday 1 October, when they had hoped to find families gathering for the Jewish Sabbath dinner.
But when they raided their homes, they found fewer than 300 people still there.
A few days earlier, Georg Duckwitz, a German naval attache working at the German embassy in Copenhagen, had tipped off Hans Hedtoft, a leading member of the Danish Labour party. Hedtoft, who later became Denmark's prime minister, warned the Jewish community to leave.
"My parents were worried the phone might be tapped. So my mum started ringing other Jewish families, encouraging them to 'take a holiday in the countryside'," Melchior recalls.
"She told them we were also going away for a few days as we hadn't had a holiday that year."
In 1943, Denmark was home to around 8,000 Jews. Although the country had been invaded by Germany three years earlier, the government had accepted the occupation in exchange for a measure of control over domestic affairs. Danish Jews were protected by the Danish government, whose leader collaborated with Hitler.
But a determined campaign by the Danish resistance prompted Germany to take over full control of Danish affairs and the government resigned in August. The following month, Hitler ordered the deportation of all Danish Jews.
As news of the imminent Nazi raid spread, Melchior's father, a rabbi at Copenhagen's main synagogue, interrupted a service celebrating Jewish New Year to urge the congregation to go into hiding and to spread the word to other Jews.
The Melchior family caught a train to the island of Falster in south-eastern Denmark. The carriages were filled with German soldiers and Bent's mother and five-year-old brother Paul travelled in an empty first-class carriage in case the youngest family member unwittingly gave away where they were going.
Together with 60 other Jewish refugees, Bent Melchior's father brought his wife and four youngest children into hiding at the home of a bishop. From there, they hoped to flee across the sea to neutral Sweden, which offered safety for refugees.
But getting there was not easy. To even secure a place on one of the small fishing boats being used to ferry the Jews across could cost as much as £5,500 ($9,000) a head in today's money.
After eight hours at sea, the boat carrying the Melchior family came close to land. Dawn was breaking and a lighthouse was clearly visible. But something was wrong. Having learnt in geography at school that Sweden was east of Denmark, Bent realised that daylight was coming from the wrong direction.
In fact, the boat had sailed in a circle rather than east to the Swedish coast. The lighthouse was a Danish lighthouse and the refugees were back where they had set off. The fisherman at the helm had never sailed far from the coast and had no idea how to navigate.
Sitting in the comfortable apartment in central Copenhagen he shares with his wife Lilian, surrounded by pictures of their four sons, his recollection of the escape he made 70 years ago is still crystal clear.
"We were afraid. My five-year-old brother had no idea what was going on. Unbeknownst to me my mother was pregnant at the time, so she had a terrible time," says Bent Melchior.
"If it was dangerous to be out at sea it night, it was even more dangerous in daylight. We could hear German planes overhead. If they had seen us, the Gestapo would have captured us."
Eventually they started to sail east, following the sun. Miraculously, after 18 hours at sea, they reached Lilla Beddinge, a small fishing village on the Swedish coast. A six-year-old boy, Per-Arne Persson, spotted them from the beach and alerted his father, a local fisherman, who sailed out to meet the boat.
Bent Melchior and his family settled down to their new life in Sweden. Bent was enrolled in a Danish school in the town of Lund, while his father got a job as a rabbi. But they were now refugees in a foreign country.
Swedish was not hard for Danes to understand and the Swedish government had assured them they could stay for the duration of the war. Nevertheless, strangers would often make comments about them.
"People would complain that we were taking their coffee rations, or whatever was rationed at the time.
"As refugees we had to queue up to buy second-hand underwear, which they had decided was good enough for us."
Seven decades later, Bent can still recall what it was like to be an alien abroad: "All these denigrating signs, I can still feel today," he says.
Around 200 people were caught by the Germans while trying to escape and deported to the Theresienstadt concentration camp in what is now the Czech Republic. But more than 7,500 Danish Jews eventually made it across to Sweden in October 1943.
They were brought out under cover. Some escape routes were organised by members of the resistance movement. But most Danish historians argue that the escape would not have been possible had it not been for thousands of ordinary Danes who helped the Jews flee.
Some were "admitted" to hospitals under false names, others were hidden in churches, farms and holiday homes by the sea while they organised transport.
There were of course, exceptions. Eighty Jewish refugees hiding in the loft of a church in the northern town of Gilleleje were arrested by the Gestapo after a young Danish housemaid, engaged to a German soldier, turned them in. They too, were deported to Theresienstadt.
After 19 months in Sweden, the German occupation of Denmark was over. Liberation came on 4 May, 1945 and the refugees were free to return home. Melchior and his family moved back into their old apartment in Copenhagen.
Life fell back into its usual rhythm, but it was never the same. His experience as a refugee galvanised Bent Melchior to a life-long involvement with refugees.
"We were changed people. I became very active in various movements within the Jewish community and outside.
"We tried to take a lesson from what had happened, to stop this terrible intolerance."
He later went on to become a senior member of the Danish Refugee Council and followed his father in becoming the chief rabbi of Denmark.
He has travelled the world telling his story, determined that this tale of survival should never be forgotten.
Per-Arne, the six-year old Swedish boy who spotted their boat from the beach 70 years ago, is still a friend today.